Guiney, Ciara (2021) Law Reform Commission report on suspended sentences. Drugnet Ireland, Issue 78, Summer 2021, pp. 9-12.
In August 2020, the Law Reform Commission (LRC) published a report on suspended sentences.1 The report, which was carried out as part of the Fourth Programme of Law Reform, examines how the principles of suspended sentences are operated and applied in Ireland. It builds on the LRC 2017 document, Issues paper: Suspended sentences.2 The overall aim of the report is to improve and supplement these principles from a practical and procedural perspective (p. 11).1
Suspended sentences
A suspended sentence is a prison sentence which is not applied for a specified period on the condition that the individual who receives it adheres to the terms on which the sentence was suspended (p. 11). There are two kinds of suspended sentences:
Fully suspended, where the individual may never undertake custody if he/she adheres to the conditions of the suspended sentence fully. 
Part-suspended, which involves two steps, time spent in prison followed by 'conditional liberty' time where the terms of part suspension must be adhered to (p. 11).
Statutory framework
Prior to the enactment of appropriate legislation, the ability to suspend imprisonment sentences in Ireland was evident in common law. Since 2006, two pieces of legislation provide for suspended sentences in Ireland. Initially, the Criminal Justice Act 2006 provided a statutory footing for the operation of suspended sentences. Section 99 provided an outline of the main steps for dealing with reoffending and any breaches of the conditions when the suspension is in operation. The High Court deemed aspects of Section 99 unconstitutional in 2016 (p. 25). This decision resulted in the enactment of the Criminal Justice (Suspended Sentences of Imprisonment) Act 2017, which amended and clarified several procedural issues in Section 99.
Hierarchy of criminal penalties
In the report, the LRC considers where the suspended sentence is positioned on the hierarchy of criminal penalties in relation to Irish law. Part and fully suspended sentences come second and third on this hierarchy (see Table 1).
Drugs crime
There are two types of minimum sentences that can be provided for drugs crime:
Mandatory minimum sentence: Here a court is required to impose in all cases a minimum sentence expressed in years of imprisonment. 
Presumptive minimum sentence: Here a court is still required to impose a minimum imprisonment term for conviction of a guilty plea, however, the court is also permitted to consider exceptional and specific circumstances which may justify a 'depart downwards' (p. 150) by the court. Presumptive minimum sentences are prescribed under the Misuse of Drugs Act 1977 and the Firearms Acts. In its 2013 report3 on mandatory sentences, the LRC called for presumptive minimum sentences to be repealed and replaced with a more structured sentencing system. Their views were also acknowledged in the 2014 report4 of the Strategic Review Group on Penal Policy; however, to date these provisions have not been repealed. 
Under the Misuse of Drugs Act 1977, there are two offences where a presumptive minimum sentence can be applied: Section 15A provides for possession offences and Section 15B provides for importation offences. Under Section 27(3C), both carry a presumptive minimum sentence of 10 years' imprisonment (p. 151). When deciding whether to implement a presumptive minimum sentence, a sentencing judge can take other factors into consideration, such as when and how the offender pleaded guilty and whether the offender helped in the investigation. Previous drug trafficking offences are also considered and whether it is in the public interest to impose a lesser sentence. There must also be exceptional and specific circumstances to depart from a presumptive sentence. 
Recommendations
Several recommendations were put forward by the LRC in the report that aim to supplement and improve the principles that have emerged though Irish case law.5 These are:
Judicial discretion: The LRC has recommended that the statutory discretion given to sentencing judges when selecting conditions of suspension and the duration of the suspended sentence operational period should be maintained. However, these need to be proportionate and reasonable such that the offender is able to comply. 
Data management and analysis: The LRC has recommended that relevant justice agencies should have the necessary resources to establish a dedicated data management and analysis unit. This would allow for the collection, collation, and dissemination of data related to the overall criminal justice system but also the operation of the suspended sentence. 
Information and communication technology (ICT) architecture within the criminal justice system: While there are several initiatives enhancing collaboration and cooperation between agencies within the Irish criminal justice system, the LRC has recommended an examination of ICT systems supporting court processes and has called for the modernisation and streamlining of these systems to enhance interoperability and efficiency. 
Sentencing guidance: Finally, the LRC has recommended that sentencing guidance for suspended sentences, specifically in relation to offenders and offences, be prepared by the Sentencing Guidelines and Information Committee, which was established under the Judicial Council Act 2019.
A summary of all recommendations can be found in Appendix A of the report.1
Table 1: Findings of LRC 2020 study, by theme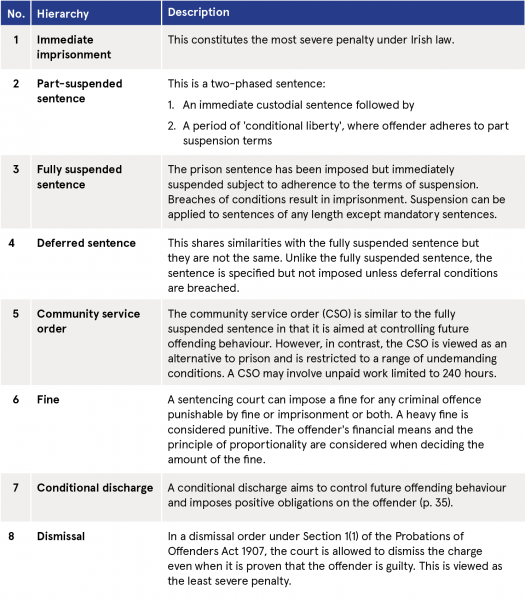 2   Law Reform Commission (2017) Issues paper: Suspended sentences. Dublin: Law Reform Commission.
https://www.drugsandalcohol.ie/27872/  
3   Law Reform Commission (2013) Report: Mandatory sentences. Dublin: Law Reform Commission.
https://www.drugsandalcohol.ie/20242/   
4   Strategic Review Group on Penal Policy (2014) Strategic review of penal policy: final report. Dublin: Department of Justice and Equality.  https://www.drugsandalcohol.ie/22657/
5 Law Reform Commission (2020) Law Reform Commission publishes report on suspended sentences [Press release]. Available online at:
https://www.lawreform.ie/_fileupload/press%20releases/Report%20on%20Suspended%20Sentences%20LRC-123%20-%20Press%20Release.pdf
Repository Staff Only: item control page