Guiney, Ciara (2021) Lifting the lid on Bluetown and Redtown. Drugnet Ireland, Issue 77, Spring 2021, pp. 30-35.
On 27 January 2021, Minister for Justice Helen McEntee TD launched ground-breaking research carried out by the Research Evidence into Policy Programmes and Practice (REPPP) Project team at the University of Limerick. Overall, there were three reports: Lifting the lid on Bluetown,1 Lifting the lid on Redtown,2 and a national prevalence study.3 This article presents a synthesis of the Bluetown and Redtown studies.1,2
Background
The Bluetown and Redtown studies are two replication case studies carried out to determine whether the findings of the Greentown study could be generalised to other locations in Ireland.4,5 The original Greentown study in 2016 examined the effect of a criminal network on offending behaviour of children.4,5 The results of this study indicated that a criminal network was in operation in Greentown and responsible for enabling increased criminal activity in children in this area. Five main findings emerged in the Greentown study:
1 A criminal network existed and contained key network actors.
2 The network was hierarchical in nature.
3 The hierarchical structure was supported by powerful processes and a sympathetic embedded culture.
4 Power and influence were mediated by geography, obligation, and the intensity of the relationships with patrons.
5 The network compelled some children in the area into abnormal patterns of offending behaviour (p. 10).4
Aims of replication study
The aim of the replication case studies was to determine what factors influence young people's engagement and retention within a criminal network and how these factors may influence their crime trajectories. The main research questions addressed in this study included:
1 From the Garda respondents' perspective, what are the factors that influence young people's engagement and retention within the Bluetown/Redtown criminal network?
2 How do members of An Garda Síochána portray the influence of engagement in the Bluetown/Redtown network on young people's patterns of crime?
Methodology
Similar to the Greentown study, the Bluetown and Redtown studies were centred on a case study design and consisted of the following sequential steps:
Burglary and drugs for sale and supply detection data for offences committed by young people (aged <18 years) and collated on An Garda Síochána's PULSE (Police Using Leading Systems Effectively) system between 2014 and 2015 were analysed and ranked.
A criminal network map was developed by Garda analysts using the PULSE data and illustrated how offenders who carried out burglary or drugs for sale and supply and robbery offences between 2014 and 2015 in Bluetown/Redtown linked together via common offences.
To ensure anonymity of individuals on the criminal network map, Twinsight methodology developed for the Greentown study was utilised.4 Two versions of the map were developed: a 'live' version and a 'researcher' version. The live version contained personal details of the offenders involved and was only seen by Garda members or analysts. The second version, a researcher version, was similar to the first version, except there was no identifying or personal information and was used only by the researcher. The maps shared unique identifier codes, which allowed Garda respondents (n=16) taking part in semi-structured interviews to 'ground' (p. 24) their views by linking real events to the individuals on the map via the unique identifier.4
Garda respondent interviews focused on network members and contexts and were embedded in specific events.
Transcribed interviews were imported into NVivo software, where they were coded and analysed.
Two quantitative diagnostic tools were used to identify and develop case profiles of significant members within the network.
The themes found increased the understanding of how the network operated.
Bluetown study
Findings
Bluetown was a large urban Garda subdistrict.1 Findings from the Bluetown study were grounded in Garda narratives and centred mainly on their significance to the research questions. Three key findings emerged from the analysis.
Finding 1: Four area-based criminal networks existed in Bluetown that were distinct from each other.
Of the four criminal networks identified, three were operational (Area A, Area B[n=2], and Area C). Individuals living in Area D were no longer considered involved in crime. The criminal network map was adapted to show key differences between locations and networks that emerged in Garda narratives. Bluetown covered a larger area than the Greentown and Redtown studies. The impact of this was that Garda respondents could only provide information regarding areas they patrolled. Table 1 shows a summary of networks and some of their key characteristics.1
Table 1: Summary of Bluetown network characteristics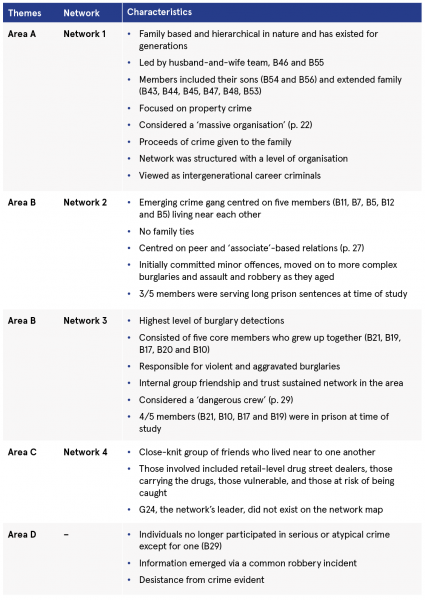 Source: O'Meara Daly, Redmond and Naughton (2020)1
Finding 2: A combination of risk factors was linked to young people developing more serious and prolific offending patterns across all networks.
A thematic analysis showed a relationship between 'shared common risk factors' and 'more serious and prolific offending patterns' in all identified networks (p. 39).1 There were four subthemes:
Family ties to crime
Proximity to a network of offending peers
Individual risk factors
Pro-criminal norms.
Finding 3: Criminal network strength and stability was enhanced by the quality of 'trust' in relationships between members and influenced by fear and intimidation.
Based on thematic analysis, relationship strength between network members was shown to have varying levels; higher levels of trust contributed to greater network stability, as shown in Figure 1.
Network 1 is strongest with regard to relationship strength and network stability.
Networks 2 and 3 were centred on co-offending relationships that emerged from living near to each other and other risk factors.
Network 4 was centred on a drugs hierarchy and utilised a more organised structure.
Fear and intimidation contributed to the strength and stability of Bluetown networks.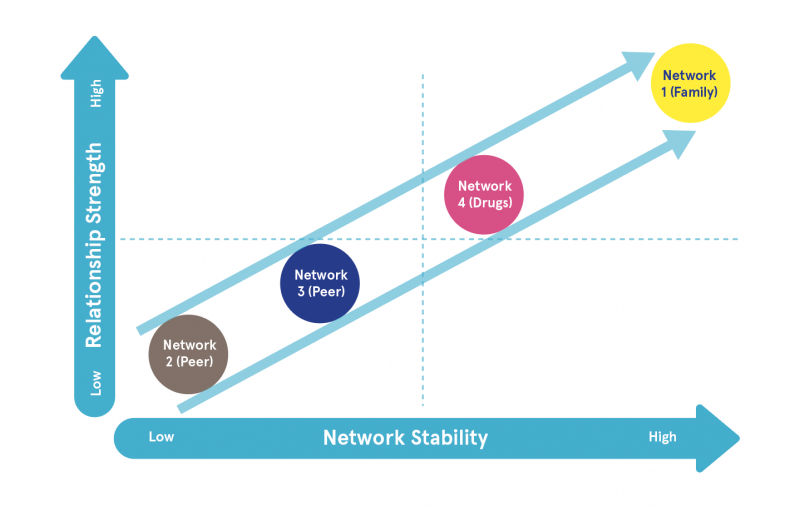 Source: Figure 11 extracted from O'Meara Daly, Redmond and Naughton (2020), p. 431
Figure 1: Network position from low strength and stability to high
Strengths and limitations
There were several strengths and limitations to the study. The findings in this study were centred on third-party observations and perspectives. The Twinsight methodology developed in the Greentown study allowed for in-depth knowledge and context to be captured. However, there were challenges, as the area covered by Bluetown was a large urban area. As a result, knowledge reported by Garda respondents was limited and centred on their own patrol or catchment area; hence, some information on offenders was from a broader perspective rather than focused on specific individuals. As acknowledged by the authors, similar to the Greentown study, there were limitations to utilising PULSE data to develop the map.6,7 Nevertheless, Garda respondents believed that the map was accurate, giving it an average rating of 8.36 out of 10 for accuracy (p. 48).1

Redtown study
The Redtown study was of a small provincial town. It was ranked third in the Garda subdistricts list because of the number of youths aged under 18 years involved in burglary and drugs for sale and supply. Hence, this location was considered ideal to enable a deep exploration of the factors that may contribute to criminality in this cohort.2
Findings
The analysis of Garda respondent narratives resulted in two main themes emerging: family influences and drug-related crime. Each will be described separately.
Theme 1: Family influences – adversity,
pro-criminal norms, and exclusion
Three young people, aged 16 years, who were repeatedly involved in burglary offences between 2014 and 2015 along with their engagement with the Redtown criminal network were the focus of Garda narratives. Criminal activity was mainly viewed as normal by their peers and more so by their families who had criminal histories. The main characteristics of the family were that they were of low status, experienced financial poverty, and had high levels of adversity. In addition, families were rooted within the Redtown criminal network via 'extended family and drugs-related links' (p. 16).2 These young people had a tendency to be excluded from the mainstream Redtown community. These factors together influenced young people's involvement with both criminality and the Redtown criminal network.
Theme 2: Drug-related crime – organised or chaotic
Drug-related offences were the main activity carried out by the Redtown network. How a network member was involved and the organisational level of the drug-related offence centred on how vulnerable the individual was and their personal drug use (p. 16).2 Three interconnected groupings were identified:
Fund personal use (chaotic)
Carrying and distribution of drugs
Organised.
'Organised' network members mainly carried out 'higher-level sale and supply' (p. 16)2 and remained 'undetected' on the network map. While most of the network members could be classified as 'chaotic', they carried out lower-level sale and supply of drugs and other crime to pay for drugs for personal use. This group are considered susceptible to exploitation. Figure 1 provides a summary of the theoretical framework the authors put forward showing the interconnections between themes, subthemes as processes of engagement, and retention of network membership. Further detail on the key network members can be found in section 3.1.1 Part A of the report (p. 17).2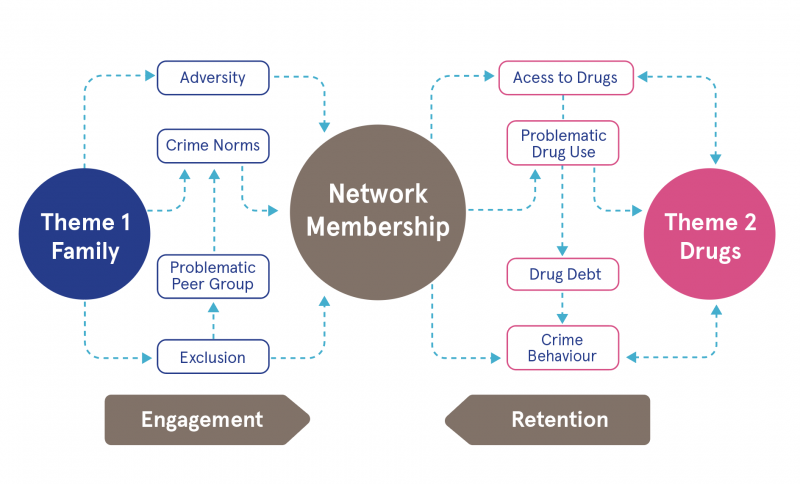 Source: Figure 16 extracted from Naughton, Redmond and O'Meara Daly (2020), p. 402
Figure 2: Network membership theoretical framework for Redtown
Strengths and limitations
Several strengths and limitations were identified. For example, due to the level of young people involved in criminality in Redtown, it was viewed as an 'untapped source' (p. 41).2 The Twinsight method allowed for both group and individual level analysis to be applied. Moreover, this approach allowed for the network to be examined longitudinally, both before and after the 2014–2015 timeframe. Garda respondents were advised that the focus was on young people, which may have influenced their responses. Despite this, the intergenerational nature of offending behaviour was evidenced by the involvement of older family members in the network. More methodological strengths and limitations can be found in all three Greentown Project reports.1,2,4
Conclusion
The aim of these studies was to explore whether criminal networks influenced children moving into a life of crime. The results are believed to provide hope and opportunities for children drawn into serious and prolific crime. Minister McEntee thanked Dr Sean Redmond and his colleagues for their work and acknowledged the importance of breaking the connection between criminal networks and young people. The Greentown Project has provided the information needed to help prevent young people from becoming part of these networks. She noted that the research evidence shows the seriousness of this issue and requires a 'serious and rapid criminal justice response' (p. 1).8
1 O'Meara Daly E, Redmond S and Naughton C (2020) Lifting the lid on Bluetown: a replication case study, which investigates the contribution of engagement in a local criminal network to young people's more serious and persistent offending patterns. Limerick: School of Law, University of Limerick. https://www.drugsandalcohol.ie/33694/
2 Naughton C, Redmond S and O'Meara Daly E (2020) Lifting the lid on Redtown: a replication case study, which investigates the contribution of engagement in a local criminal network to young people's more serious and persistent offending patterns. Limerick: School of Law, University of Limerick. https://www.drugsandalcohol.ie/33693/
3 Naughton C and Redmond S (2017) National prevalence study. Do the findings from the Greentown study of children's involvement in a criminal network (2015) extend beyond Greentown? Limerick: School of Law, University of Limerick. https://www.drugsandalcohol.ie/28326/
4 Department of Children and Youth Affairs (2016) Lifting the lid on Greentown: why we should be concerned about the influence criminal networks have on children's offending behaviour in Ireland. Dublin: Government Publications. https://www.drugsandalcohol.ie/26850/
5 Department of Children and Youth Affairs (2016) Lifting the lid on Greentown: key findings. Dublin: Government Publications. https://www.drugsandalcohol.ie/26850/
6 Central Statistics Office (2015) Review of the quality of crime statistics. Dublin: Government of Ireland. http://www.drugsandalcohol.ie/24887/
7 Central Statistics Office (2016) Review of the quality of crime statistics 2016. Cork: Central Statistics Office. http://www.drugsandalcohol.ie/26176/
8 University of Limerick (2021) University of Limerick research offers new hope for children caught up in crime networks [Press release]. 27 January. Available online at:
https://www.ul.ie/news-centre/news/university-limerick-research-offers-new-hope-children-caught-crime-networks
Irish-related, Open Access, Article
Substances (not alcohol/tobacco)
Harm reduction, Crime prevention
Repository Staff Only: item control page