Lynn, Ena (2020) Drug-related deaths and deaths among people who use drugs in Ireland, 2008-2017. Drugnet Ireland, Issue 72, Winter 2020, pp. 1-5.
The National Drug-Related Deaths Index (NDRDI) reports on poisoning deaths (also known as overdose), which are deaths in the general population due to the toxic effect of a drug or combination of drugs, and on non-poisonings, which are deaths as a result of trauma, such as hanging, or medical reasons, such as cardiac events, among people who use drugs. The latest figures from the NDRDI show that 376 people died in 2017 from poisoning deaths and that 410 non-poisoning deaths occurred among people who used drugs.1,2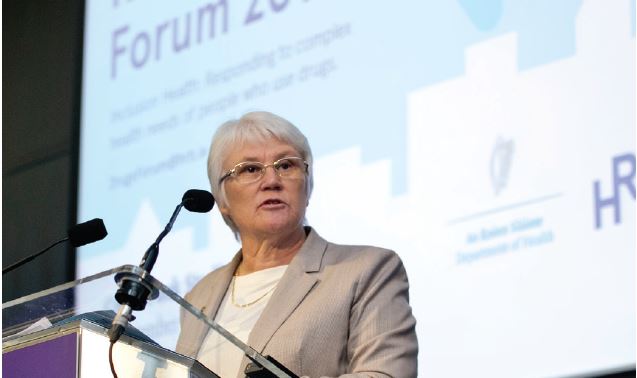 Key findings
Key findings of the report are:
Taking a cocktail of drugs (polydrugs) continues to be a significant factor in poisoning deaths, contributing to 3 in 5 poisoning deaths.
There is an increase in cocaine poisoning deaths.
Alcohol continues to be the main drug implicated in poisoning deaths, alone or with other drugs.
Hanging is the main cause of non-poisoning deaths.
Deaths in 2017 among people who inject drugs
People who were injecting at the time of the incident that led to their death represented 4% (n=34) of all drugs-related deaths in 2017. The majority were male and involved opioids (94%). Two in five (41%) occurred in Dublin city and the majority were alone at the time of injecting (see Figure 1).
Poisoning deaths in 2017
The annual number of poisoning deaths increased by 2% from 368 in 2016 to 376 in 2017. As in previous years, the majority (70%) were male. The median age of those who died was 43 years (see Figure 2).
Key findings of poisoning deaths in 2017:
Alcohol was implicated in over 1 in 3 poisoning deaths (33%) and alcohol alone was responsible for 16% of all poisoning deaths (see Figure 3).
Opioids were the main drug group implicated in poisonings; methadone was implicated in one-quarter (25%) of poisonings, while heroin-related poisoning deaths increased from 74 deaths in 2016 to 77 in 2017.
Prescribable (prescription and/or over-the-counter) drugs were implicated in 2 in every 3 (67%) poisoning deaths.
Benzodiazepines were the most common prescribable drug group implicated. Diazepam was the most common benzodiazepine-type drug and was implicated in 1 in 4 (90; 24%) of poisonings.
Methadone was the most common individual prescribable drug implicated in 95 (25%) poisonings deaths.
Alprazolam poisoning deaths increased by 34% from 47 in 2016 to 63 in 2017.
Cocaine-related deaths increased from 42 in 2016 to 53 in 2017.
MDMA-related deaths increased from 8 in 2016 to 14 in 2017.

Figure 1: Infographic of all deaths among people known to be injecting at time of death in 2017

Figure 2: Infographic of poisoning deaths in 2017
Polydrug poisonings in 2017
Taking a cocktail of drugs (polydrugs) can increase the risk of fatal overdose. The majority of poisoning deaths (58%) in 2017 involved polydrugs, with an average of four different drugs taken (see Figure 4).
51% (64) of deaths where alcohol was implicated involved other drugs, mainly opioids.
89% (85) of deaths where methadone was implicated involved other drugs, mainly benzodiazepines.
86% (66) of deaths where heroin was implicated involved other drugs, mainly benzodiazepines.
All diazepam-related poisoning deaths (90) involved other drugs, mainly opioids.
All alprazolam-related poisoning deaths (63) involved other drugs, mainly opioids.
Non-poisoning deaths in 2017
The number of non-poisoning deaths increased slightly, with 410 deaths in 2017 compared with 404 in 2016. Non-poisoning deaths are categorised as being due to either trauma (n=196) or medical causes (n=214).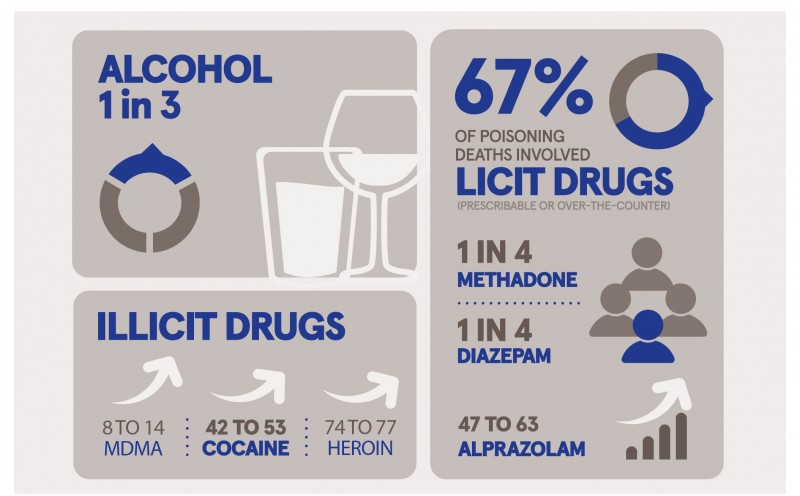 Figure 3: Infographic of drugs implicated in poisoning deaths in 2017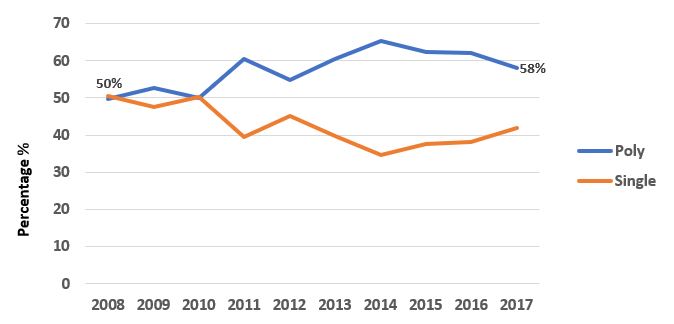 Figure 4: Evolution of polydrug poisonings, NDRDI, 2008-2017 (n=3715)
The main causes of non-poisoning deaths categorised as trauma were hanging (114; 28%) and those categorised as medical were cardiac events (56; 14%).
Six in every 10 (63%) people who died as a result of hanging had a history of mental health problems.
The median age for deaths due to medical causes has increased from 42 years in 2008 to 49 years in 2017, which may indicate an ageing cohort of people who use drugs in Ireland.
1. Health Research Board (2019) National Drug-Related Deaths Index 2008–2017 data. Dublin: Health Research Board. https://www.drugsandalcohol.ie/31275
2. A number of infographics that outline key data are also available for download as well as tables outlining breakdown by county and by DATFA (Drug and Alcohol Task Force Area) (https://www.hrb.ie/publications/publication/national-drug-related-deaths-index-2008-to-2017-data/returnPage/1/). For further information, visit: https://www.drugsandalcohol.ie/31275 and https://www.hrb.ie/publications
Repository Staff Only: item control page