Millar, Sean (2018) Public consultation for a new safe injecting facility in Dublin. Drugnet Ireland , Issue 65, Spring 2018 , pp. 9-10.
In October 2016, the Union for Improved Services, Communication and Education (UISCE) was invited to be part of the working group formed to discuss the proposed supervised injecting facility (SIF) that is planned to open in Dublin in 2018. UISCE provides an independent representative voice for people who use drugs and helps to ensure the sharing of accurate, up-to-date information. In order to identify the most important features of the proposed facility to the community of end-users, UISCE developed a short survey that included aspects identified by the working group as necessary to fully represent the opinions, thoughts and concerns of people who use drugs in public places.
In the survey, which was completed by 93 subjects (66% male), a set of questions focused on the person's experience with regard to the specific drugs that they choose to inject, how long they have been injecting, and where on the body they normally inject. UISCE also sought clarification from each participant about the characteristics of the areas where they normally inject, what is important about these locations, and how they would like to see a SIF administered. Additional questions about safety and comfort, before and after using drugs, were also included.
Survey findings
Key findings included the following:
76% of subjects considered themselves homeless.
90% of the respondents affirmed they were currently injecting heroin.
The average period of time that respondents reported injecting was 10 years, with a range of between 3 days and 30 years.
In terms of the parts of the body that people who inject drugs use most frequently, the majority of the sample affirmed they use mostly the arms (52%), groin (31%) and legs (16%). Ten per cent stated that they inject all over the body (figure 1).
49% of subjects said they inject between one and three times daily, with a majority stating that this was early in the morning (79%) and before they go to bed (73%) (figure 2).
86% of the sample had injected while on the streets and 75% stated that they feel unsafe when they are on the streets.
In terms of specific injecting locations, the answers varied: despite some respondents stating they would inject 'anywhere' or 'everywhere', the majority chose 'back lanes' or 'covered areas' ('parks', 'toilets', etc.). Almost all participants pointed out the importance of privacy, the need for good lighting, and highlighted the fact that the location served as 'shelter'. Furthermore, factors such as 'having other people around' (75%) and 'being close to where they bought the drugs' (74%) also stood out as having great importance when choosing a location. Regarding the sense of safety and comfort during and after injecting, over one-half of respondents affirmed that they are, or have been, comfortable injecting in front of other people, while 23% stated they would feel uncomfortable having other people around.
When respondents were asked about location and opening hours for a SIF, the answers varied extensively. While some people affirmed that they would travel 'anywhere' or 'everywhere', the majority said they would like it to be near the city centre or even close to a clinic. Regarding opening hours, the majority of respondents agreed it should be a service available 24/7 with a few exceptions. Finally, regarding the ideal set-up of the facility, it was agreed that some basic equipment, such as mirrors, tables and chairs, were essential. The answers highlighted the need to feel comfortable and of having access to medical professionals.
Conclusions
UISCE concluded that there is demonstrable support from the community of people who inject drugs in public places in Dublin for a SIF, which was indicated by the willingness of people to take part in the survey and share information to inform development. It was identified that a city centre location would be ideal. The percentage of people who identify as femoral injectors (31%) and the people who inject 'all over their body' (10%) highlight the need for space in the SIF to be designed with these people in mind. In addition, there is a need for education on safe injecting practices to be made available. In the recovery space, as demonstrated by the responses, there will need to be coffee and tea facilities as well as a smoking area. In addition, as there are high numbers of people who are homeless, coupled with high numbers of people who say that their preferred action after using drugs is to sleep, UISCE recommends support for people to access day services from the SIF.
 The report on which this article was based was prepared by UISCE from the findings of a survey among people who use drugs in public places in Dublin. We are grateful to Hannah Rodrigues, Coordinator, UISCE, who provided this report to us.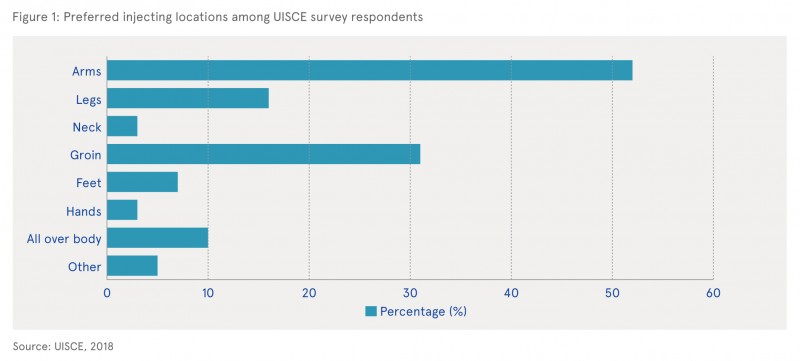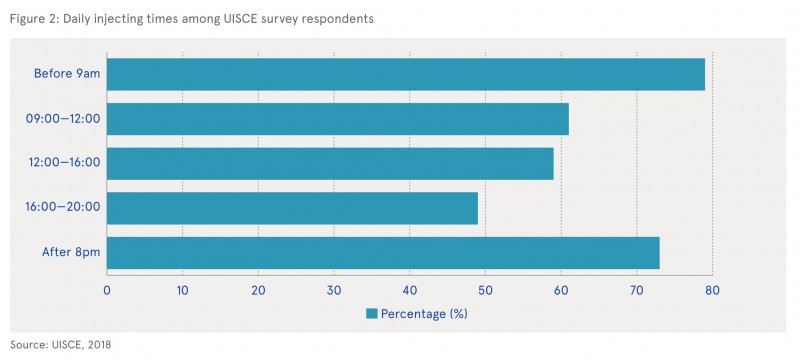 Irish-related, Open Access, Article
Substances (not alcohol/tobacco), Opioid
Repository Staff Only: item control page