Connolly, Johnny (2011) Citywide conference on drug-related intimidation. Drugnet Ireland, Issue 38, Summer 2011, pp. 1-3.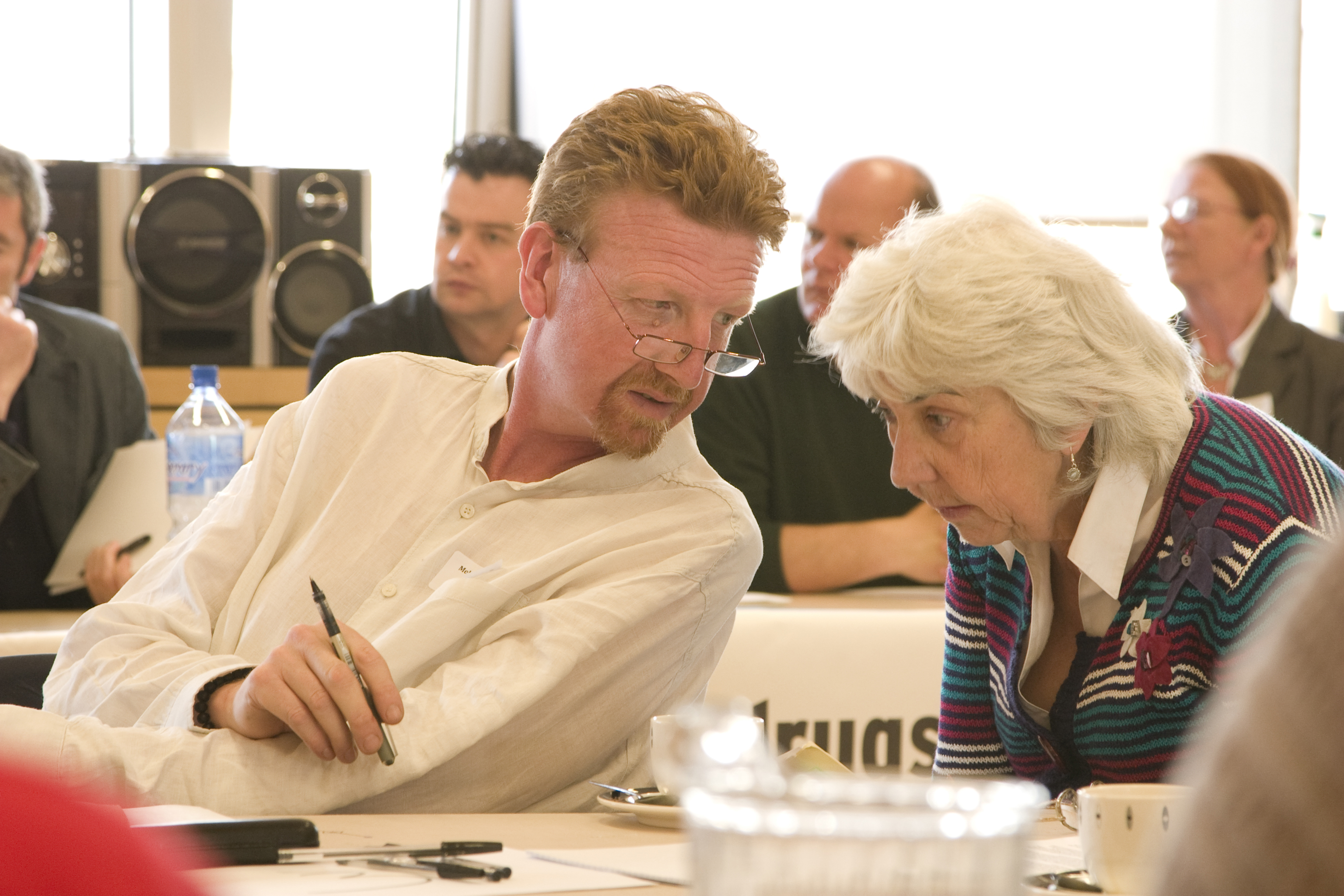 Pictured at the CityWide conference: Mel MacGiobúin of the North Inner City DrugsTask Force and Independent TD Maureen O'Sullivan
CityWide Drugs Crisis Campaign hosted a conference in May of this year addressing the issue of drug-related crime and intimidation. Over 80 people attendedthe half-day event in Ballybough Community Centre in Dublin's north inner city. The conference followed an event in October 2010 at which CityWide hosted a meeting titled: 'A community drug problem: defining the problem – defending the responses', where the issue of intimidation emerged as a central issue for many communities throughout Dublin.1 
In 2009 the Family Support Network (FSN)2 published the findings of research into the issue of intimidation of the families of drug users by those involved in drug dealing.3 Through its work, the FSN became aware of a large number of families experiencing intimidation as a result of a family member's drug-related debts. The intimidation of drug users and their families has also been highlighted as a key issue in the National Drugs Strategy 2009–2016 (NDS).4 Action 5 of the NDS aims'To develop a framework to provide an appropriate response to the issue of drug related intimidation in the community.'
The CityWide conference began with four short presentations. Detective Superintendent Michael O'Sullivan of the Garda National Drugs Unitreported on a pilot project in the Dublin Metropolitan Region. Established in March for a six-month trial period, the pilot works closely with the Family Support Network, and is designed to provide families and the wider community with a point of contact with the Garda Síochána. The project is to be reviewed at the end of August and, following feedback from stakeholders, is to be rolled out nationally.
Graham Ryall, a community activist in the Canal Communities in Dublin's south inner city, set the current issues against the historical backdrop of the 1980s and 1990s when anti-drugs groups such as the Concerned Parents Against Drugs (CPAD) emerged throughout the city to tackle drug dealing. In recent years, a partnership approach in Dolphin House involving the gardaí and local residents managed to put an end temporarily to open drug dealing. However, the economic downturn and the 'shelving of plans' to regenerate Dolphin House has, according to Ryall, 'had a major negative impact on the community'.
The third speaker, Audra Cotter of the Clonmel Community Based Drugs Initiative in Tipperary, reported on an inter-agency initiative which has been positively evaluated and which is currently being rolled out across the south east region. Prior to this initiative, families who needed advice or direction from the gardaí were reluctant to attend the local Garda station for a number of reasons, including the lack of consistency in the Garda personnel they would encounter. Now, families can meet specific gardaí from the Community Policing Unit in venues in which they feel safe and comfortable.
Johnny Connolly of the HRB highlighted the limited knowledge base in this area and the general failure of research and other information sources historically to properly reflect the local impact of drug-related crime and intimidation on the individuals, families and communities most affected. He cited a recent Limerick study to illustrate the way in which gangs can employ a variety of strategies, from serious violence to verbal abuse and vandalism by young children, to instill fear and impose territorial control on communities.5 In terms of building sustainable responses, the potential of community-based mediation and the further enhancement of Joint Policing Committees were highlighted.
The final part of the conference was dedicated to workshops where participants addressed the following three questions:
·         What is the level of intimidation in your community?
·         How has your community responded to the issue of intimidation so far?
·         What actions need to be taken?
The level and types of intimidation reported ranged from graffiti and low-level harassment directed at vulnerable people to the killing of family pets, beatings, stabbings, hostage taking, the petrol bombing of people's homes, threats of and actual sexual violence, shootings and murder. Threats of violence come from money lenders as well as from drug dealers. Gang members were known to wait outside post offices and dole offices to collect money from dependent drug users. Individuals also reported being forced to smuggle drugs into prison as part payment of a drug debt. Although many people turned to credit unions to pay drug debts, it was reported that many credit unions are now refusing to provide loans in such circumstances.
Single mothers living alone were particularly vulnerable; having to store or smuggle drugs as payment for a child's drug debt contributed to high stress levels, leading to illness and depression. In such circumstances, the growing dependence of such people on prescription drugs exposes an ironic connection between illicit and licit drug markets. A rise in suicides by those in debt was also reported, although the debt does not die with the person. Another ominous development was the disruption of local drug projects, either through graffiti or with gang members loitering outside projects to intimidate drug workers and clients. Outreach and healthcare workers reported being unable to enter certain areas because of control exerted by individuals or gangs.
With regard to community responses, all areas represented at the conference reported a reluctance to report incidents to the gardaí due to fear of reprisals. One immediate consequence of this is that the true levels of intimidation are not officially recorded anywhere. Where people did make formal complaints, it was felt that a promise of full Garda protection was not forthcoming. Community policing fora, where they existed, did help to build trust between the Garda Síochána and the local community. Also, an increase in Garda presence on the ground was reported as having a positive effect, although it could not be sustained over the long term. Similarly, CCTV had limited or no impact, as footage captured on cameras was reportedly not regularly monitored. Where it was monitored, the issue appeared to be simply displaced elsewhere.
A recurring theme related to drug-related intimidation within the Traveller community. The close-knit and isolated nature of the community meant that issues were seldom if ever reported to the gardaí. Where Travellers did report to the gardaí, other minor issues such as road tax were sometimes raised with the complainant, leaving them reluctant to engage further with the gardaí.
Services also face difficulties working with young people who are themselves involved in intimidating others, as some will arrive in to services in bullet-proof vests and carrying guns. On the other hand, a great deal of positive youth work was reported at the conference, including efforts to encourage problematic youth into facilities and exploring perceptions of crime among young people. Another initiative involved young people working with senior citizens, teaching them how to use computers, for example. A local area partnership initiative involved attempts to promote a positive sense of community in response to anti-social behavior. Despite these positive examples, in general, most delegates at the conference reported a sense of frustration at the absence of effective responses to the serious issues being confronted.
With regard to possible future approaches, a range of ideas was discussed, including:  
·         More secure ways of reporting problems and more protection for those reporting.
·         A 'Dial to Stop Intimidation' service, to be promoted as a community-based campaign, taking the emphasis away from Garda involvement so as not to deter people from making calls. Community workers could also assist service users to make reports using this mechanism.
·         An evidence base of incidences of intimidation, initially to be compiled informally at local level.
·         More resources into early interventions and youth development work.
·         Joint Policing Committees be made more effective and accountable.
·         The court system to fast track intimidation charges and to ensure that evidence could be given safely.
·         Community-based mediation, and community representatives to mediate safety issues with drug dealers.
·         A national conference/national day on intimidation to highlight the issue and create unity among communities.
It was agreed that the Citywide Drugs Crisis Campaign would facilitate the establishment of an Intimidation Working Group comprising specialists from various agencies and representatives from the community and voluntary sector. The full conference report has been posted on CityWide's website at  
www.citywide.ie/publications
.
1.Connolly J (2010) CityWide conference discusses drug-related intimidation. Drugnet Ireland, (36): 24.
2.The FSN was established in 2000 to support the development of family support groups throughout Ireland. There are currently over 70 family support groups affiliated to the FSN.
4.Department of Community, Rural and Gaeltacht Affairs (2009) National Drugs Strategy (interim) 2009–2016. Dublin: Department of Community, Rural and Gaeltacht Affairs.
5.Hourigan N (ed.) Understanding Limerick: social exclusion and change. Cork: Cork University Press.
Repository Staff Only: item control page