Connolly, Johnny (2010) Debt-related intimidation of drug users and their families. Drugnet Ireland, Issue 33, Spring 2010, p. 18.
In 2009 the Family Support Network (FSN)1 published the findings of research into the issue of intimidation of the families of drug users by those involved in drug dealing.2 Through its work, the FSN became aware of a large number of families experiencing intimidation by drug dealers as a result of a family member's drug-related debts. The research consisted of a postal survey of 91 family support workers or facilitators, of whom 50 responded – a response rate of 55%. 
The study found that no locality or region from which responses were received was untouched by intimidation. Of the 50 survey respondents, 30 knew of cases of intimidation in relation to debts of €500 or less. At the other end of the scale, 16 respondents were aware of cases relating to debts of between €10,000 and €40,000, and one respondent reported a case involving €60,000. Many of those in debt belonged to families surviving on very low incomes, who were often given only days to repay the debt. Drug users themselves often resorted to criminal activity to repay debts to dealers: many agreed to deal drugs or to hide, hold or transport drugs or firearms for the dealer to whom they owed money. Others engaged in violent activity, including murder in one case, as a method of repayment. Many female drug users engaged in prostitution to repay their debts.
Respondents were asked to list the types of intimidation experienced by families they encountered. The resulting lists included verbal threats, physical violence and damage to the home or other property. Seven respondents were aware of cases in which individual family members had experienced sexual violence or threats of such violence. Thirty-five respondents reported cases of intimidation in which mothers of drug users were targeted; 23 reported targeting of siblings; 21 reported targeting of fathers; 17 reported targeting of grandparents and children; and 10 reported targeting of partners and others.
The report identified a number of issues complicating both the impact of intimidation and the responses available to families. Because the debt was normally collected by a person working for the dealer, it was not always easy for families to know to whom the money was owed or whether the money was being given to the correct person. In deciding whether or not to pay a debt, families were influenced by their assessment of whether the intimidation would stop once payment was made, as 'many families are caught in a recurrent cycle of debt, intimidation, repayment and further debt' (p. 22). Fear often stemmed from knowledge of the perpetrators and their capacity to follow through on threats. Fifty-one per cent of respondents stated that threats were sometimes carried out; 33% that threats were always carried out; and 4% that they were never carried out.
Table 1 shows the various ways that families sourced the money to pay a debt on behalf of a family member, as reported by the survey respondents (six respondents were not aware of any such cases). In the case of social welfare payments, including children's allowances and disability payments, the intimidators sometimes waited outside social welfare offices on collection days to collect the debt.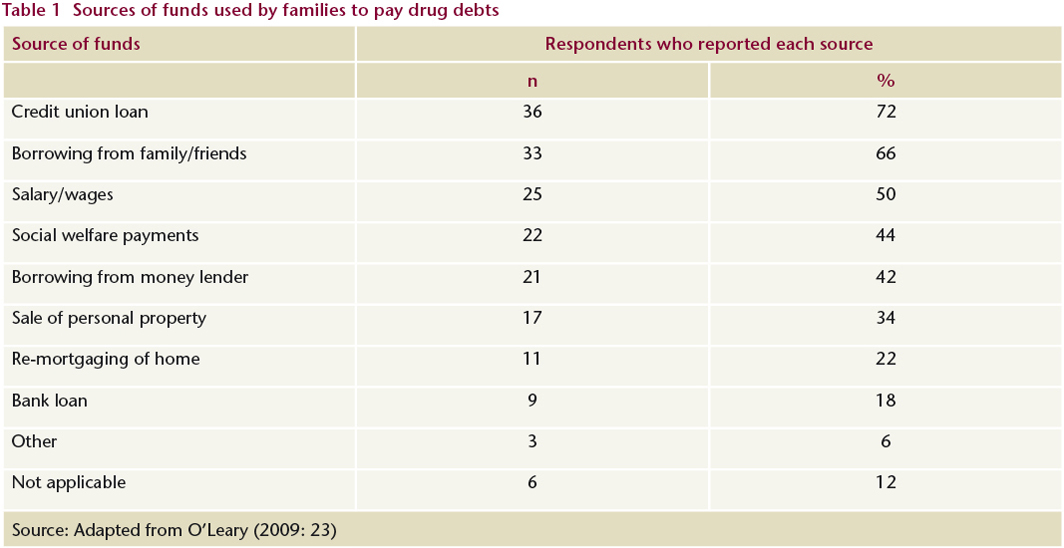 The study identified a number of themes through a case study analysis of reported incidents of intimidation. These included the following:
°         Threatening behaviour included verbal threats, intimidation at the workplace, harassment, death threats, threats of shooting, beating or 'knee-capping', and live bullets posted through letterboxes.
°         Physical/sexual violence against women included the forcing of drug users and partners into prostitution; two minors under 18 years of age were forced into prostitution; one dealer threatened to rape the daughter of a drug user.
°         Children wereencouraged by dealers to deal to friends or other children so as to create debt and force them into further dealing; children were often present when family members were beaten; in some cases mothers engaged in prostitution in the family home as a means of debt repayment.
°         Garda reaction – family members were too fearful to approach gardaí in relation to intimidation; many believed the gardaí were powerless to act; in one case gardaí advised a family to pay the debt, while in another they provided protective custody to a family and a drug user.
°         Women – perpetrators of intimidation targeted female drug users for debt repayment, in some cases forcing them, either directly or indirectly, into prostitution; a high proportion of families targeted were headed by a female lone parent; average weekly earnings of females were significantly less than their male counterparts and women were more likely to be out of the workforce; women often concealed intimidation and payment from their husbands/partners owing to fear that he might not be willing to pay.
°         Forced emigration – in many cases drug users had been forced to move or emigrate and were unable to return home.
The report called for a pilot initiative whereby the gardaí would identify a member of staff to liaise with families experiencing intimidation. A safe reporting and advice-provision procedure for families willing to report the issue and/or pursue it through the legal system was also called for. The intimidation of drug users and their families has been highlighted as a key issue in the National Drugs Strategy 2009–2016.3
1.The FSN was established in 2000 to support the development of family support groups throughout Ireland. There are currently over 70 family support groups affiliated to the FSN.
3.Department of Community, Rural and Gaeltacht Affairs (2009) National Drugs Strategy (interim) 2009–2016. Dublin: Department of Community, Rural and Gaeltacht Affairs.
Irish-related, Open Access, Article
Substances (not alcohol/tobacco)
Harm reduction, Crime prevention
Repository Staff Only: item control page