Guiney, Ciara (2020) Children's Bail Supervision Scheme evaluation. Drugnet Ireland, Issue 75, Autumn 2020, pp. 5-7.
In December 2019, Minister Katherine Zappone launched the Evaluation of the Bail Supervision Scheme (BSS) for Children report.1 The evaluation, commissioned by the Department of Children and Youth Affairs (DCYA), was carried out by the Research Evidence into Policy Programmes and Practice (REPPP) team from the School of Law in the University of Limerick. The overall aim of the evaluation was to examine behavioural change outcomes and processes that contributed to those outcomes between May 2017 and June 2018. DCYA commissioned the social justice charity Extern to deliver the 'pilot' BSS intervention to children deemed at high risk of being detained in a prison in Dublin (p. 9). 
What is the Bail Supervision Scheme?
Bail supervision has mainly been used to increase bail compliance in youth. It can result in reduced reoffending and in consequence a reduced demand for detaining youth during the remand period. In Ireland, DCYA established BSS to give courts another option for children at risk of being denied bail. In addition, in contrast to other jurisdictions, the view in Ireland is that the remand period is a time where behavioural change can occur. BSS applies the evidence-based multisystemic therapy (MST) model as part of routine court processes, such as supports provided by the Courts Service, Young Persons Probation (YPP), and An Garda Síochána (AGS) (p. 9). 
Multisystemic therapy
MST is an intensive family-based intervention that aims to enable change by ensuring that young people remain at home, in education, training or working, and are not arrested for new charges (p. 12). The main objective is to help move the young person towards prosocial activities and peers. The MST model also enhances family functionality and support networks and enables caregivers to develop skills considered vital to allowing them to generalise learning and manage issues that may arise in the future. The intervention is implemented in the home and caregivers are given support 24/7 for a period of between three and five months (p. 12) 
Eligibility requirements
To ensure that BSS targeted young people of highest risk, referrals initially were made by Oberstown Children Detention Campus and later on by Court 55 (Children's Court). Eligible young people had to meet specific requirements:
The scheme was mainly confined to the catchment area of within 20 miles of Children Court in Dublin.
Those eligible were aged between 12 and 17 years (inclusive), with a minimum of three months prior to their 18th birthday.
Those eligible must be living with an appropriate adult or caregiver for the duration of the scheme. 
Offers to participate in the scheme occurred at the second court appearance when referred by Oberstown and at the first court appearance when referred by Court 55. Because MST occurred during pretrial court processes, the BSS team engaged with statutory agencies (AGS, Oberstown, Tusla, YPP, Courts Service) and non-statutory agencies (defence and prosecution legal teams, local agencies, e.g. educational establishments, youth services, community groups, drug counselling services, and local sports groups). 
Evaluation methodology
The evaluation was centred on contribution analysis, which is a theory of change that involves a six-step rigorous and systematic process. This approach can produce credible evidence showing that behaviour outcomes can be attributed to an intervention. A quasi-experimental design was applied and allowed for comparisons to be made between BSS participants and a 'naturally occurring' control group, consisting of youth remanded to custody from areas outside the catchment area (p. 16). 
Research questions
Three research questions were addressed:
1  Did the BSS work? More specifically, did the BSS contribute to changes in the young person's behaviour including reduced reoffending and adherence to bail conditions?
2  How did the BSS work? More specifically, how many young people were referred to, enrolled on and completed the BSS during the evaluation period, and what were the factors that facilitated or acted as a barrier for referrals?
3  Why did the BSS work? More specifically, how did the BSS processes facilitate or act as a barrier to obtaining the observed outcomes? (p. 16). 
Findings
The evaluation found that offending behaviours were reduced, young people had greater compliance with their bail conditions, and custodial sanctions were reduced. A summary of the key findings is presented in Table 1.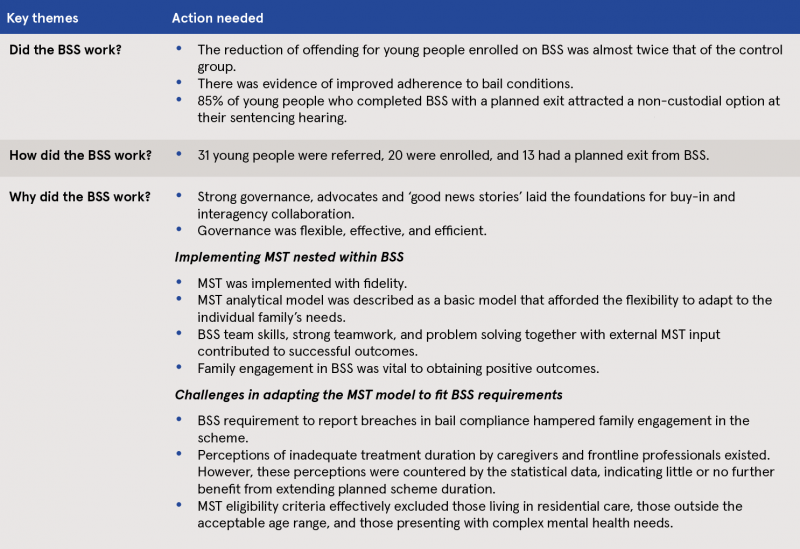 Conclusion
Minister Zappone acknowledged the recognition that BSS had received within Ireland and internationally and thanked all agencies, statutory and non-statutory bodies, that were involved. Following the success of BSS in Dublin, in June 2020, the Minister provided funding to expand and extend the scheme to courts in Cork and Limerick.2 
1 Naughton C, Redmond S and Coonan B (2019) Evaluation of the Bail Supervision Scheme for Children (pilot scheme). Dublin: Department of Children and Youth Affairs.
https://www.drugsandalcohol.ie/31491/   
2 Department of Children, Equality, Disability, Integration and Youth (2020) Press release: Minister Zappone extends successful Bail Supervision Scheme. Available online at:
https://www.gov.ie/en/press-release/c0fb7-minister-zappone-extends-successful-bail-supervision-scheme/
Irish-related, Open Access, Article
Harm reduction, Crime prevention, Policy
Repository Staff Only: item control page