Millar, Sean (2020) Street tablet use in Ireland – results from a Trendspotter study on use, markets, and harms. Drugnet Ireland, Issue 74, Summer 2020, pp. 1-4.
The non-medical use of prescription drugs has become a global health concern. Non-medical usage is defined as the taking of prescription drugs, whether obtained by prescription or otherwise, except in the manner or for the reasons or time period prescribed, or by a person for whom the drug was not prescribed.1 The non-medical use of pharmaceuticals is a unique category of substance misuse in a number of ways, as the scale of the problem is largely unknown owing to lack of data. This is partly due to the existence of many gaps in the monitoring of their legal use for medical purposes. In addition, most studies on, and monitoring instruments for, substance abuse pertain to the use of illegal drugs or alcohol and tobacco. 
In the Republic of Ireland, converging signals of the ongoing non-medical use of pharmaceuticals ('street tablets') among clients of community-based, drug harm-reduction service agencies in Dublin were noted in 2018. These included significant levels of street tablet use among service clients, an increase in the prevalence of pregabalin in drug-related deaths data since 2015, and reports of online purchasing of tablets for the Irish market. In order to better understand these converging signals, the Ana Liffey Drug Project (ALDP), the School of Public Health at University College Cork, and the Health Research Board, with the support of the European Monitoring Centre for Drugs and Drug Addiction (EMCDDA), conducted a Trendspotter study to examine patterns of use, markets, and harms related to street tablets in Ireland.2 
Trendspotter study
A Trendspotter study is a rapid information assessment that uses multiple social research methods to explore a topic of interest or concern. The approach was developed and has been used by the EMCDDA since 2011 as a tool to complement other routine drug-monitoring methodologies.3 It has generally been utilised to explore emerging phenomena and new trends that are in their infancy and/or not covered by existing datasets. Undertaken between May and September 2019, the study commenced with a phase of data collection and a literature review, culminating in a 1.5-day expert presentation and facilitated groups meeting. The meeting consisted of a group of 11 experts from ALDP, the University of Limerick, Forensic Science Ireland, the Health Products Regulatory Authority, the Health Service Executive Addiction Services, Merchants Quay Ireland, An Garda Síochána, and addiction/homelessness specialist general practitioners. Key findings from the report are discussed below. 
Street tablet use
Experts provided data on use, changing consumption patterns, and availability, with a majority indicating that there has been an increase in the use and availability of street tablets in Ireland between 2016 and 2019. Drugs which are commonly misused in tablet or capsule form include benzodiazepines, Z-drugs, and gabapentinoids. The user groups identified included high-risk opioid users, prison populations, people with complex and multiple needs, and young people. Among these groups, the motivations for using street tablets included their intoxicating effects, to enhance desired effects from illicit substances, to help withdrawal symptoms, to improve sleep, and to reduce stress. Other potential reasons for use are that tablets are cheap to purchase and are easily available. Feedback from recent research as well as experts in this study highlighted the importance that culture plays in the availability and use of street tablets among communities. On a cultural level, there is an acceptance of the misuse of street tablets as part of normal life and behaviour. Doctors have the legal ability to prescribe these medications on a wide scale, which strengthens the idea that they are safe to use for long periods of time. Also, in addition to affecting local cultures, street tablet supply, trade, and distribution have become embedded in local economies, as people are selling, sharing, and swapping street tablets as a form of currency. 
Street tablet markets
In terms of the importation of ready tableted products, the main sources appear to originate from the Indian subcontinent. However, as Ireland is not a transit country, identifying the origin of drugs being transported to Ireland can be difficult. Another possible avenue of availability cited was the healthcare system, with overprescribing resulting in the ability for individuals to sell unused tablets on the street. Online sources were also identified as a source of street tablet availability and that, through the internet and social media, distribution of benzodiazepines, Z-drugs, and pregabalin is much easier and wider-reaching. Insofar as routes to markets for tablets in Ireland are concerned, all of these sources are likely to play a part. 
It is interesting to note that in terms of online purchasing, as far as prescription medications are concerned, the study noted that there are adequate sources available on the surface web to suggest that purchasers do not have to be sophisticated web users capable of operating on the dark web in order to purchase tablets online. There are many 'online pharmacies' where medications may be purchased without a prescription. As these sites do not have to be registered in Ireland, or store their stock here, it can be difficult for Irish regulators to assert authority over such enterprises. Concerningly, the study noted that the laboratory analysis of detained products demonstrated that medicines purchased online often contain too little or too much of the active ingredient. They have also been found to contain harmful or undeclared substances. 
Street tablet harms
Data from the Irish Healthcare Pricing Office demonstrate an increase in the number of non-fatal self-poisoning cases involving benzodiazepines and antiepileptic and sedative-hypnotic drugs between 2015 and 2018. Statistics from the National Drug-Related Deaths Index (NDRDI) also indicate an overall increase in the number of deaths involving alprazolam, zopiclone, and pregabalin. In particular, pregabalin-related deaths have risen year on year between 2012 and 2016, with an increase of 33% between 2015 and 2016 and an overall increase of 364% between 2013 and 2016 (see Figure 1). Concurrent with an increase in the number of drug-related deaths in Ireland involving benzodiazepines and antiepileptic and sedative-hypnotic drugs, data from the NDRDI also show an increase in the number of poisoning deaths involving a combination of substances between 2004 and 2016 (see Figure 2). Experts who took part in the study indicated that polydrug use remains a consistent factor in the harms related to street tablet use and that the combined use of controlled substances and street tablets has contributed to an increase in drug-related deaths. In addition, the study found that from reports by Irish drug harm reduction services and external studies indicate that individuals who misuse pharmaceuticals are taking (often much) higher than recommended doses and that a vast majority have a history of misuse or dependence on other drug.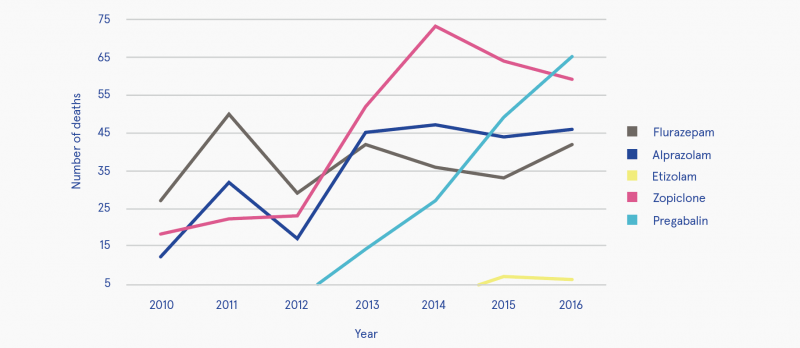 Source: Duffin, Keane and Millar (2020)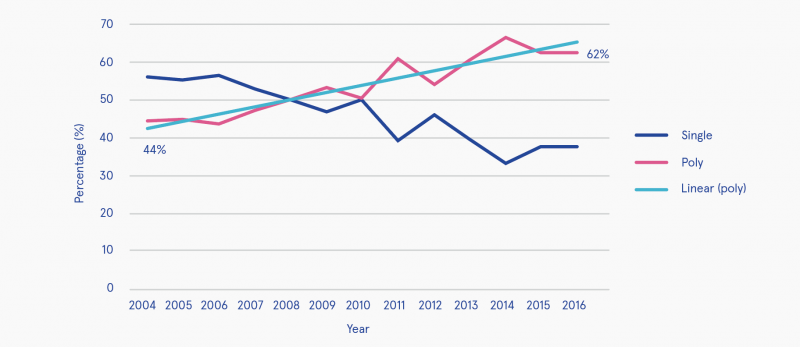 Source: Duffin, Keane and Millar (2020) 
Conclusions
The study identified a number of issues which could help to manage the street tablet market. In terms of preventing leakage from the legitimate sources, a robust electronic prescribing system could help better control access, and might help prevent 'doctor shopping'. However, it was also noted that care is needed not to inadvertently divert people to the street market to seek access to tablets. There is also a need to understand and be effective in addressing why individuals are using tablets in the first place, and therefore able to address the reasons why people have to access the tablet market. In this context, supporting medical professionals to better understand and be equipped to address the demand encountered is important, as is the need to get existing public health and harm reduction messaging into novel market spaces, such as the online environment.
1          United Nations Office on Drugs and Crime (UNODC) (2011) The non-medical use of prescription drugs: policy direction issues. New York: United Nations.
2          Duffin T, Keane M and Millar SR (2020) Street tablet use in Ireland: a Trendspotter study on use, markets, and harms. Dublin: Ana Liffey Drug Project. https://www.drugsandalcohol.ie/31872/
3          European Monitoring Centre for Drugs and Drug Addiction (EMCDDA) (2018) Trendspotter manual: a handbook for the rapid assessment of emerging drug-related trends. Luxembourg: Publications Office of the European Union. https://www.drugsandalcohol.ie/30080/
Repository Staff Only: item control page