Lyons, Suzi (2019) Chrysalis launch their latest strategic plan on 20th anniversary of service. Drugnet Ireland, Issue 68, Winter 2019, p. 24.
On the 14th of November, the Chrysalis Community Drug and Alcohol Team, led by Passerose Mantoy, launched their strategy plan for 2019-2021. At the same event they celebrated twenty years providing a range of drug and alcohol services in Dublin North Inner City.   Master of ceremonies was Dr Des Crowley who is also chair of Chrysalis board of directors. The event was attended by many past clients of Chrysalis and representatives of other services. 
Dr Des Crowley introduced the event and Passerose Mantoy gave an emotional and heartfelt speech about the work of Chrysalis and how it had grown to meet the challenges of those with drug and alcohol problems in their community. 
Dr Suzi Lyons from the Health Research Board gave an overview of drug treatment trends over the past 20 years. Colman Ronayne from Chrysalis gave an insight into what case management really means. Michael McGoldrick, pharmacist from the Mews Clinic spoke of the cooperation between the HSE and Chrysalis and how they worked to meet the needs of the clients. Dr Marguerite Woods spoke about trauma informed practice.   Eamonn Geoghegan from Chrysalis gave an overview of the peer-led initiatives in the service. Finally Wendy Lyon spoke about human rights and sex work. 
Chrysalis already offers a wide range of services, ranging from harm reduction, early intervention, case management and integrated care planning, counselling and aftercare. Its new strategy looks to extend the range of services offered and has a new team leader to support the key workers, peer works and therapists currently provided care to the North Inner City.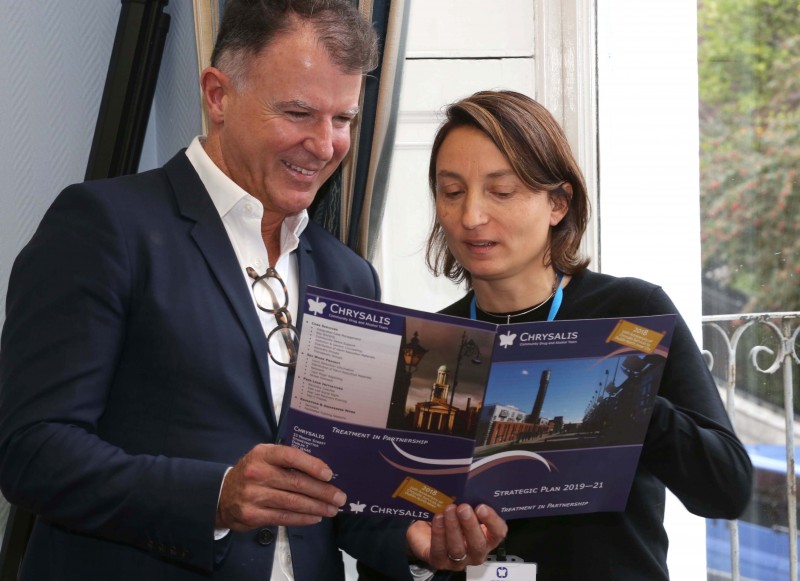 Dr Des Crowley, chair of the Chrysalis board of directors, and Passerose Mantoy-Meade, Chrysalis Community Drug and Alcohol Team, at the launch of the strategy plan (Photo: Derek Speirs) 
Irish-related, Open Access, Article
Repository Staff Only: item control page