Lyons, Suzi (2019) Twenty years of the Methadone Treatment Protocol. Drugnet Ireland , Issue 68, Winter 2019 , pp. 1-3.
Twenty years of the Methadone Treatment Protocol
In recognition of the 20-year anniversary of the Methadone Treatment Protocol in 2018, the Irish College of General Practitioners (ICGP) has brought together a series of reflections of their Substance Misuse Programme.1 This comprises articles and extracts from Forum, the journal of ICGP, summaries of ICGP publications, pictures, and personal reflections from doctors and patients.
Context to the Methadone Treatment Protocol in Ireland
Fifty years ago, the first Working Party on Drug Abuse was established in Ireland, after which came a series of committees leading to the introduction of the Misuse of Drugs Act, 1972. By 1983, an escalation of problem opiate use was apparent, particularly in relation to injecting drug use and the risk of HIV, prompting a response from health professionals and authorities. In 1989, Professor Gerard Bury wrote that:
General practice has much to offer in the care of drug misusers. The unique relationship between many GPs and their patients is an important resource in educating and motivating misusers to change their pattern of use. This is particularly important with respect to high-risk practices for the transmission of HIV. (p. 5)2
By 1991, the role of general practitioners (GPs) in providing methadone treatment was cemented in the Government strategy to prevent drug misuse, which highlighted the role of GPs in the community for caring for problem drug users.3
ICGP substance misuse programme: the first two decades
When the Methadone Treatment Protocol was introduced in 1998, it brought about a change in practice; for example, methadone replaced Physeptone as the choice of opiate substitute. There was a significant amount of cooperation and work needed between all partners to get the programme started, which was initially limited to the Greater Dublin Area. Since then, the number of clients receiving methadone both in clinics and with GPs has expanded greatly.
Dr John Latham, writing for Forum in March 2018, said of the methadone protocol:
Twenty years on, the Opioid Protocol remains a remarkable system of life-saving, health-enhancing, public health positive care in the community. The protocol has ensured that this care is now available to about 10,000 patients nationwide. Practice has changed with regard to frequency and observation of urine sampling and I hope in future there will be more emphasis on encouragement and safe care for those wishing to detox and become drug-free. (p. 15)
The 'Education and innovations through the years' section showcases the education and training developments over the past 20 years in the ICGP related to substance misuse.
'Reflections on 20 years of the Methadone Treatment Protocol in Ireland' is a collection from professionals and clients on the overall success of the programme, two of which are reproduced below:
It's been extraordinarily helpful. I don't want to be on it forever but certainly as I become more and more stable and I am able to benefit from the support structures I have as a result of that stability.
Anonymous client (p. 28)
The implementation of the Methadone Treatment Protocol in 1998 represented the most radical abandonment of such negative ideas about the possibility of normalizing addiction treatment, … building in a variety of safeguards for doctors, their patients and the community at large in a clever piece of legislative action in an unusually complex policy arena. Credit for the Methadone Protocol, it seems to me, should be shared amongst several stakeholder groups: from the early-1990s onwards, Dublin GPs who had worked responsibly (and without much thanks) with drug users were joined by a new cohort of GPs who had experience of this kind in the UK; the voluntary harm reduction agencies (chiefly the Ana Liffey Project and Merchants Quay Ireland) played a helpful role; and, as already indicated, some Department of Health officials were crucial to this process.
Dr Shane Butler, Emeritus Fellow, Trinity College Dublin (p. 30)
Proven successful model of managing chronic disease – where to from here?
The editors of the publication point to the key role that GPs will continue to have in identifying and caring for patients with addiction problems, highlighting the ongoing problems of alcohol, benzodiazepine and over-the-counter codeine misuse in addition to opiate problems. In primary care, there is the opportunity to normalise addiction treatment and reduce the stigma of opiate substitution treatment, particularly as a long-term treatment. Although much has been achieved over the past two decades, there remain significant challenges; for example, waiting times in parts of the country, lack of choice of opiate substitution medication for patients, and poor patient experiences in relation to service provision. The editors recommend the full implementation of the recommendations of the external review of the protocol, conducted by Professor Michael Farrell and Professor Joe Barry in 2010.4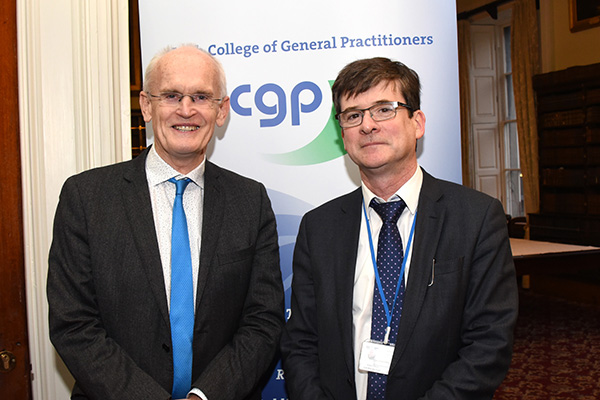 Professor Sir John Strang (left) and Dr Eamon Keenan at the Methadone Treatment Protocol event in the Royal Irish Academy
1    Delargy I, Doran G and Patton P (eds) (2018) 20 years of the Methadone Treatment Protocol in Ireland. Dublin: Irish College of General Practitioners. https://www.drugsandalcohol.ie/29872/
2    Bury G (1989) Drug problems in Dublin, The Practitioner, 233: 1486–89. https://www.drugsandalcohol.ie/6704/
3   National Co-ordinating Committee on Drug Abuse (1991) Government strategy to prevent drug   misuse. Dublin: Department of Health. https://www.drugsandalcohol.ie/5108/
4    Farrell MI and Barry J (2010) The introduction of the opioid treatment protocol. Dublin: Health Service Executive. https://www.drugsandalcohol.ie/14458/
Irish-related, Open Access, Article
Drug therapy, Treatment method
Repository Staff Only: item control page