Millar, Sean (2017) Alcohol, tobacco and illicit substance use among 17‒18-year-olds in Ireland. Drugnet Ireland , Issue 61, Spring 2017 , p. 10.
Growing up in Ireland is the national longitudinal study of children in the Republic of Ireland. Funded by the Department of Children and Youth Affairs (DCYA), the project is overseen and managed by the DCYA in association with the Central Statistics Office. The child cohort was recruited in 2007, when 8568 nine-year-olds were interviewed. Just over 7400 young people were re-interviewed at 13 years of age (between August 2011 and February 2012) and just over 6200 participated again at 17–18 years (between 2015 and September 2016). This article highlights key findings on alcohol, tobacco and illicit substance use in this cohort using information collected during the third wave of the study.1 The data were collected in home-based, face-to-face interviews.
Alcohol use
Table 1 shows the prevalence of substance use in the Growing up in Ireland cohort. With regard to alcohol use, a majority (89%) of 17–18-year-olds reported having consumed alcohol at some stage in their lives. When study participants were asked about current drinking patterns, 5% indicated that they did not currently drink, just under one-half (48%) said they did so monthly or less, 40% drank 2–4 times per month, and 6% reported that they drank 2–3 times a week or more. In general, males were significantly more likely than females to drink frequently (52% vs 46%), while frequency of drinking and amount of alcohol consumed did not vary statistically by social class. It was also found that subjects who started drinking at an earlier age were more likely to be heavier drinkers at 17–18 years of age, with 62% of participants who had started drinking at 13 years of age drinking 2–4 times per month or more compared to 47% who had not.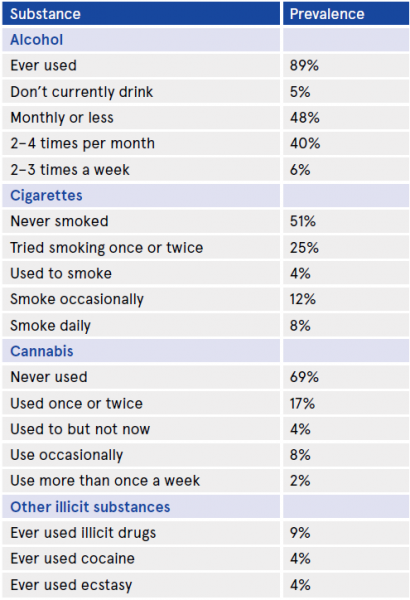 Table 1 Substance use among 17‒18-year-olds in Ireland
Tobacco use
Study participants were asked to record how frequently they smoked: from a set of five precoded categories ranging from never to daily. Fifty-one per cent of 17–18-year-olds reported that they had never smoked, 25% had tried smoking once or twice, 4% of subjects used to smoke, 12% smoked occasionally, while 8% indicated that they were regular smokers. Although no significant gender differences in smoking patterns were observed, similar to findings regarding alcohol behaviours, it was noted that smoking at an earlier age was associated with heavier smoking in later adolescence. Subjects who had smoked a cigarette by 13 years were more likely to be daily smokers by 17–18 years than those who had not (31% vs 6%).
Cannabis and other illicit substance use
When subjects were asked about illicit substance use, a majority (69%) of 17–18-year-olds reported that they had never used cannabis, with 8% suggesting occasional use, and a small proportion (2%) indicating weekly use. Male participants were significantly more likely to use cannabis than females (12% vs 7%). With regard to the use of other illicit substances, 9% of study participants reported that they had ever used other illicit drugs. Prevalence was below 1% for most of the drugs included, with cocaine and ecstasy showing the highest rates of use (4% for both).
Conclusions
The authors noted that levels of alcohol consumption, smoking and illicit substance use are clearly a concern in terms of current and future well-being of young people. A majority of 17–18-year-olds had consumed alcohol, a fifth of the cohort also smoked, at least occasionally, and a proportion had also experimented with other drugs. As the findings showed higher consumption and greater frequency of use of both alcohol and cigarettes by those who had tried them at a younger age, the authors suggest that interventions to limit risky behaviours in young people should be implemented at as early an age as possible.
1   Department of Children and Youth Affairs (DCYA) and Central Statistics Office (CSO) (2016) Growing up in Ireland. Key findings: child cohort at 17/18 years. No. 4: risky health behaviours and sexual activity. Dublin: DCYA and CSO. https://www.drugsandalcohol.ie/26344/
Irish-related, Open Access, Article
Alcohol, Cannabis, Tobacco / Nicotine
Repository Staff Only: item control page