Grehan, Martin (2016) Factors influencing reunification between NDTC service users and their children in care. Drugnet Ireland, Issue 59, Autumn 2016, pp. 14-15.
Social workers from the National Drug Treatment Centre (NDTC) recently examined the issue of care admissions of children of parents attending the NDTC.1 They outline how it is well recognised internationally that misuse of drugs by parents can have detrimental effects on child welfare, including a higher risk to the child of addiction in later life.
Previous studies in the Irish context are limited in number, but a number of studies have shown a high proportion of children taken into care among cohorts of drug users and homeless individuals in Dublin. The Health Service Executive (HSE) reported in 2011 that the primary reason for admission to care of 12% of children was a family member with drug or alcohol misuse. The authors also note how other studies show that drug-using parents can be motivated to provide adequate care for their children, and highlight how a combination of other factors, such as poverty, homelessness, mental health issues, and lack of family and social supports contribute to children being admitted to care.
The authors note that a primary focus of social work is maintaining family unity. Where children are admitted into care, maximising the chances of reunification is key to addressing this issue. The study consisted of two parts. Firstly, the authors retrospectively analysed data on child admissions to care for service users of the NDTC for the period 2001–2010. The NDTC cares for an average of 550 problem opiate users. Variables recorded included whether or not the placement in care was within the extended parental family; admissions shortly after birth; and whether or not the children remained in care after one year.
Secondly, the authors asked the social work team at the NDTC to identify factors that they felt contributed to reunification within the first 12 months. Service users who had their children returned within 12 months were also asked to identify the factors that assisted reunification. This was done through providing participants with a list of seven factors chosen by the authors and allowing the participants to prioritise the factors from 1 to 7.
Arrangements where children were being cared for informally within the extended family were not recorded nor were reunifications after 12 months. The authors note that these kinds of reunifications were anecdotally accepted to be low in number. The authors also point out that reunification within 12 months is not a guarantee of future family stability, and that readmissions to care do occur.
 Results
Over the period 2001–2010, 142 children of service users were admitted to care. Sixty-one (43%) admissions to care came under section 36 of the Child Care Act 1991. This Act allows for children to be placed in care with a relative or family friend, assuming some initial criteria have been met. This can be done voluntarily or by court order. Interestingly, the national figures from 2011 indicate 29% of admissions to care were under section 36. While noting the potentially positive benefits of children being cared for by family members or friends, the authors warn that evidence suggests issues with these scenarios include reluctance to allow social work involvement, low levels of support offered, and carers sharing a similar background to parents.
The authors report that 46 of the 142 children were admitted to care shortly after birth. They take into account some anecdotal factors that appear associated with these early admissions to care, including illicit drug use during the pregnancy, the child exhibiting withdrawal symptoms after birth, and chaotic behaviours of the service user (e.g. address changes, not meeting appointments, etc.). The authors note the harm of separation at this early point, and how it is important to maintain frequent appropriate access to enhance the chances of reunification.
Of the 142 children taken into care during the period, 120 had not been reunified with their parent(s) 12 months later. This means that only 21 children (14.7%) had been returned to the care of their parent(s) after 12 months. This is contrasted with 34% of children taken into care nationally in 2011 being reunified within 12 months.
The social work team at the NDTC identified progress in treatment as the main factor resulting in reunifications. Only six parents were interviewed for the study, with four identifying maintaining bond/contact with children in care as the main factor in their reunifications. A full list of factors is provided in Table 1.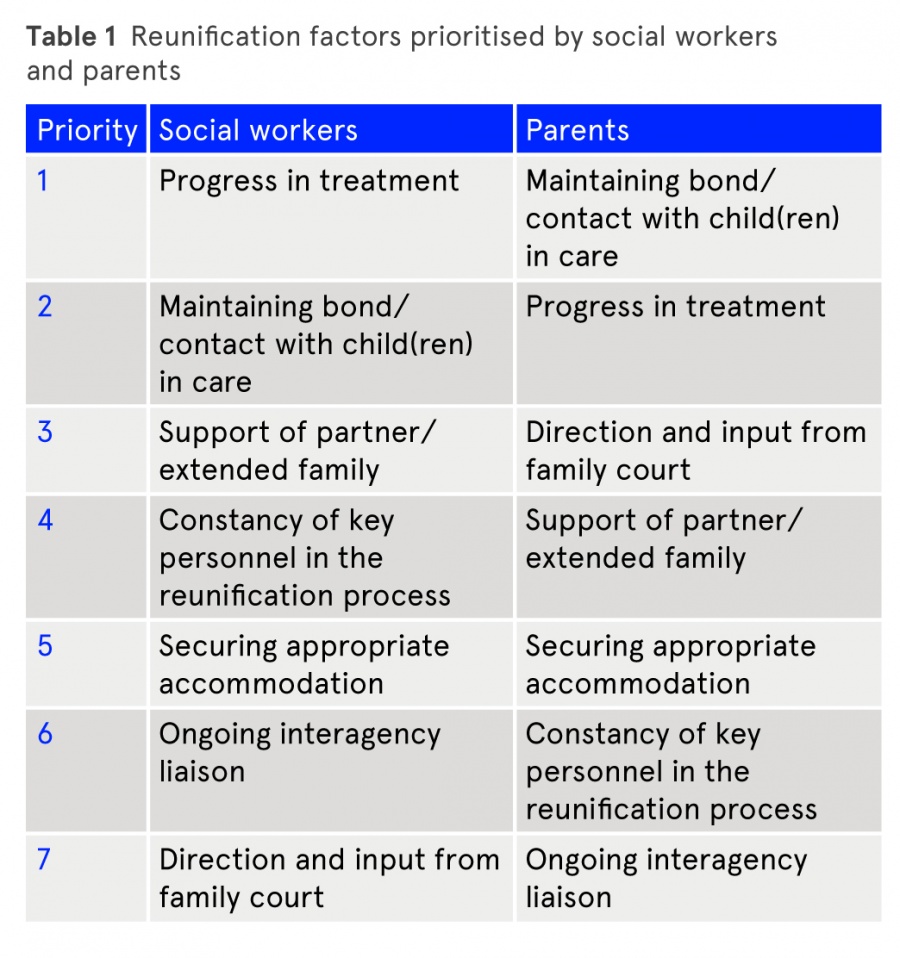 The authors note that specialist interventions in the US (independent recovery coaching) and the UK (court-appointed multidisciplinary team) have been shown to raise the rate of reunification in cases like these. In Ireland, Ashleigh House, part of Coolmine Therapeutic Community, is the only residential service in Ireland for women requiring treatment and their children. Women can either live with their children or have weekend access, or work towards access, depending on their circumstances.
The authors express the hope that interventions like these could improve reunification rates and help meet the key principle of family reunion. They also highlight the need for enhanced contact between parents and children in care, believing it could increase the rate of reunification.
1 McGivern A and McDonnell C (2015) Vulnerable families and drug use: examining care admissions of children of parents attending an Irish drug treatment facility. Irish Social Worker, Spring: 17‒23. https://www.drugsandalcohol.ie/24712
Irish-related, Open Access, Article
Treatment method, Harm reduction
Repository Staff Only: item control page