McGuire, Vivion (2015) Coolmine Therapeutic Community annual report 2014. Drugnet Ireland, Issue 55, Autumn 2015, pp. 27-28.
The Coolmine Therapeutic Community (CTC) annual report for 2014 was launched by Aodhán Ó Ríordáin TD, Minister of State with special responsibility for the Drugs Strategy, on 14 July 2015.1 It contains information and statistics relating to services, strategic partners, funders and supporters.
The year 2014 saw CTC providing treatment and rehabilitation services to over 1,250 people, supporting them and their families in overcoming their addiction. The report notes the continuing increased demand for CTC's services. The services offered by CTC and the numbers of people accessing them in 2014 are shown in Table 1.
New initiatives during 2014 were established and resourced through existing funding. February 2014 saw the establishment of the 'Parenting under Pressure Programme', which has been used by clients from across the service. Most notably, during May 2014 CTC began to implement its pilot 'Community Alcohol Treatment Programme' (CATP). Also started in 2014 was a 'Recovery through Nature' (RtN) programme, which provides clients with the opportunity to volunteer in a nature-rich environment once a week, and offers an additional therapeutic outlet for clients to aid their retention in service while gaining new life skills. During the first six months of this programme, 84 clients participated and the retention rate was 73%. CTC clients volunteered over 3,000 hours in conservation projects in Fingal County Council Millennium Park, Tolka Area Partnership, Wicklow Mountains National Park, and in Dublin City Council projects such as Bull Island biosphere conservation works and bulb/flower planting in St Anne's Park.
Coolmine's work is evidence-based and its commitment to formal research is evidenced by the completion of its three-year longitudinal study, due to be published in 2015. Among the key findings of the study are: 
71% of clients were drug-free 24 months after concluding therapy,
97% of clients did not engage in criminal activity 24 months after therapy, and
25% of clients were employed 24 months after therapy.
Coolmine hosted the European Working Group on Drugs-Oriented Research (EWODOR) symposium at Trinity College Dublin in May 2014 and will host the conference of the European Federation of Therapeutic Communities (EFTC) in 2017.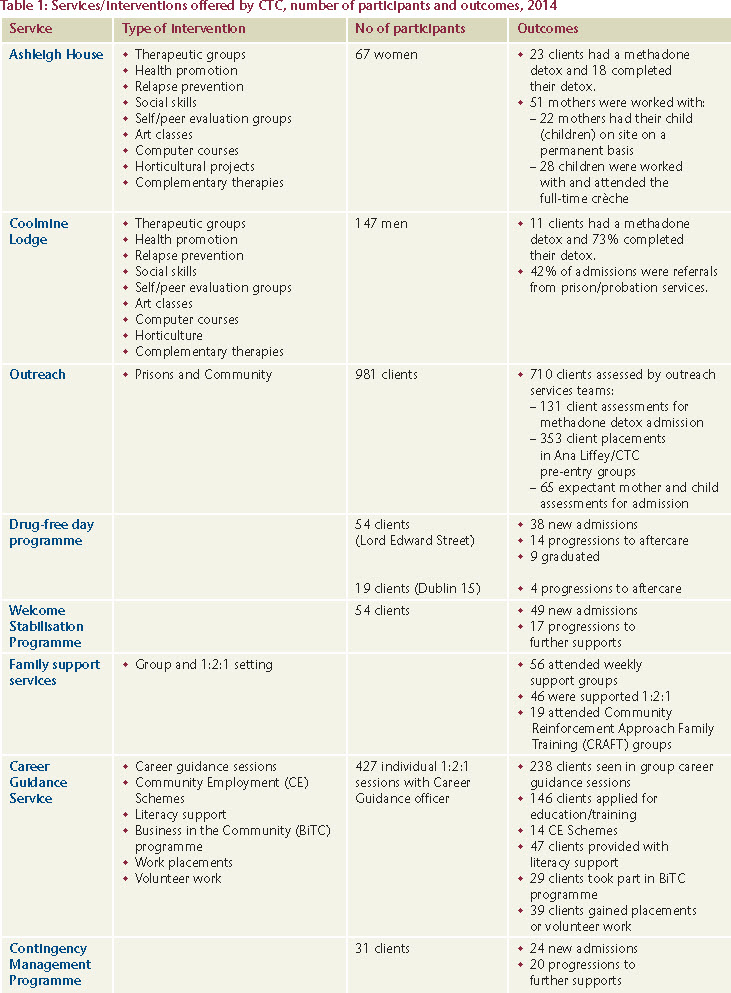 Coolmine Therapeutic Community (2015) Annual review 2014 Dublin: CTC. Available at https://www.drugsandalcohol.ie/24309/
Irish-related, Open Access, Article
Repository Staff Only: item control page