Curtin, Margaret (2014) Polydrug use in Ireland: 2010/11 survey results. Drugnet Ireland , Issue 51, Autumn 2014 , p. 14.
In June 2014 the National Advisory Committee on Drugs and Alcohol published Bulletin 5 in a series of reports on the 2010/11 survey on drug use in the general population.1 The bulletin focused on polydrug use in the adult population (15–64 years). Polydrug use was defined as concurrent substance use, where a person uses at least two substances within a one-month period. The final achieved sample was 5,134 in the Republic of Ireland. This represented a response rate of 60%. 
Twenty per cent of all adults had not used any substance within the last month. Women were more likely than men not to have used any substance (23% vs 19%). The most common combination of substances used was alcohol and tobacco (16%), followed by alcohol and other legal drugs (7%), alcohol, tobacco and other legal drugs (2%), and alcohol, tobacco and any illegal drug (2%). Last month prevalence rates for alcohol, tobacco plus any illegal drug were higher among men (3%) than women (0.4%), and higher among young adults aged 15 to 34 (3%) than among older adults aged 35 to 64(1%). However, older adults were more likely than younger adults to have used a combination of alcohol and anti-depressants. The last-month prevalence of polydrug use including any illegal substance was 3%.
Patterns of association between use of one substance and a range of other substances are outlined in Table 1. Association between use of alcohol and tobacco was high. Users of cannabis, amphetamine-type stimulants and cocaine were highly likely to have used other legal and illegal substances. Of those who used cannabis within the last month, 85% used alcohol and 77% tobacco. Of those who used cocaine within the last month, all reported having used alcohol, 77% smoked tobacco, 41% used cannabis, 14% used amphetamine-type stimulants and 12% used anti-depressants.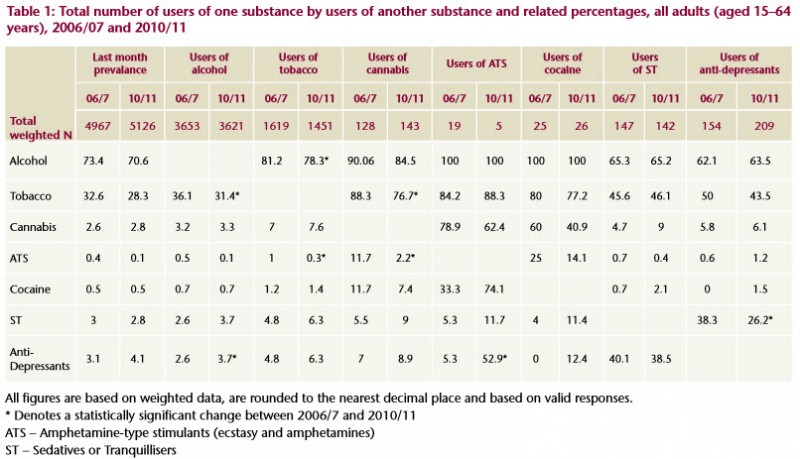 Since 2006/7 there has been a statistically significant reduction in the prevalence of tobacco and amphetamine-type stimulant use among cannabis users. There has also been a statistically significant reduction in the use of sedatives or tranquillisers among anti-depressant users. But there has been a statistically significant increase in the prevalence of anti-depressant use among alcohol users and amphetamine-type stimulant users.
1 National Advisory Committee on Drugs and Alcohol (2014) Drug use in Ireland and Northern Ireland 2010/11 drug prevalence survey: polydrug use results. Bulletin 5. Dublin: National Advisory Committee on Drugs and Alcohol. www.drugsandalcohol.ie/22171
Repository Staff Only: item control page