Cotter, Mary and Roe, Liam (2014) The Talbot Centre celebrates 30 years of service. Drugnet Ireland, Issue 50, Summer 2014, p. 25.
The Talbot Centre in Dublin's north inner city is the longest established drug prevention and education service for children, young people and their families in Ireland. The centre celebrated its 30th anniversary in March 2014 with the launch of a special commemorative booklet, Thirty years of the Talbot Centre.1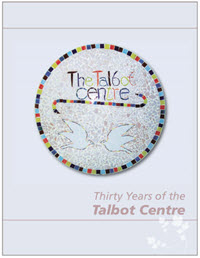 Services provided by the staff at the centre include support, advocacy, brief interventions, family work, substance / drug education, prison visits, family therapy, recreational activities, counselling, and education and training programmes for local community workers and school staff. 
The commemorative booklet, with contributions from service users and representatives from some of the many voluntary, community and statutory groups linked with the centre, reflects on the work of the centre since its inception, its key milestones and how it has evolved and reshaped its services to reflect the changing nature of drug use and behaviours of young people in the area. 
Speaking at the anniversary event, the director general of the Health Service Executive, Tony O' Brien, said: 
The centre is a model of best practice as a drug prevention education project and plays a unique role within the HSE Addiction Service by providing support to young people with problems associated with substance misuse and family support for those living with individuals who have an addiction. Their preventative work with children and young people not using drugs but considered at risk is an important component of the work of the centre. 
Uniquely positioned at the heart of the community, the centre has offered a safe place for many children, young people and families to work through the challenges in their lives. Part of the charm and strength of the centre is that it is small – it has six staff and is based in what could be a family home, where the atmosphere and ambience is homely. One parent spoke movingly about how counselling sessions at the centre had changed his attitude to a drug user in the family and helped him to cope much better with the situation.  
Project team members Jackie Allison, Liam Roe, John McCann, Gillian Tuite, Mary Cotter and Abbie Carrick Dr Siobhan Rooney, consultant psychiatrist, spoke of the centre's reassuring approach: 
When you walk through the door of the Talbot Centre, you are met with a warm, calm and welcoming atmosphere. The staff are professional, empathetic and hugely committed to their work. There is a healthy scepticism and intelligent filtering of what work needs to be prioritised by the staff in the service and the young person and their families always come first. My lasting impression is a sense of reassurance of what is being provided there and I know this is what young people and their families must feel when they leave to go back into the chaos they have to face. 
Project leaders Mary Cotter and Liam Roe confirmed the Talbot Centre's approach to its work: 'If it is too narrow to work with the child or young person in isolation from the family, it is too narrow to work with the family in isolation from the community.'
1. Talbot Centre project team (2014) Thirty years of the Talbot Centre. Dublin: The Talbot Centre. www.drugsandalcohol.ie/21605
Irish-related, Open Access, Article
Repository Staff Only: item control page