Keane, Martin (2014) Review of Dublin North City and County addiction service. Drugnet Ireland, Issue 49, Spring 2014, pp. 22-23.
A recent high-level review of addiction treatment services in the Dublin North City and County area concludes that a substantial reconfiguration of services is needed to effectively respond to population needs and emerging national policy.1 The report contains 14 recommendations, eight to reconfigure services and six to reconfigure operational elements (Table 1).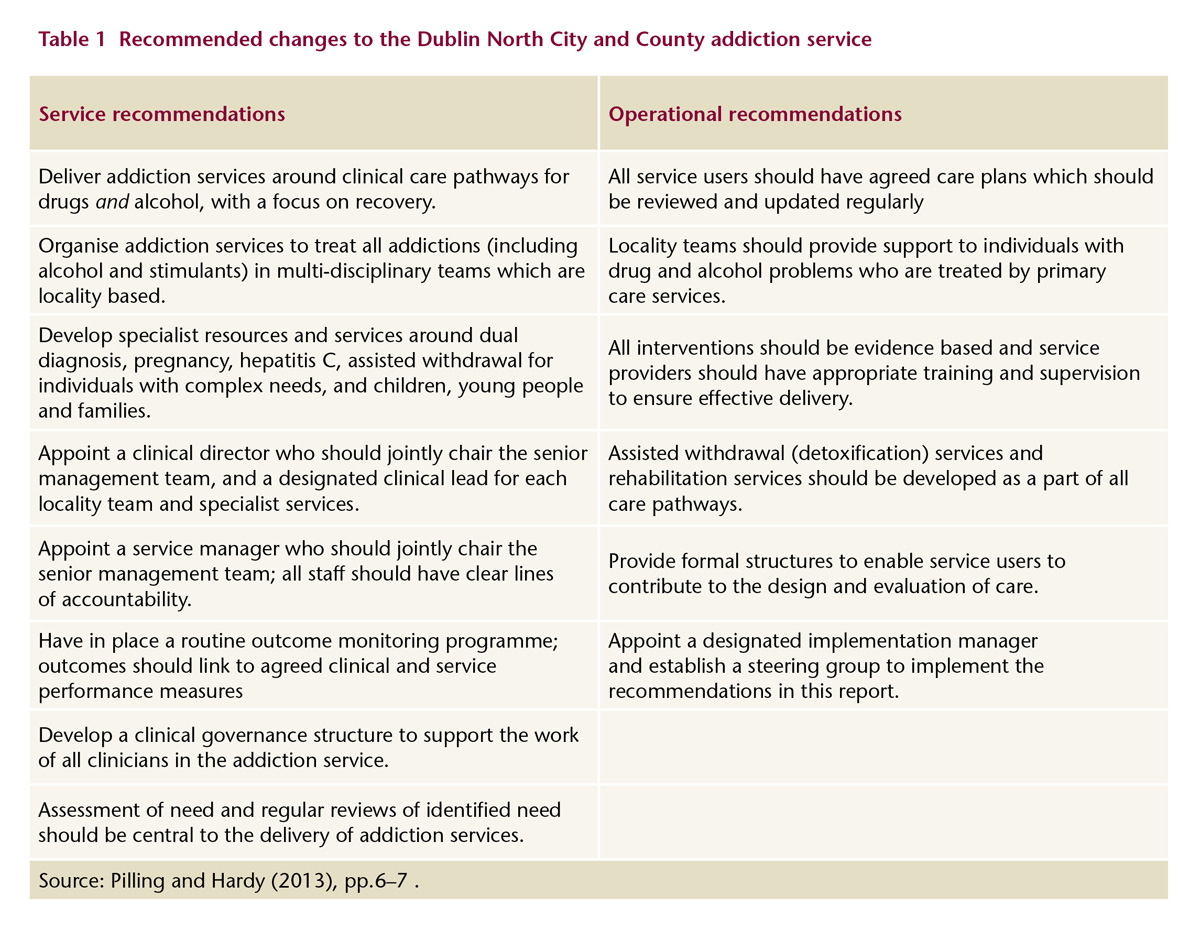 The review team drew heavily on consultations with representatives from a range of staff groups, including psychiatrists, pharmacists, voluntary sector representatives, service users and outreach workers. In summarising the main issues to emerge from these consultations, the authors acknowledge that while many elements of the service work well:
The current service configuration is sub-optimal, meaning that it is not always possible for staff to deliver care in line with an evidence-tiered approach…. The service currently consists of a number of professional/staff groups, some of whom appear to have limited formal interaction with one another…. There are also a number of ad-hoc arrangements in place, with staff providing good services but again these are often not properly integrated within the wider service system…. Services have typically evolved, often without an overall strategic direction, responding to specific issues or opportunities. (p.20)
The authors identify a lack of integration between the different elements of service provision. They also point out that, in the main, the primary functions of addiction treatment services across the area are to assess opioid dependence and dispense methadone. They see the scope of service provision needing expansion to prioritise responses to alcohol misuse, co-morbid mental health disorders, non-opiate drug misuse and the physical healthcare of service users. They also state that a detailed and comprehensive needs assessment is required to document the nature and level of services required by people across the area with addiction-related needs.
Finally, the authors recommend that 'in line with international opinion, the principle of recovery should underpin all treatment from the point of first contact' (p.20). They draw on the following definition of recovery: 'an individual, 'person-centred journey, enabling people to gain a sense of control over their own problems, the services they receive, and their lives and providing opportunities to participate in wider society' (p.22).
As the authors rightly point out, addiction recovery is becoming the guiding principle for substance use treatment in a number of jurisdictions. For example, US policy on substance use is increasingly promoting recovery and recovery support services,2 while, closer to home, current drug policies in England and Wales3 and in Scotland4 give a prominent role to recovery. The EU action plan on drugs5 call's on member states to implement recovery and social reintegration services as part of a wider demand reduction pillar.
This review is both insightful in reflecting on the past and current situation and illuminating in charting a reflective path to guide the future development of the Dublin North City and County addiction service. Grounded in the developing consensus of international research, the recommendations if implemented could transform the delivery of addiction services across the area and beyond. In the words of the review team,
Implementing the recommendations in this report will not only bring the service in line with national policy expectations, but will place it in a strong position to become the leader in addiction treatment in Ireland. (p.34)
1.

    
Pilling S and Hardy R, with
Psychological Interventions Research Centre (UCL) review team
(2013) Review of the Dublin North City and County addiction service. Dublin: HSE Addiction Services.
www.drugsandalcohol.ie/21143
2. 
Laudet AB and Humphreys K (2013) Promoting recovery in an evolving policy context: what do we know and what do we need to know about recovery support services? Journal of Substance Abuse Treatment, 45: 126–133.
3. 
UK Home Office (2010) Drug strategy 2010. Reducing demand, restricting supply, building recovery: supporting people to live a drug free life. London: Her Majesty's Government.
4. The Scottish Government (2008) The road to recovery: a new approach to tackling Scotland's drug problem. Edinburgh: the Scottish Government.  
5. Council of the European Union (2013) EU action plan on drugs (2013–2016). Brussels: Council of the European Union.
Irish-related, Open Access, Article
General / Comprehensive, Treatment method, Rehabilitation/Recovery
Repository Staff Only: item control page