Keane, Martin (2014) Child and Adolescent Mental Health Service: report for 2011/2012. Drugnet Ireland , Issue 48, Winter 2013 , pp. 19-20.
Child and Adolescent Mental Health Service (CAMHS) teams are the first line of specialist mental health services for children and young people. The multi-disciplinary teams include psychiatrists, psychologists, nurses, social workers, speech and language therapists and occupational therapists. The latest CAMHS annual report states that 63 such teams were in place in 2012.1    
The report also shows that from October 2011 to September 2012 there was an increase of 17% in the number of referrals to the CAMHS teams. A total of 9,843 new cases were offered an appointment, 8,671 were seen and 1,172 did not attend. Of the 8,671 cases seen, 2,685 had been re-referred to the service. This number for re-referrals represents 31% of the new cases seen, continuing an upward trend in re-referrals since 2008 (which coincides with the onset of the economic recession and the implementation of fiscal austerity measures). Over the 12-month period 45% of new cases were seen within one month of referral and 66% within three months. According to the report, cases deemed urgent are seen as a priority while routine cases are placed on a waiting list. There were 2,056 young people waiting to be seen at the end of September 2012, an increase of 8% on the number waiting a year earlier.
During November 2011, an annual clinical audit was undertaken by 58 CAMHS teams who collected data on 8,479 cases seen during the month. Of the cases seen, 41.6% were aged 10–14, 28.4% were aged 5–9, 16.5% were aged 16–17, 12% were aged 15 and 1.4% were aged 0–4. The majority of referrals (64.6%) came from a general practitioner. Over a third (35.7%) presented with hyperkinetic disorders, including ADHD and other attention disorders, and 18.7% presented with anxiety disorders, including phobias, obsessive compulsive disorder (OCD) and post-traumatic stress disorder (Table 1).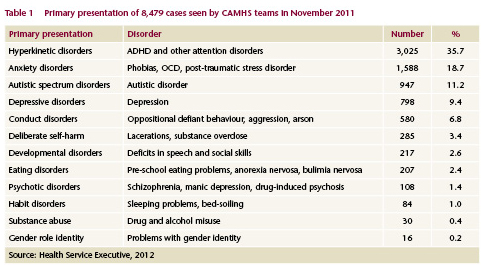 Males accounted for 64.9% of all children seen in November 2011 and were the majority gender in each of the age bands. Males made up the majority in all primary presentations apart from eating disorders, deliberate self-harm, depression and emotional disorders, where females were in the majority. Twenty per cent (n=1,684) of children seen by the service in November 2011 were in contact with social services.   
1.     Health Service Executive (2012)
Fourth annual child & adolescent mental health service report 2011–2012
. Kildare: Health Service Executive.
www.drugsandalcohol.ie/18890
Repository Staff Only: item control page