Connolly, Johnny (2014) Decriminalisation: CityWide urges informed debate. Drugnet Ireland, Issue 48, Winter 2013, p. 8.
In November 2013, Senator John Crown launched a CityWide Drugs Crisis Campaign leaflet aimed at progressing debate in Ireland on the subject of drug law reform in general and decriminalisation in particular.1 Father Peter McVerry SJ and Liam Herrick, executive director of the Irish Penal Reform Trust, also spoke at the launch.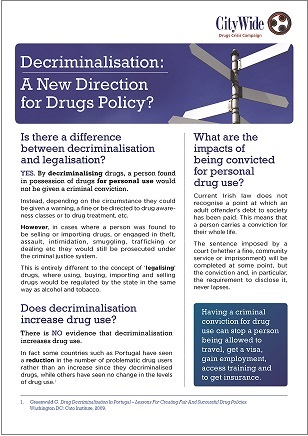 The publication of the leaflet follows on from a conference organised by CityWide earlier this year when a number of speakers addressed the topic 'Criminalising addiction: is there another way?'2 At the conference, according to the leaflet, 'the most frequent comment from attendees was that they had not fully understood the difference between decriminalisation and legalisation and that they were unaware of the way decriminalisation has worked in other countries' (p.4). The purpose of this leaflet is to provide basic information and  sources of further information to inform the debate. 
The leaflet begins by distinguishing between decriminalisation and legalisation. Legalisation is described as a process whereby the importation, sale, purchase and use of drugs is regulated by the state in the same way as alcohol and tobacco. With decriminalisation, drugs would remain illegal, but a person found in possession of drugs for personal use would not receive a criminal sanction. Instead, 'depending on the circumstances, they could be given a warning, a fine or be directed to drug awareness classes or to drug treatment' (p.1). The importation of drugs, drug trafficking and the commission of crimes to fund drug use would still be prosecuted under the criminal law.
The leaflet identifies a number of reasons why Ireland should consider the decriminalisation of drugs for personal use. Criminalisation 'does not act as a deterrent when someone decides to use drugs but it does cause significant harm to an individual's future prospects as the requirement to disclose previous convictions never lapses' (p.2). Furthermore, decriminalisation, by directing problematic drug users into treatment programmes rather than the criminal justice system, for example, would reduce criminal costs and allow money to be redirected towards tackling organised crime.
In the past decade, 'over 25 countries across the globe have introduced decriminalisation models'. The leaflet highlights the model introduced in Portugal in 20013 where 'addiction and drug use are treated as public health issues rather than criminal justice issues'. This approach has had a number of positive outcomes, including the following:
Ø a reduction in drug-related harms and a decline in drug use among the most vulnerable population – young people and problematic users;
Ø a significant decrease in drug-related deaths;
Ø a major reduction in prison overcrowding;
Ø a reduction in the number of young people becoming dependent on opiates;
Ø a significant reduction in the transmission of HIV and blood borne viruses (p.3).
Noting the emphasis on evidence-based policy in the National Drugs Strategy, CityWide asserts that 'there is now a significant evidence base on the impact of criminalisation of drugs for personal use and on the experience of decriminalisation' (p.4). This information should, according to CityWide, inform Ireland's contribution to UNGASS 2016.4
This is a timely and brave initiative from a community-based organisation that represents the people  most seriously affected by the drugs crisis. Kornblum (1993:132), writing from the perspective of minority ghettoes in the US about attempts to liberalise drug laws, notes how such proposals 'generate little support in the ghetto communities where their sale and use has had the most pernicious effects…few proposals for dealing with the drug problems of minority communities will receive much support from those communities unless they are viewed as originating from the communities themselves'.5
1. CityWide Drugs Crisis Campaign (2013)
Decriminalisation: a new direction for drugs policy
. Dublin: CityWide.
www.drugsandalcohol.ie/20698
2. The conference was organised on foot of a commitment made by CityWide in 2012 to hold an open debate on decriminalisation. See Higgins M (2012)
The drugs crisis: a new agenda for action
. Dublin: CityWide.
www.drugsandalcohol.ie/17145
   A written report on the conference and videos of the presentations are available at
www.citywide.ie/news/2013/05/27
. See also
Drugnet Ireland
, (47):7–11.
3. Connolly J (2009) Reports examine effects of decriminalisation of drugs in Portugal. Drugnet Ireland, (30): 22–23.
4. For more information about UNGASS 2016 see the article in this issue of Drugnet Ireland.
5. Kornblum W (1993) Drug legalization and the minority poor. In Bayer R and Oppenheimer G (eds) Confronting drug policy: illicit drugs in a free society. New York: Cambridge University Press.
Irish-related, Open Access, Article
Repository Staff Only: item control page