Keane, Martin (2013) Guidelines for promoting mental health and suicide prevention in post-primary schools. Drugnet Ireland, Issue 46, Summer 2013, p. 14.
A comprehensive set of guidelines promoting positive mental health and well-being among post-primary students was recently launched.1 The guidelines were developed by an inter-departmental group of representatives from the Department of Education and Skills, the Health Service Executive and the Department of Health. The guidelines were developed in three phases: (i) a national consultation process with key stakeholders from health, education and other relevant sectors; (ii) a review of national and international literature on good practice in health promotion and suicide prevention and (iii) developing the guidelines using information gathered from the consultation process and the literature review through on-going discussion with key partners. The purpose of developing the guidelines is to support schools to develop a whole-school approach to promoting positive mental health and preventing suicide.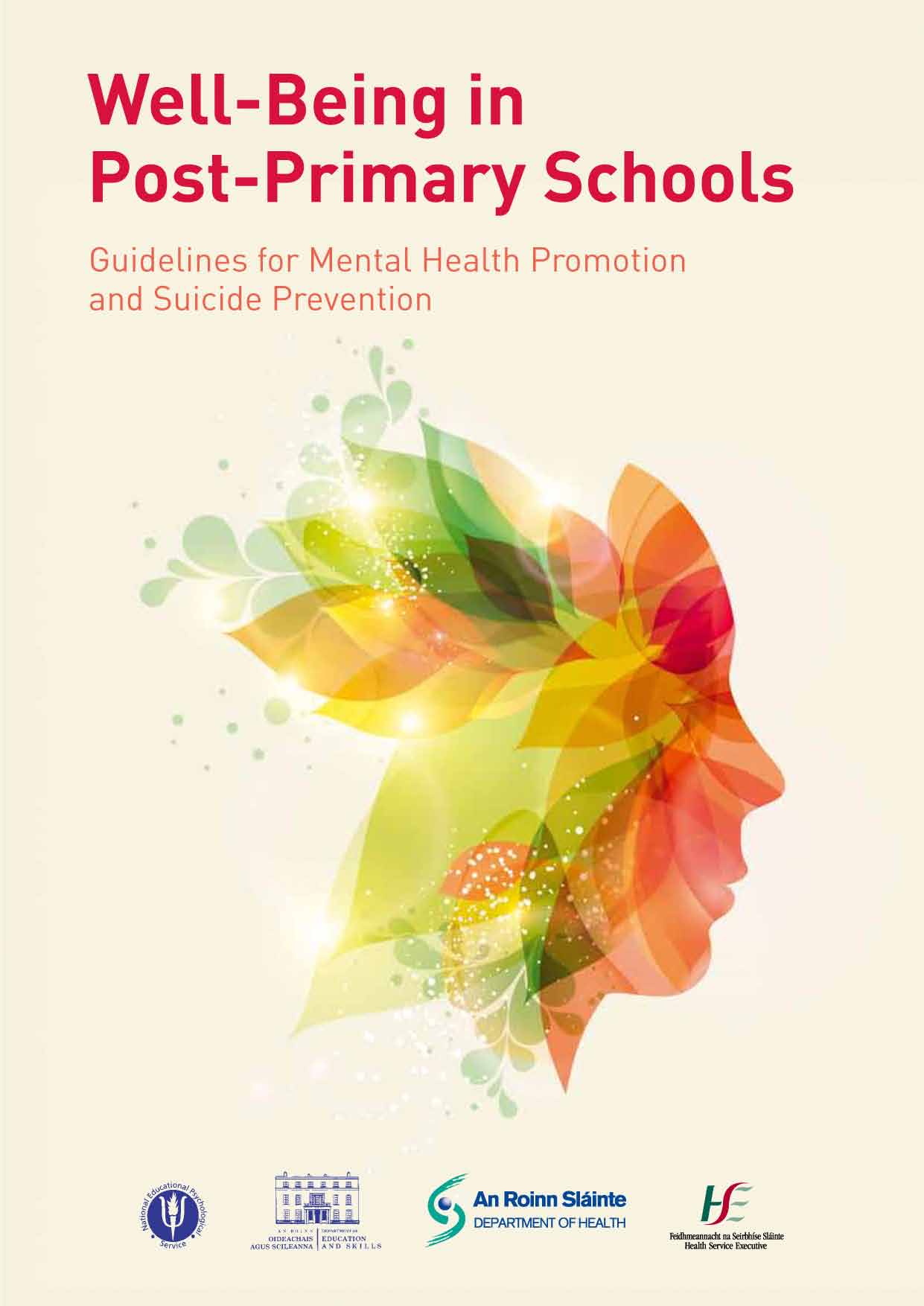 The guidelines are based on the theoretical assumptions that developing positive mental health and well-being, linked to a sense of attachment and bonding to school, will foster improved resilience and social skills among students. Schools are encouraged to promote positive mental health and well-being through adopting a whole-school approach; this means permeating all aspects of school-life from the curriculum to relations between staff and students and via the school environment. The guidelines provide some examples of models of good practice in this area.
One such model is the Health Promoting School (HPS) model which include four areas of action within which schools can promote positive health; the school environment, including social relations and physical characteristics; the school curriculum by including health promotion modules and learning e.g. SPHE; school policies, e.g. anti-bullying and substance use policies; and forming partnerships between the school and the wider community. The guidelines clearly outline the eleven stages that schools adopting the HPS model can commit to. The guidelines also state that 'the full implementation of Social, Personal and Health Education (SPHE) and Relationships and Sexuality Education (RSE) provides a framework for educating young people about their health and well-being in a planned and structured way' (p.21). The guidelines also recommend that schools should adopt the three-tiered continuum of support model for promoting mental health: support for all (universal), support for some (selective) and support for a few (indicated).
School support for ALL
Section three sets out guidelines on how schools can implement a whole-school approach to promoting positive mental health for all members of the school community, providing early identification and intervention for young people showing mild or transient signs of difficulty. Schools are encouraged to undertake self-evaluation to establish what is working well, where improvement is needed, and to evaluate and report on outcomes.
School support for SOME
Section four sets out guidelines on how schools can identify young people who are at risk of developing unhealthy patterns of behaviour or who are already showing early signs of mental health difficulties. Issues that can place young people at an elevated risk level include bereavement, bullying, family problems, discrimination, sexuality and substance use. Schools are encouraged to gather sufficient relevant information on the issue/s that concern the young person, plan and execute an appropriate intervention and undertake a regular monitoring and review of the overall situation.
School support for a FEW
Section five sets out guidelines on how schools can support young people with complex or enduring needs relating to their mental and emotional well-being. Supports at this level will be more intensive and individualised and may include the use of external professionals and services. This section provides guidance on how to support young people to return to school following an absence for mental-health-related issues,as well as those at-risk of suicidal behaviour and those who need support in the aftermath of a death by suicide.
Overall, this is a very useful resource for post-primary schools to draw upon when devising plans to prevent or tackle existing mental health difficulties among students. The resource is conceptually rich in identifying the key risk factors that may compromise a young person's mental health and the protective factors that can develop resilience to counteract pressures on their mental health. By situating potential responses within the three-dimensional classification of universal, selective and indicated prevention, there is ample scope for schools to develop responses to tackle issues that affect the whole school population, in addition to putting in place measures to support young people who may have a higher risk profile around their mental health. Using these guidelines to develop frameworks of understanding of the pressures that can impact on young people's mental health and how schools can respond in a timely and effective manner is key to their successful implementation. Indeed, in the concluding section, the report states that 'it is vital that school management and staff review and build on existing good practice and implement the processes described in these guidelines to support the emotional health of young people' (p.51).
1.     Department of Education and Skills, Health Service Executive, and Department of Health (2013)
Well-being in post primary schools: guidelines for mental health promotion and suicide prevention
. Dublin: Department of Education and Skills, Health Service Executive & Department of Health.
www.drugsandalcohol.ie/19228
Irish-related, Open Access, Article
Repository Staff Only: item control page