Lynn, Ena (2012) Thirteenth annual Service of Commemoration and Hope. Drugnet Ireland, Issue 41, Spring 2012, pp. 13-14.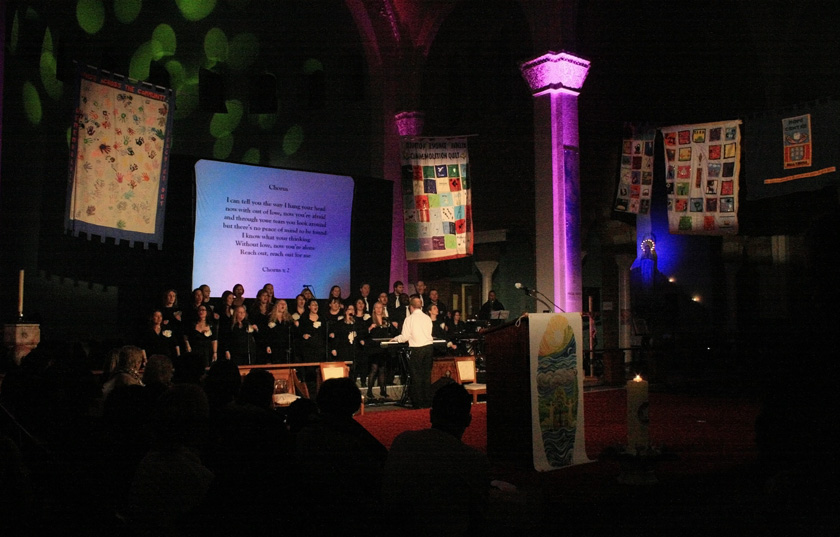 On Wednesday 1 February, the Family Support Network (FSN) held its thirteenth annual Service of Commemoration and Hope, entitled 'Growing Strong Together', in remembrance of loved ones lost to drugs and related causes and to publicly support families living with the devastation that drug use causes. 
The service in Our Lady of Lourdes Church, Sean McDermott Street, was attended by President Michael D Higgins,
Ms Róisín Shortall TD, Minister of State, Commander Mick Treacy, aide de camp to the Taoiseach, Garda Commissioner Martin Callinan, Bishop Eamonn Walsh and other religious representatives, as well family members, friends and representatives from family support groups throughout Ireland, and many people working in this area.
In her address to the gathering, Sadie Grace of the FSN emphasised the importance of local family support groups working in partnership with local services to enable these service to support families. She highlighted current issues involving the Network, which include: recommendations to government from the FSN bereavement group, the setting up of a bereavement support group, nationwide training within family support groups, working with  gardaí to assist victims of intimidation and working on a regional response to Garda harassment. She welcomed the Minister's response to alcohol marketing and benzodiazepine misuse and her acknowledgement of the important role families play in rehabilitation. She mentioned cuts to the Network's core funding and requested decision makers in the audience to prioritise the FSN. She finished her address with a line taken from a previous speech by Minister Shortall, 'in times of test families are best'.
Minister Shortall emphasised the family's critical role in rehabilitation and reinforced the message that drug addiction can be overcome. She stated that a partnership approach is underpinned in the current National Drugs Strategy, which aims to tackle drug use in a comprehensive way. She recognised the importance of the Service of Commemoration and Hope in acknowledging and celebrating the young lives of those who had been lost to drugs, and in looking forward with hope.
The growth of family support groups throughout Ireland was evident at the Service. At the first Service of Commemoration and Hope in 2000, less than 10 family support groups, all located in the Dublin area, were represented. At this year's service over 100 groups from across the island of Ireland were represented.
President Higgins recited the poem 'For Grief' by John O'Donohue. In his address to the gathering, Bishop Walsh stressed the importance of supporting families, especially children from families who have been affected by drug addiction.
For many families, this service is the first time that they can openly grieve for their loved ones lost to drug use and related causes. Personal testimonies were given by members of family support groups, reflecting the vital support received through these groups. Music was provided by the soprano Nickola Hendy and the Gardiner Street Gospel Choir.
Irish-related, Open Access, Article
Repository Staff Only: item control page