Keane, Martin and Long, Jean (2011) Health and homelessness: the Simon snapshot study. Drugnet Ireland, Issue 37, Spring 2011, pp. 9-10.
The Simon Communities of Ireland1 published a report on health and homelessness in late 2010. This report presents the findings of a 'point in time' survey undertaken between 26 July and 1 August 2010 at all eight Simon Communities in Ireland. The survey collected data on the profile and health needs of people using Simon projects and services over a one-week period.  
Methods of data collection
Data for the 788 questionnaires were collected in face-to-face interviews and in a review of the records of the individuals using the projects and services during the one-week period. The survey respondents were selected through convenience sampling, which is a sample of the population selected because it is close at hand and readily available. Sampling of this nature can provide useful insights into the health needs of a proportion of the people using Simon services but the data generated from such a sample cannot be generalised to the health needs of the wider homeless population. Data were collected from three types of service users:
·         those who were currently homeless;
·         those who had been homeless and needed support to maintain their current home;
·         those who were at risk of becoming homeless.
Profile of the sample
·         78% were male.
       ·         85% were Irish, 6% were British, 5% were Eastern European and 1.4% were Irish Travellers.
       ·         9% were aged between 18 and 25, 21% were aged between 26 and 35 and 54% were aged between 36 and 55.
       ·         51% received a disability allowance and 6% received the old age pension
       ·         6.5% were classified as not being habitual residents.
       ·         65% were registered as homeless with the local authority.
Duration of homeless experience
Of the 471 people presently homeless; 20% were homeless for six months or less, 45% for between seven months and five years, and 35% for more than five years.
Of the 146 people who were formerly homeless and who were now being supported by Simon Tenancy Sustainment services, 58% reported being homeless for more than three years.
Thirty-five per cent (277) were currently living in vulnerable situations, such as rough sleeping, emergency accommodation, squats and bed and breakfasts.
Fifty-seven per cent (449) were currently living in accommodation with some level of support; this included high-support housing, low-support housing, local authority accommodation with support, the private rented sector with support and transitional accommodation. Only 6% were living independently with no support.
Reasons for first becoming homeless
When responses on primary and secondary reasons for becoming homeless in the first instance were combined and analysed together, the main reasons given were personal alcohol use (19%), family conflict (14%), personal drug use (12%) relationship breakdown (9%) and personal mental health problems (7%).
Physical health conditions
Fifty-six per cent (442) of the respondents had at least one diagnosed physical health condition. The most common of these were:
·         123 cases of cardiovascular disease, including angina, hypertension and stroke;
·         115 cases of infectious disease, including (most commonly) hepatitis C, and also hepatitis B, HIV, sexually transmitted infection, tuberculosis and urinary tract infection;
·         88 cases of injury, including head injury, broken bones and cuts;
·         74 cases of respiratory disease, including asthma, chronic obstructive pulmonary disease, pneumonia and pleurisy; 
·         45 cases of neurological disorder, including epilepsy. Parkinson's disease, motor neuron disease, spinal muscular atrophy and muscular dystrophy.
Thrity-six per cent of respondents reported one or more undiagnosed physical health problem.
The report points out that these data may suggest 'that the experience of homelessness has a significant negative impact on the physical health of people and that their health status significantly deteriorated since the start of their homelessness experience'.
Diagnosed mental health conditions
Fifty-two per cent (411) of the respondents had at least one diagnosed mental health condition; 29% reported having depression, 9% schizophrenia, 7% panic attacks, 5% social anxiety disorder, 4% mild cognitive impairment and 3% bi-polar disorder.
Forty-four per cent of respondents reported one or more undiagnosed mental health conditions.
Alcohol and drug use
Of the 769 people who answered the question, 66% reported consuming alcohol. Fifty-five per cent of respondents had physical complications as a result of alcohol use. Of the 768 responses, 38% reported using drugs other than alcohol. Heroin was the most common other drug used, followed by cannabis (Table 1). Thirty-one per cent of respondents who used drugs were using two drugs at the same time and 25% were using three drugs. Fifteen per cent (115) of all respondents were intravenous (IV) drug users. Seventy eight respondents were tested for blood-borne viruses.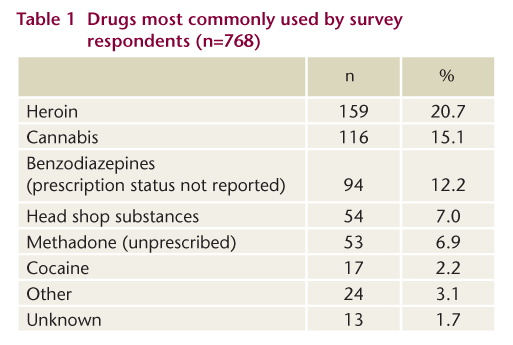 Complex needs
The report outlines the presence of a range of complex needs among the service users who participated in the research. For example, 28% had at least one diagnosed physical and at least one diagnosed mental health condition, and 28% were diagnosed with a mental health condition and reported complications arising from alcohol and/or drug use.
Challenging behaviour
The majority (65%) of homeless people do not present with challenging behaviour (such as withdrawn aggressive or violent behaviour).
Suicide and self-harm
Fifteen per cent of respondents reported self-harming episodes at the time of the survey, 23% reported suicide ideation and 8% had attempted to commit suicide in the six months prior to the survey.
Service use
The overwhelming majority of survey participants (84%) were medical card holders and 91% were registered with a general practitioner. Sixteen per cent of respondents who answered the question had attended accident and emergency services in the last month, 20% had attended an out-patient hospital department and 8% had been admitted to hospital.
Comparisons with other studies
More men, older people and people from outside Ireland, and a higher proportion of people on disability allowance, attend Simon Community services than observed in studies of other homeless services.2–4 The proportion registered as homeless was similar to that in the NACD study.3 The reasons given for becoming homeless were the same across the comparison studies, but the proportion reporting each reason was different, reflecting age and gender differences between study groups. The proportion with diagnosed physical and mental health conditions was lower in the Simon study than in comparison studies, possibly because the Simon study included users of a broad range of services (including supported housing), while other studies tended to include users of emergency accommodation. The proportion reporting alcohol use was similar to that in other Irish studies. The drug use data in the Simon study did not allow for comparison with drug data in other studies.
1. Simon Communities of Ireland (2010)
Health and homelessness: health snapshot study of people using Simon services and projects in Ireland
. Dublin: Simon Communities of Ireland.
www.drugsandalcohol.ie/14750
2. Homeless Agency (2008)
Counted in, 2008: a report on the extent of homelessness in Dublin
. Homeless Agency Partnership, Dublin.
www.drugsandalcohol.ie/11718
3. Lawless M and Corr C (2005)
Drug use among the homeless in Ireland
: a report for the National Advisory Committee on Drugs. Dublin: Stationery Office.
www.drugsandalcohol.ie/5950
4. O'Carroll A and O'Reilly F (2008) Health of the homeless in Dublin: has anything changed in the context of Ireland's economic boom?
European Journal of Public Health
, 18(5): 448–453.
www.drugsandalcohol.ie/12519
Irish-related, Open Access, Article
Repository Staff Only: item control page