(2011) MQI annual review 2009. Drugnet Ireland, Issue 36, Winter 2010, p. 26.
The Merchants Quay Ireland (MQI) annual review for 2009 was launched on 24 September 2010 by Mr John Lonergan, former governor of Mountjoy prison.1  
According to the review, MQI's open-access drug services are often the first place to which drug users turn for help. The review is particularly useful, therefore, in providing additional information that is not fully reflected in the treatment figures recorded by the National Drug Treatment Reporting System (NDTRS). 
MQI's needle-exchange service recorded just under 30,000 client visits in 2009, a decrease of some 10,000 on 2008 figures. The report highlights a continuing high level of demand for homeless services, with 45,725 meals provided in 2009. The number of health care interventions provided decreased by 28% from 4,469 in 2008 to 3,216 in 2009.
In 2008 MQI completed the implementation of a national prison-based addiction counselling service to 13 prisons. In excess of 1,000 counselling hours per month were provided in 2009 and the service engaged with 1,196 prisoners, of whom 57% had never engaged in treatment before.
In late 2008 MQI in association with the Midland Regional Drugs Task Force introduced the Midlands Family Support and Community Harm Reduction Service, providing outreach and working with families of those actively using drugs. The family support service provided services to 449 people in the Midlands between July 2009 and July 2010. The harm reduction service provided needle exchanges to 497 clients in the same period.
The services offered by MQI and the numbers of people accessing them in 2009 are shown below.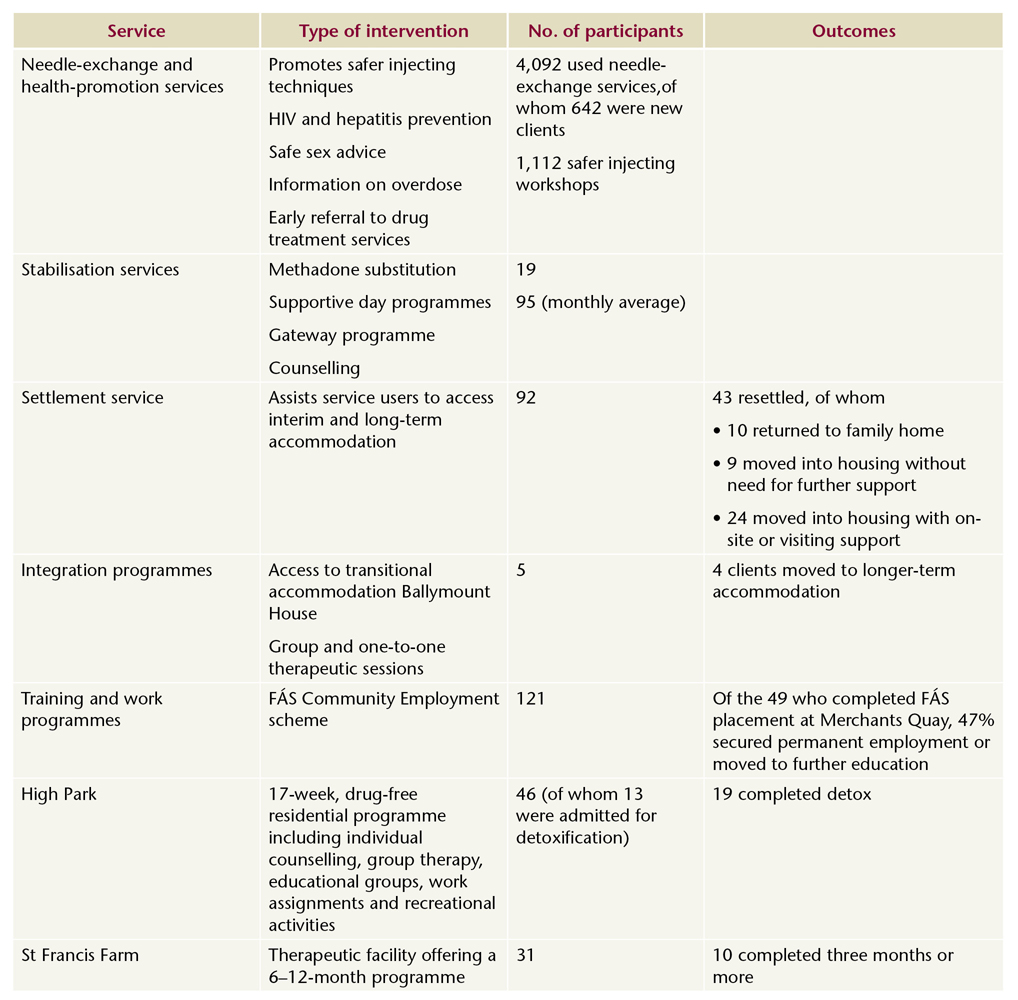 1. Merchants Quay Ireland (2010) Annual review 2009. Dublin: MQI.Available at www.drugsandalcohol.ie/13922
Irish-related, Open Access, Article
Repository Staff Only: item control page