Bellerose, Delphine (2010) Drug awareness initiatives in Fingal county. Drugnet Ireland, Issue 35, Autumn 2010, pp. 6-7.
A combined launch and award ceremony in Wynne's Hotel on 30 June illustrated the strong commitment and support for educational initiatives to tackle drug-related issues in the Blanchardstown and Fingal communities.
The event featured the two initiatives described below.
'Let's Talk About Drugs' media awards
Greater Blanchardstown Response to Drugs (GBRD) presented the 'Let's Talk About Drugs' 2010 media awards, with Councillor Ken Farrell, mayor of Fingal, attending. Now in their fourth year, these awards are organised by the GBRD in partnership with the Dublin People newspaper group, Blanchardstown Local Drugs Task Force, and County Dublin Vocational Education Committee (CDVEC).
Phillip Keegan, co-ordinator of GBRD, briefly described the media awards initiative: young students and adults with an interest in journalism are invited to research and write articles about one of two drug-related topics that are chosen each year. The aim is to trigger discussion, and therefore raise awareness, about drug-related issues in the community. The initiative also rewards sensitive and well-informed reporting on drugs and encourages budding journalists. Sean Mullan, chairperson of GBRD, pointed out that there is no better way to raise awareness than by using the media.
The two topics for 2010 were 'Head shops – legal but potentially fatal?' and 'Tackling drugs – the real cost of budget cuts'. The head shop topic was the most popular; all articles were written prior to the new legislation on legal highs. Phillip Keegan, along with many of the winners and other speakers on the day, reiterated that, despite the recent developments in the head shop debate, it is extremely important to remain vigilant to prevent head shops from going underground and to prevent new potentially dangerous substances from being made available in the community.
Jim McVeigh, youth development officer with CDVEC, presented some of the awards and emphasised the important educational aspect of the programme, by which students get hands-on experience in researching a topic and writing an article, and also learn and inform others about the important issue of drugs.
Jack Gleeson, news editor for Northside People West, stressed the overall good quality of all the articles entered in the competition and congratulated the winners on their well-researched and well-written pieces of work. He mentioned that the media's responsibility with regard to drugs and addiction is to change perceptions and challenge preconceived ideas.
Winners and runners-up in the youth categories got prizes of laptops and digital cameras. The winning articles are being published in the Northside People and Southside People newspapers throughout the summer.  The winners described the programme as an excellent experience, a great incentive to pursue their interest in writing and journalism, and a real eye-opener on drug issues.
The 2010 award winners were:
12–14-years: Rebecca Murphy, Rockford Manor Secondary School
15–17-years: Lisa Murphy, Cabinteely Community School; Uzair Saif Qureshi, Institute of Education
18–20-years: Sehreen Qureshi, Trinity College Dublin; Ian McFarlane, St Kevin's College, Finglas
21 years and over: Emer Halpenny, Independent College; Majella Twomey, Independent College
Special Merit Award:  Stuart Larner, Catholic University School
Endeavour Award: Eoin Harty, Catholic University School
'Stay onside – say no to drugs' initiative
The GBRD awards event was held in conjunction with the official launch of a new drug awareness campaign by Sporting Fingal Community Trust, the charitable arm of Sporting Fingal Football Club.
One of a series of projects being delivered jointly by the Club and the Community Trust, the 'Stay onside – say no to drugs' initiative is a drugs education 'trading card' scheme. It includes sets of collectable cards featuring player profiles with anti-drugs messages from members of the Sporting Fingal squad. The cards were produced by the Trust in conjunction with CDVEC. Sets of cards are being distributed to young people through schools and summer camps and at matches. The idea behind the scheme is that young people are more likely to be influenced by their local sporting heroes' endorsement of healthy lifestyles. 
Councillor Ken Farrell, mayor of Fingal, and Brian Gannon, Sporting Fingal defender representing the squad, both emphasised the importance of sport as a powerful way to reach out to young people, to help people affected by drugs and, more generally, as 'an excellent tool for building communities'.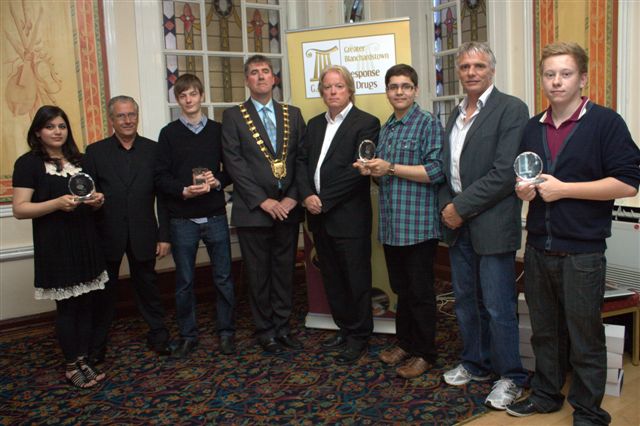 Prizewinners at the 'Lets Talk About Drugs' 2010 media awards ceremony, pictured with the mayor of Fingal, Councillor Ken Farrell, and GBRD personnel.
Irish-related, Open Access, Article
Repository Staff Only: item control page