Connolly, Johnny (2006) Cocaine-related prosecutions eclipse those for heroin. Drugnet Ireland, Issue 19, Autumn 2006, pp. 3-4.
The annual report of An Garda Síochána for 2005 was published earlier this year.1 The report is the main source of information on crime in Ireland and includes information on crimes recorded by An Garda Síochána in which criminal proceedings were taken.
The report includes a chapter on drug offences, giving the number of such offences in which proceedings were taken, by Garda division and by drug type; the number, volume and types of drug seized by the gardaí and customs officers; and the number, age and gender of persons charged, as well as the nature of the offence.  The Garda annual report is primarily a reflection of the activities and effectiveness of law enforcement agencies, rather than of the prevalence of drugs or the incidence of drug-related crime.  However, the Garda reports are a useful indicator of trends in drug offending over time.2
Figure 1 shows trends in the number of drug supply (s.15 Misuse of Drugs Act MDA 1977), possession (s.3 MDA 1977) and total drug offence prosecutions between 1995 and 2005. The majority of prosecutions are for drug possession, which increased from 5,065 in 2004 to 7,432 in 2005, an increase of almost 50% (46.7%).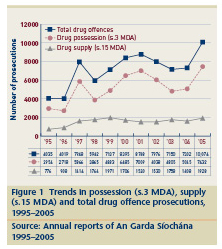 Figure 2 compares trends in possession offences with the number of cannabis-related offences prosecuted from 1995 to 2005. It can be seen that most of the prosecutions which take place for drug possession are cannabis-related.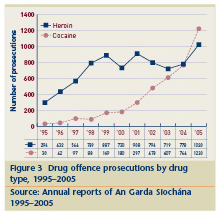 Figure 3 compares cocaine-related prosecutions with those for heroin. The growing concern with the increase in the scale of the cocaine market in recent years in Ireland is reflected in the fact that, for the first time, cocaine-related prosecutions have eclipsed those for heroin.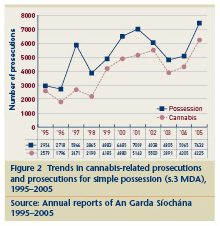 The Garda annual report also includes Information on drug seizures carried out by the Garda Síochána and the Customs Service.3 Drug seizure figures provide information about drug availability and supply and the impact of law enforcement efforts.  Although the number of drug seizures in any given period can be affected by such factors as law enforcement resources, strategies and priorities, and by the vulnerability of traffickers to law enforcement activities, drug seizures are considered as indirect indicators of the supply and availability of drugs.4 Cannabis seizures account for the vast majority of all drugs seized. In 2005, of the 6046 reported drug seizures, 3417 (56.5%) were cannabis-related. Figure 4 shows trends in seizures of a number of selected drugs, excluding cannabis, between 1995 and 2005. We can see a steady rise in cocaine seizures over the last two decades, with heroin seizures remaining stable and ecstasy seizures continuing to decline since 2000.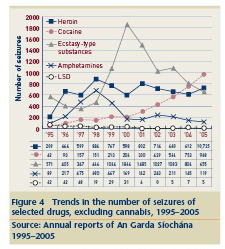 Figure 5 and Figure 6 look at trends in heroin-related prosecutions by Garda region.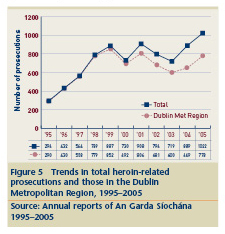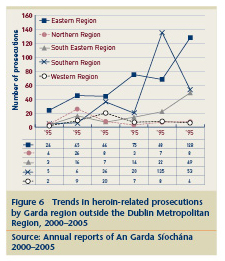 Figure 5 shows the trends in heroin-related prosecutions in the Dublin Metropolitan Region as a percentage of all such prosecutions. It can be seen that the vast majority of heroin-related prosecutions occur in Dublin. However, as shown in Figure 6, since 2000 there has been a steady increase in heroin-related prosecutions in the Eastern Region (Carlow/Kildare, Laois/Offaly, Longford/Westmeath, Louth/Meath), from 24 prosecutions in 2000 to 128 in 2005, and to a lesser extent in the South Eastern region (Tipperary, Waterford/Kilkenny, Wexford/Wicklow). It is clear that although heroin remains predominantly a Dublin-based phenomenon it is no longer confined exclusively to the capital. Further research would be required to determine whether this represents a shift or displacement in the heroin market outside the capital city.
1.    The Annual Report of An Garda Síochána for 2005 is available on the Garda website at www.garda.ie
2.    For a discussion about the data issues which arise in relation to the annual Garda reports see Connolly J (2006) Drugs and crime in Ireland. Overview 3. Dublin: Health Research Board.
3.    A detailed breakdown of this information is provided by the Customs Service on the Revenue Commissioners' website at http://www.revenue.ie/en/customs/index.html
4.    For a fuller discussion of these issues see Connolly (2005) The illicit drug market in Ireland. Overview 2. Dublin: Health Research Board.
Irish-related, Open Access, Article
Repository Staff Only: item control page