Lynn, Ena (2005) Management of Drug Users in the Primary Care Setting Conference. Drugnet Ireland , Issue 14, Summer 2005 , pp. 19-20.
Among the topics presented at this conference were: management of benzodiazepine use, drug-related deaths, and buprenorphine treatment.  In his welcoming address Dr Finbarr Corkery, President of the Irish College of General Practitioners, reiterated the fact that buprenorphine is now licensed for use in primary health care settings in Ireland.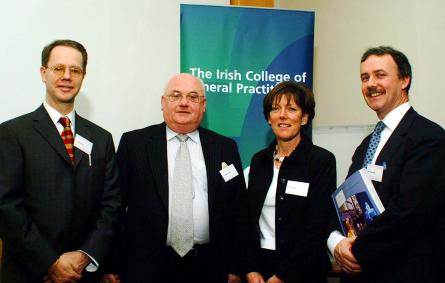 Benzodiazepine use
Prof Colin Bradley, Professor of General Practice at UCC, presented a review of benzodiazepine prescribing in general practice. He said that benzodiazepines are difficult to use safely and are prone to inducing dependence. Analysis of General Medical Service (GMS) scheme data shows that benzodiazepines were prescribed for 10 per cent of the GMS population in 2000.1  Prof Bradley stated that the Benzodiazepine Commission Report provides guidelines on good prescribing practice and protocols for withdrawing patients from these drugs. International studies have demonstrated that writing to patients and inviting them to reduce their benzodiazepine use, with or without brief interventions, has proven surprisingly effective in reducing benzodiazepine consumption in some patients. More challenging cases require tapering doses with or without cognitive behaviour therapy.
Dr Conor Farren, Consultant Psychiatrist at St Patrick's Hospital, outlined the co-abuse of benzodiazepines in opiate users and the strategies for management. Both opiates and benzodiazepines are highly addictive and cause sedation and respiratory depression. There is a synergistic interaction between the systems linked to opiate and benzodiazepine use and a combination of use may cause increased side effects. Dr Farren stated that first switching to long-acting benzodiazepines (such as diazepam), and then commencing tapered doses is probably the most effective benzodiazepine treatment strategy.
Drug-related deaths
Dr Jean Long presented on the epidemiology of drug-related deaths in Ireland from 1990 to 2002. She stated that, at present, it is difficult to ascertain the exact number of deaths among drug users in Ireland. The best estimate for Dublin ranges from 60 to 90 deaths per year. However, the Family Support Network at Citywide has indicated to the National Drugs Strategy Team that these figures underestimate the extent of the problem. Dr Long outlined the risk profile and risk factors for drug-related deaths in Ireland:
·         More men than women die; however, there has been an increase in the number of female deaths.
·         The risk of mortality increases with age.
·         Most deaths occur in Dublin, but there is a steady increase in the number of deaths outside Dublin
·         Time periods on entry to or exit from prison have a higher risk than other time periods.
·         The highest proportion of deaths is among opiate users.
·         Those who use a combination of substances are more likely to die.
·         Injecting drug use is associated with infection and overdose.
Dr Long concluded by stating that deaths among drug users are not systematically documented and their numbers are likely to be underestimated; therefore, the introduction of the National Drug-Related Deaths Index will be very welcome.
Dr Neil O'Brien from the toxicology laboratory in Beaumount Hospital outlined the recent trends in post-mortem toxicology. From a study of 679 cases, 312 (46%) had either drugs or alcohol detected at post-mortem.
Buprenorphine
Dr Nicholas Lintzeris, Senior Lecturer in Psychiatry at Maudsley Hospital, London, presented the evidence base for effective use of buprenorphine:
·         Buprenorphine offers an effective alternative to methadone.
·         Buprenorphine binds tightly to opiate receptors and blocks the effects of other opiates, therefore reducing heroin use.
·         Buprenorphine is well suited to primary care settings and comprehensive clinical guidelines are available.
·         Buprenorphine may become the 'gold standard' for detoxification from opiates.
·         Treatment with either buprenorphine or methadone must be tailored to suit the individual client as each drug has its advantages and disadvantages.
Dr Tom Gilhooly followed with a presentation on his practical clinical experiences with buprenorphine in a drug crisis clinic in Glasgow. In summary, he has found that:
·         There is little use of buprenorphine in Scotland.
·         His experience with inpatients has been very helpful.
·         Patients treated with buprenorphine have longer opiate-free intervals.
·         Buprenorphine has been useful in treating codeine dependency.
Dr Ide Delargy, Director of the ICGP Drug Misuse Programme, speaking about the success of the conference, said: 'I am delighted to see so many delegates, from so many backgrounds, in attendance today at this our sixth conference on the management of drug users. The feedback regarding all of today's presentations has been very positive.' 
1. Department of Health and Children (2002) Report of the Benzodiazepine Committee.Dublin: Stationery Office.
The full text of presentations made to the conference is available on the ICGP website at www.icgp.ie
Repository Staff Only: item control page