Dunne, Mary

ORCID: https://orcid.org/0000-0003-0147-8594 (2023) New online regional data resource created by HRB. Drugnet Ireland, Issue 84, Winter 2023, insert, p. 23.
Preview
Title
Contact

Preview

PDF (Drugnet Ireland 84, insert)
612kB

Preview

PDF (Drugnet Ireland 84)
1MB
The Health Research Board (HRB) National Drugs Library has a new online resource that provides regional data on alcohol and other drugs.1 There are nine Community Healthcare Organisations (CHOs) in Ireland whose services are delivered through the Health Service Executive (HSE) and its funded agencies (see Figure 1). Each CHO operates through an average of 10 primary care networks, which serve a population of approximately 50,000.
A data factsheet has been created for each CHO area with information on drug use and treatment. Prevalence data are from the National Drug and Alcohol Survey (NDAS) and the Problematic Opioid Use in Ireland, 2015–2019 study. Treatment data are from two HRB information sources: the National Drug Treatment Reporting System (NDTRS) and the National Psychiatric In-patient Reporting System (NPIRS).
For easy comparison across areas, an overview factsheet with all CHO data is provided.2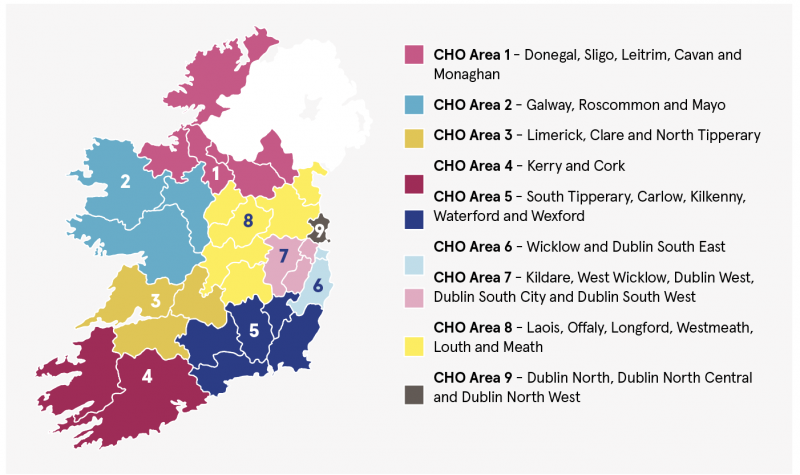 Figure 1: Map of Community Healthcare Organisation areas in Ireland
 
1    To access the HSE CHO area data, visit: https://www.drugsandalcohol.ie/hse_cho_area_data
2    HRB National Drugs Library (2022) Drugs data factsheet: all CHO areas. Dublin: Health Research Board. https://www.drugsandalcohol.ie/37510/
Irish-related, Open Access, Article
Issue 84, Winter 2023, insert
Repository Staff Only: item control page