Doyle, Anne (2022) Alcohol consumption and attitudes to evidence-based alcohol policy in Donegal. Drugnet Ireland, Issue 83, Winter 2022, pp. 21-22.
Background
In 2018, following a protracted process, the Public Health (Alcohol) Act was enacted to address alcohol use and associated harm in Ireland. The Act includes legislation restricting alcohol availability, advertising and promotion, sales and pricing: it aims to reduce population-level alcohol use and related harm but particularly to delay or prevent alcohol use among children and young people.1
With the second highest rate for treatment for alcohol in Donegal and its above average hospital admissions for mental and behaviour disorders due to alcohol, and due to the Border location, a study commissioned by the Alcohol Forum sought to examine support for the Act by residents of Donegal.2,3 
Table 1: Agreement with statements regarding alcohol use, public health interventions, alcohol availability, and evidence-based alcohol policies (%)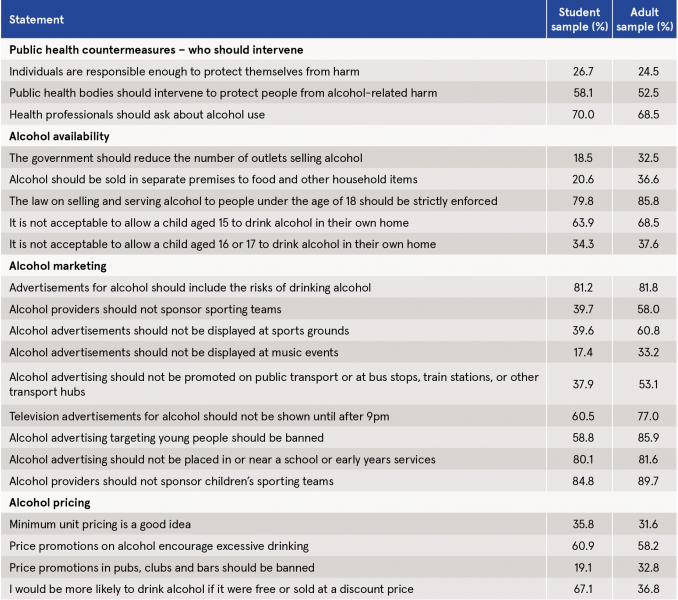 Methods
A sample of Donegal students (n=395, 38% male, mean age 23.3 years) and a sample of adult Donegal residents (n=536, 34% male, mean age 41.7 years) completed a survey that included questions about their alcohol use (quantity and frequency), how much they spend on alcohol, and attitudes to elements of the Act.
Results
Main findings
Of the student sample, 95% reported lifetime alcohol use and 59% had an AUDIT-C score ≥5 (indicating hazardous drinking), whereas 97% of the adult sample reported lifetime alcohol use, with 53% scoring ≥5 on the AUDIT-C. Almost one-half of the student sample and over one-third of the adult sample reported heavy episodic drinking on a single occasion monthly or more in the last year (46% vs 36%). Respondents were also asked how much money they spent weekly on alcohol both on-trade and off-trade.
As well as their own drinking patterns, the survey also asked respondents about their experiences of other people's drinking. Some 67% of the student sample and 59% of the adult sample reported that they considered an individual in their life to be a heavy drinker, while 9% of the student sample and 12% of the adult sample claimed that they considered themselves a harm to themselves or others when they were drinking.
Respondents were then asked whether they agreed or not with statements about alcohol use, health professional intervention, alcohol availability, alcohol marketing, and other statements about alcohol policies. Table 1 illustrates the percentage of student and adult respondents in agreement with the statements provided.
Support for evidence-based alcohol policy on perceived local characteristics
Respondents' perception of local issues influenced their support for evidence-based alcohol policy measures. For example, those who considered that teenagers drinking in parks, drinking in public places, underage drinking, drink-driving, alcohol-related violence, and public drunkenness were a problem in their local area were more likely to support alcohol policies.
Conclusion
The report found that respondents in Donegal differed to other parts of Ireland in their support for alcohol policy measures,4 with lower support for such measures reported among the sample in Donegal. The report also found differences between the student and the adult samples in their views on alcohol policies, with students more likely to support minimum unit pricing and banning alcohol advertising targeting young people, whereas all other measures were more likely to be supported by the adult sample. Findings also revealed that those who reported hazardous patterns of drinking were unsurprisingly less supportive of alcohol policy measures. The authors recommend that policymakers and community representatives consider the findings and next steps and highlight that geographical location can influence views on alcohol policies, which in turn may influence alcohol use and related harms.
1  Office of the Attorney General (2018) Public Health (Alcohol) Act 2018. Dublin: Irish Statute Book.  https://www.drugsandalcohol.ie/33698/
2  Shorter GW, Leonard P, Bunting E, et al. (2022) Alcohol consumption and attitudes to evidenced-based alcohol policy in Donegal: findings from a student and general adult sample. Donegal: Alcohol Forum Ireland. https://www.drugsandalcohol.ie/36325/
3  Goggin D, Cullen L, O'Kane J, et al. (2019) Donegal alcohol related harm profile 2019. Dublin: Health Service Executive. https://www.drugsandalcohol.ie/31168/
  4 Davoren MP, Lane D, Kirby J, et al. (2019) Support for evidence-based alcohol policy in Ireland: results from the Community Action on Alcohol Pilot Project. J Public Health Policy, 40: 76–90.  https://www.drugsandalcohol.ie/29899/
Irish-related, Open Access, Article
Screening / Assessment, Policy
Repository Staff Only: item control page