Guiney, Ciara (2022) An Garda Síochána annual report, 2020. Drugnet Ireland, Issue 82, Summer 2022, pp. 21-25.
In January 2022, An Garda Síochána (AGS) published their annual report for 2020.1 This article first reports on activities related to national policing, followed by national security and intelligence, community safety, and finally statistics for detections of incidents related to the sale and supply of drugs and Garda drug seizures for 2020.
National policing
Gardaí work in various units to fight crime across Ireland. What follows is a brief outline of a selection of the work undertaken by some of these units.
National Criminal Intelligence Unit
The National Criminal Intelligence Unit (NCIU) works with national and local investigation units with the aim of finding, stopping, and dismantling organised crime groups. The main point of contact within NCIU is the National Criminal Intelligence Officer (NCIO). Its role is to provide other CIOs within AGS with information and intelligence on incidents as they arise.
Garda National Drugs and Organised Crime Bureau
Table 1 provides a breakdown of seizures relating to operations carried out by the Garda National Drugs and Organised Crime Bureau (GNDOCB) in 2020.
Table 1: Summary of seizures by Garda National Drugs and Organised Crime Bureau

Source: AGS annual report (2022), p. 21
* 75 relates to threat-to-life operations carried out since the murder of David Byrne at the Regency Hotel, Dublin on 5 February 2016. 
* The statistics provided relate to operations undertaken involving participation by GNDOCB; they do not include seizures made by local Garda units other than by GNDOCB.
Operation Thor
Operation Thor, AGS's national anti-burglary operation, commenced in November 2015. Since then, there have been 14,487 arrests and 404,693 checkpoints. Burglary incidents in residential and non-residential settings have decreased by 42% and 33%, respectively.
Garda National Protective Services Bureau
The Garda National Protective Services Bureau (GNPSB) targets suspects involved in sexual crime, online child exploitation, child protection, domestic abuse, and human trafficking.
The dedicated Child Sexual Abuse Reporting (CSAR) phoneline provided by AGS received 111 calls in 2020. Callers are referred to a specially trained detective in the Sexual Crime Management Unit within GNPSB.1
In 2020, Divisional Protective Service Units (DPSUs) were established in all Garda Divisions with the aim of providing consistent and professional approaches in the investigation of crime involving victims.
In 2020, some 38 victims of human trafficking were reported to AGS, which represented a 9.5% decrease from 2019. The Organised Prostitution Investigation Unit completed two investigations in 2020.
The Missing Persons Unit (MPU) offered support and advice to families of missing persons. In 2020, some 8,483 missing person incidents were recorded on PULSE; 3,331 persons were reported missing one or more times. At the end of 2020, there were 34 missing persons. The MPU also supported the United Kingdom's (UK) National Crime Agency and UK police on a historical missing person case.
Domestic Abuse Intervention and Policy Unit/Domestic Homicide Review Team: Coercive control became a criminal offence in January 2019 under provisions of the Domestic Violence Act 2018. In February 2020, the first conviction was made and resulted in a sentence of 21 months.
Garda National Economic Crime Bureau
The Garda National Economic Crime Bureau (GNECB) targets criminal organisations involved in cybercrime. In 2020, the GNECB arrested 17 suspects under provisions of the Criminal Justice Act 2006 as amended. Operation Omena targeted an organised crime group operating in Ireland and the other European Union (EU) countries with links to Romania. Investigations have resulted in several arrests and convictions in relation to money laundering, possession, and using false instruments.
Garda National Cyber Crime Bureau
The Garda National Cyber Crime Bureau (GNCCB) assisted in several enquiries: child abuse images/child exploitation (n=160), theft and fraud offences (n=56), data retrieval (n=35), murder (n=16), and sexual assault/rape (n=15). It provided technical support on several operations. For example, forensic examiners identified over 10 victims of child sexual exploitation and helped bring the perpetrators to justice. 
Table 2: Actions taken by the security and intelligence section to keep Ireland safe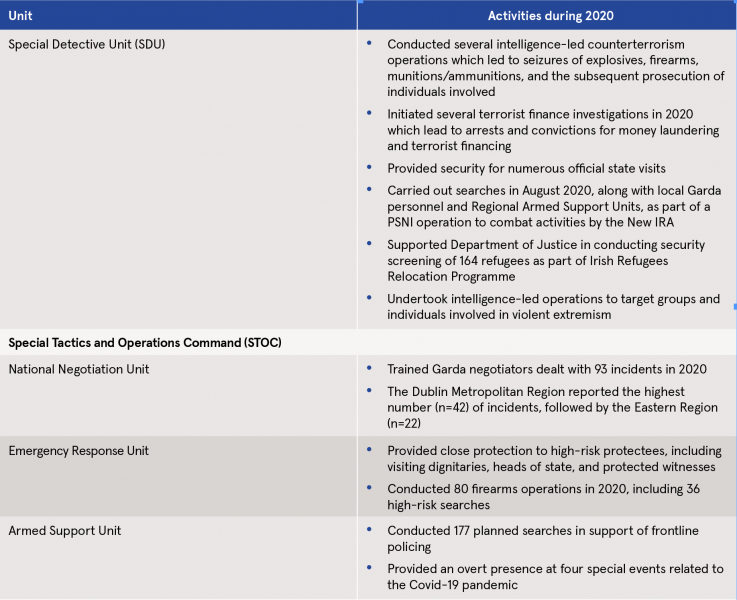 Source: AGS annual report (2022), pp. 32-33
PSNI: Police Service of Northern Ireland; IRA: Irish Republican Army.
Criminal Assets Bureau
In 2020, the Criminal Assets Bureau (CAB) continued to target 'high ranking' criminals along with mid and lower-level tiers involved in organised crime gangs with the aim of 'disrupting' their advancement within these organisations. CAB also extended its work with international agencies, for example, Interpol, Europol, and Joint Investigation Teams.2
Operational support services
AGS has several operational support units to support its work: the Garda Air Support Unit (GASU), Garda Dog Unit, Garda Mounted Unit, and Garda Water Unit.
GASU: In 2020, GASU carried out 1,350 flights resulting in 1,221 hours flown. Overall 2,320 incidents were attended, 214 suspects detained, 29 missing persons located, and 52 vehicles located.
Garda Dog Unit: The unit carried out 1,442 searches in 2020 to find missing persons, drugs, firearms, explosive substances, and stolen property. Dogs also identified the location of €1.5 million of drugs and cash.
Garda Mounted Unit: The aim of this unit is mainly crime prevention. Overall, there are 14 mounts. They responded to 5,340 deployment requests, such as public order, crowd control, and VIP protection.
Garda Water Unit: In 2020, this unit carried out person-related searches and recovered 11 remains.
National security and intelligence
Security and intelligence
The Garda National Crime and Security Intelligence Service cooperates and shares intelligence with European and international agencies and maintains ongoing surveillance of threats to Ireland from terrorists and organised crime groups. The threat level remains unchanged since 2018, where it was 'moderate', indicating that 'an attack is possible but not likely' p. 31. Table 2 highlights some of the work carried out by this service. 
Liaison and protection
In addition, AGS continued to work closely with agencies outside Ireland. Its activities included:
Interpol: Members of AGS participated in several Interpol-led projects in relation to cybercrime, financial crime, and fugitives. Gardaí seconded to Interpol participated in international operations that targeted financing of terrorism, cybercrime, and fraud.
Europol: AGS supported several European Joint Action Days, such as cyberattacks, human trafficking, and cocaine trafficking. In addition, they contributed to Europol's Organised Crime Threat Assessment, the Internet Organised Crime Threat Assessment, and reports on terrorism in the EU.
Schengen Information System (SIS II) and SIRENE Bureau: In 2020, the SIS Project team delivered operational, technical, and training elements needed for Ireland to join SIS. The SIRENE Bureau was established and will act as the single point of contact for exchanging information and coordinating activities related to SIS alerts
International Coordination Unit (ICU): The ICU continued to oversee the National Internal Security Fund Project within AGS. The aim of this project is to fight crime and to manage risk and crisis. The unit also coordinated AGS participation in EU research as part of the Horizon 2020 programme.
National Major Emergency Management (MEM) office: MEM expanded its remit in 2020 to include chemical, biological, radiological and nuclear incidents, policy, and training. It became responsible for An Garda Síochána Covid-19 Coordination Unit in March 2020.
Community safety
Community engagement is at the heart of the work of AGS. Several activities were carried out in 2020, such as crime prevention campaigns (e.g. burglary prevention, online safety, public safety and harm reduction, rural safety, bicycle theft/safety and smartphone safety). For example, in early 2020 the It's Your Choice campaign was launched for teenagers, informing them of the impact of addiction and assault and how to stay safe online. With the aim of increasing engagement and community assurance, a National Community engagement day was held in January 2020.2
Statistics: sale and supply of drugs
Incidents of sale and supply of drugs marked as detected
Figure 1 shows the number of sale and supply incidents detected between 2016 and 2020. Between 2016 and 2018, there was on average 281 incidents per month. Between 2019 and 2020, there was on average 357 incidents per month. The report stated that the detection figures should be interpreted with caution as the PULSE system used to record detections was upgraded to PULSE 7.3 in February 2018. Hence, detections before and after the upgrade cannot be compared.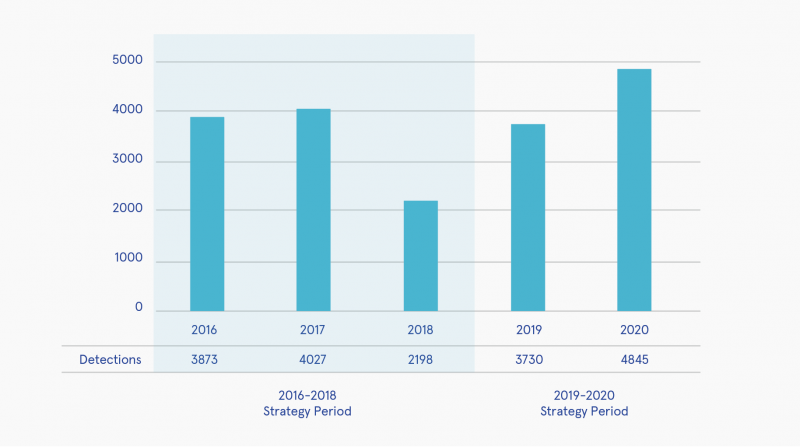 Source: Operational PULSE data ICCS types: 1011, 1012, 1021, AGS annual report (2022), p. 83
Figure 1: Detected sale and supply of drugs incidents, 2016–2020
Garda-only drug seizures, 2020
Drug seizures are submitted to Forensic Science Ireland (FSI) for analysis. Overall, it was estimated that the value of drugs seized by Gardaí in 2020 was €31,406,368. As illustrated in Table 3, the most prominent drugs seized in Ireland with values greater than €1 million were cocaine, cannabis herb, diamorphine, cannabis plants, and phenethylamines. While cannabis plants were ranked fourth, it is likely that this figure is higher, as not all plants are sent to FSI for analysis.
Table 3: Garda drug seizures, 2020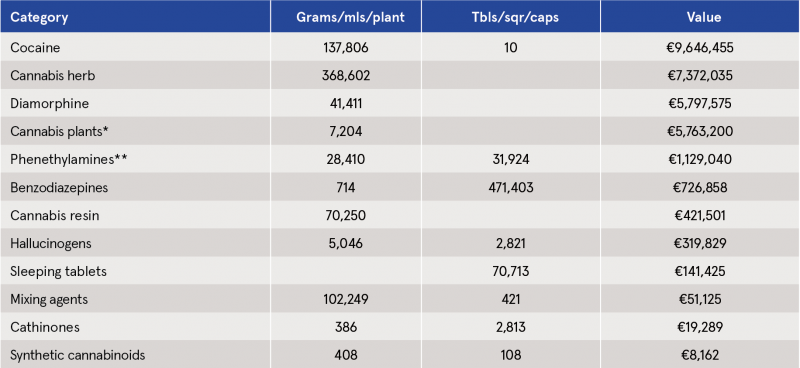 Source: AGS annual report (2022), p. 86
* Cannabis plants are calculated based on figures recorded on PULSE as not all plants seized are routinely sent to Forensic Science Ireland (FSI).
** Phenethylamines include ecstasy (MDMA) and other similar related drugs.
*** This total figure is based on Garda only seizures as recorded by FSI and PULSE. The Garda National Drugs and Organised Crime Bureau (GNDOCB) figure may differ for a number of reasons, such as the inclusion of seizures outside of the remit of FSI and PULSE; GNDCOB report based on seizure date and FSI based on analysis date; the weights/quantities may differ once confirmed by FSI. 
Conclusion
Garda Commissioner Drew Harris acknowledged that 2020 was an 'unprecedented year' for Ireland that needed an 'exceptional response' from AGS to help keep people safe during the pandemic (p. 4). AGS and its personnel acted swiftly to reassure and provide support to the public; appreciation of these actions was illustrated in independent surveys which found high levels of public confidence, support, and trust in how AGS operated at this time. While lessons were learned from the responses to the many challenges 2020 brought to AGS as an organisation, the progress made would not have been possible without Garda personnel who consistently illustrated their 'dedication to duty' and to protecting Ireland and its people (p. 5).2
 
1    An Garda Síochána (2022) An Garda Síochána: annual report 2020. Dublin: An Garda Síochána.
https://www.drugsandalcohol.ie/34969/
2    An Garda Síochána (2022) Garda National Protective Services Bureau (GNPSB). Available online at:
https://www.garda.ie/en/about-us/organised-serious-crime/garda-national-protective-services-bureau-gnpsb-/
Irish-related, Open Access, Article
Repository Staff Only: item control page