Dillon, Lucy (2022) National drugs strategy: progress report for 2020. Drugnet Ireland, Issue 80, Winter 2022, pp. 1-3.
A progress report on the national drugs strategy was published in June 2021, entitled Reducing Harm, Supporting Recovery: progress report 2020.1 This forms part of the evidence base used for the midterm review of the national drug strategy.2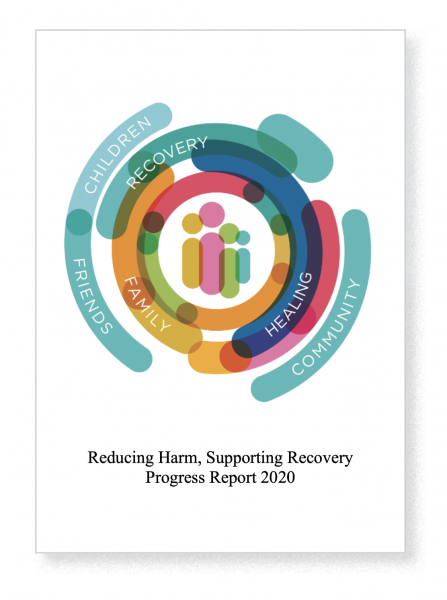 The report, like its predecessors for 2018 and 2019, is structured around the strategic action plan for 2017–2020 that was included in the main strategy document.3,4,5 The strategy set out measures by which progress on delivery of its goals would be monitored and assessed. Among these measures, it was stated that 'the key bodies responsible for delivering the strategic actions will be required to report on progress on an annual basis to the Minister with responsibility for the National Drugs Strategy' (p. 73).5 The Drugs Policy and Social Inclusion Unit at the Department of Health is responsible for collating this feedback and these progress reports are the output from this work.1,3,4
As with the previous reports, data for 2020 were descriptive and presented in tabular form. They listed activities undertaken in the implementation of the actions to the end of 2020. The only analyses included in this progress report were categorisations of the status of the actions. No details were given about the basis of these categorisations. Table 1 shows a summary of this progress. In addition, the report only provided information for 45 of the 50 strategic actions.
Table 1: Summary of the action status for 2020 for each strategic goal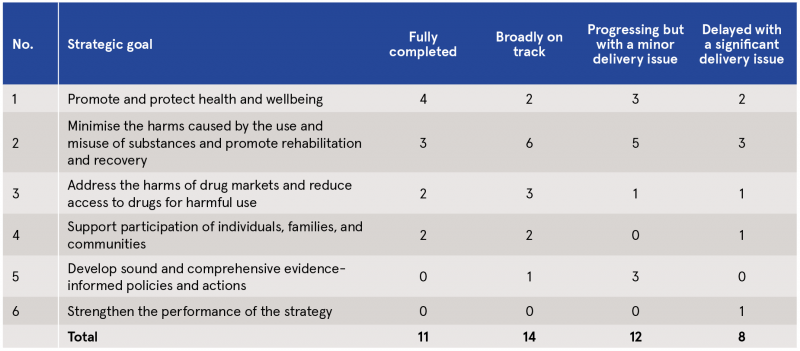 1  Drugs Policy and Social Inclusion Unit (2021) Reducing Harm, Supporting Recovery: progress report 2020. Dublin: Department of Health. https://www.drugsandalcohol.ie/34857/
2  Drugs Policy and Social Inclusion Unit (2021) Mid-term review of the national drugs strategy, Reducing Harm, Supporting Recovery and strategic priorities 2021–2025. Dublin: Department of Health. https://www.drugsandalcohol.ie/35183/
3  Drugs Policy and Social Inclusion Unit (2020) Reducing Harm, Supporting Recovery: progress report 2019. Dublin: Department of Health. https://www.drugsandalcohol.ie/34530/
4  Drugs Policy Unit (2019) Reducing Harm, Supporting Recovery: progress 2018 and planned activity 2019. Dublin: Department of Health. https://www.drugsandalcohol.ie/30660/
5  Department of Health (2017) Reducing Harm, Supporting Recovery: a health-led response to drug and alcohol use in Ireland 2017–2025. Dublin: Department of Health. https://www.drugsandalcohol.ie/27603/
Substances (not alcohol/tobacco)
Repository Staff Only: item control page