Doyle, Anne (2021) A long-brewing crisis: the historical antecedents of major alcohol policy in Ireland. Drugnet Ireland, Issue 79, Autumn 2021, pp. 14-17.
Introduction
The Public Health (Alcohol) Act 2018 in Ireland has been praised as a world-leading package of alcohol policy reforms. The path to alcohol policy change in Ireland was long and winding as well as politically perilous. Using policy feedback theory (PFT), a 2021 report investigated the political consequences of accumulating alcohol-related health and social harms for processes from the earlier phases of the policymaking process (prior to 2009).1
Between 1987 and 2006, alcohol intake in Ireland increased from 9.8 to 13.4 litres of pure alcohol per capita, due in part to the Celtic Tiger period, where greater disposable income and relatively stable rates of alcohol taxation contributed to easier affordability of alcohol. Following the 2008–2009 financial crisis, alcohol consumption began to decrease in Ireland but by international standards alcohol intake has remained high.
The health and social burden of alcohol consumption has been the subject of numerous studies in Ireland. This body of research helped persuade the Government that a new policy approach to alcohol was required. In 2013, led by the Department of Health, a series of measures were proposed to reduce both consumption and alcohol-related harms.
Methods
The study traces the development of alcohol policy in Ireland over three decades, drawing on primary documents, secondary literature, and interviews with public health advocates, medical doctors, public health experts, and key decision-makers.
Results
The study documents the struggle to have alcohol recognised as a public health issue in Ireland due to insufficient institutional authority and the accumulative effects of policy failures. These factors elevated the visibility of alcohol-related harms for key stakeholders, helping spur greater demand for major policy change. The study identifies 2008/2009 as the key turning point. Table 1 provides a timeline of events, culminating in the enactment of the Public Health (Alcohol) Act in 2018.
Discussion and conclusions
The health and social impacts of the high consumption levels of alcohol in Ireland were largely overlooked by the Government for many years. In fact, many policy decisions resulted in increased alcohol consumption. Experts and subsequently civil society organisations and, to some extent, the general public could see evidence of alcohol-related harms on the rise. These forces placed significant pressure on the Government, leading first to the inclusion of alcohol under the NDS and eventually to the enactment of the Public Health (Alcohol) Act in 2018.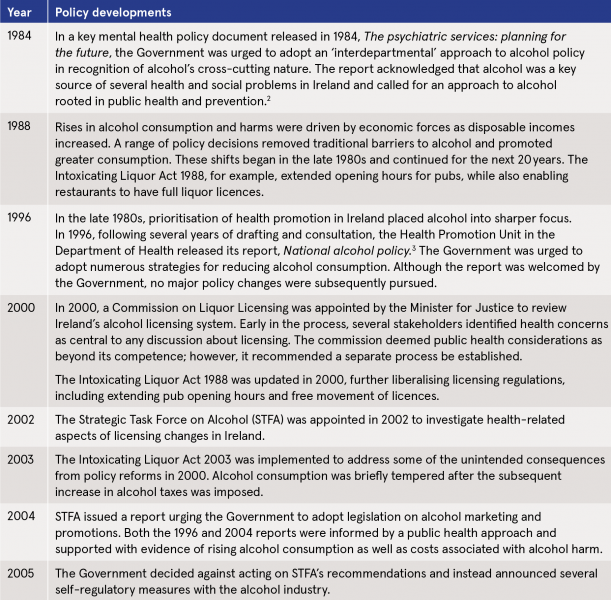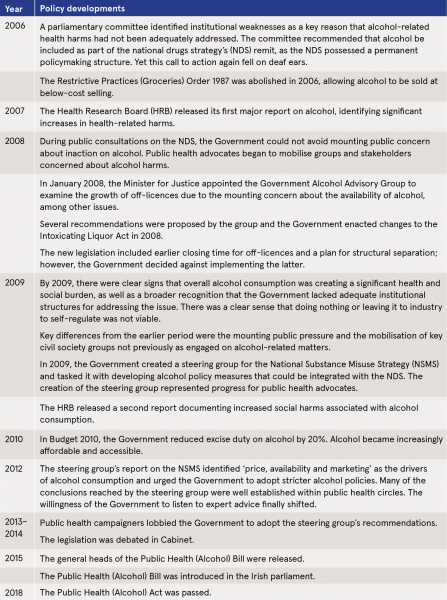 Source: Adapted from Lesch and McCambridge (2021)1
In conclusion, an understanding of innovations in alcohol policy decision-making requires an appreciation of the historical context, including earlier policy failures.
1   Lesch M and McCambridge J (2021) A long-brewing crisis: the historical antecedents of major alcohol policy change in Ireland. Drug Alcohol Rev, Early online. https://www.drugsandalcohol.ie/34383/
2   Department of Health (1984) The psychiatric services – planning for the future. Report of a Study Group on the Development of the Psychiatric Services. Dublin: Stationery Office. Available online at: https://www.lenus.ie/handle/10147/45556 
3   Department of Health (1996) National alcohol policy: Ireland. Dublin: Stationery Office.
https://www.drugsandalcohol.ie/5263/
Irish-related, Open Access, Article
Repository Staff Only: item control page