Dunne, Mary (2021) HRB National Drugs Library survey, 2021. Drugnet Ireland, Issue 78, Summer 2021, pp. 39-40.
The HRB National Drugs Library,1 based within the Health Research Board, supports those working to develop the knowledge base around drug, alcohol, and tobacco use in Ireland. In February 2021, staff of the library asked visitors to its website to fill in a short survey about their experience of the website and library services. Forty-two responses were received and some of the survey findings are presented here.
Survey findings
In terms of what the respondents liked about the website, most considered it easy or simple to use, up-to-date, and user friendly. They liked that they could access this large collection in one place.
It is a fantastic and well curated resource and picks up relevant research across the country. It's brilliant.
User-friendly, easy to find what I need.
In terms of what they thought could be improved upon, the search facility was the number one issue mentioned. Navigating the site was also a problem for some respondents. A few respondents mentioned that they would like to see more data, especially Irish data.
Sometimes [it's] hard to pin down what I want to find.
Can be hard to find [an] exact match in search sometimes.
To assess the impact of the library on the work of those working in the area of substance use, we asked respondents if the library had contributed to, or changed, their work or study. Figure 1 shows how the library has enabled evidence-informed policy, practice, research or education among the 42 respondents.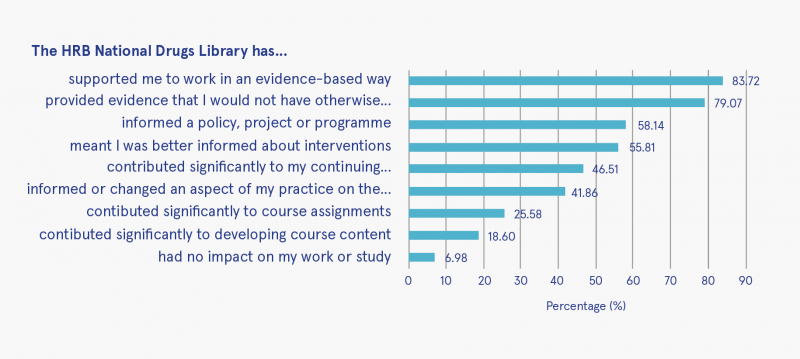 Figure 1: How the drugs library enabled evidence-informed policy, practice, research or education
Discussion
The wealth of information in responses is certainly guiding our developments. We know, for example, that finding good-quality research and relevant information can be difficult, especially as our collection grows. We are working on honing and improving our subjects (keywords) and search so that users can more easily refine their criteria. We hope that the recent addition of the advanced search options – 'review', 'guideline', 'peer reviewed articles', 'Irish-related' and 'international' – will assist with this.
The key Irish data page is designed to draw together published data on the situation in Ireland. It includes pages for Irish prevalence, treatment, and deaths data. As we identify other data sources, we will add them to this resource. We would like to thank all our respondents for their time, useful suggestions, and kind comments. Further feedback can be emailed to drugslibrary@hrb.ie 
1   The HRB National Drugs Library website can be accessed at https://www.drugsandalcohol.ie/
Repository Staff Only: item control page