Millar, Sean (2019) Tabor Group annual report, 2018. Drugnet Ireland, Issue 71, Autumn 2019, pp. 28-29.
The Tabor Group is a provider of residential addiction treatment services in Ireland. It aims to offer hope, healing, and recovery to clients suffering from addictions through integrated and caring services. In addition to three residential facilities, the organisation provides a continuing care programme to clients who have completed treatment in order to assist with their recovery. It also offers counselling to families whose loved ones are struggling with an addiction. In 2019, the Tabor Group published its annual report.1 This article highlights services provided by the Tabor Group to individuals with a substance use addiction in 2018.
Tabor Lodge: residential addiction treatment centre
Tabor Lodge is a residential addiction treatment centre for people addicted to alcohol, drugs, gambling, and food. It is situated 15 miles south of Cork city. Tabor Lodge is guided by the Minnesota Model of addiction treatment in delivering its treatment programme. This model is characterised by the understanding that addiction is primarily a substance use disorder. The primary focus of the treatment programme is to educate clients on the dynamics of this disorder as they manifest in the life of the individual. Another important focus of the treatment programme is to assist clients develop the skills necessary to manage their disorder while going forward in their lives.
A total of 222 clients (72% male) were admitted to Tabor Lodge for residential treatment of addiction in 2018, of whom 208 completed treatment. A breakdown of the specific drug of choice for admissions in 2018 is shown in Table 1. The clinical staff at Tabor Lodge have observed a changing profile of clients presenting for treatment in recent years, with mental health challenges and a history of childhood trauma becoming more evident. With this in mind, staff at Tabor Lodge have become more informed about childhood trauma as a contributing factor to the development of addiction, and as a hindering factor in efforts to manage addiction disorders. In 2017, Tabor Lodge responded to the greater prevalence of clients presenting for treatment with a history of childhood trauma by initiating a training programme. This is to ensure that services at Tabor Lodge become more 'trauma informed', as an agency treating adults vulnerable to the ongoing debilitating impact of childhood trauma.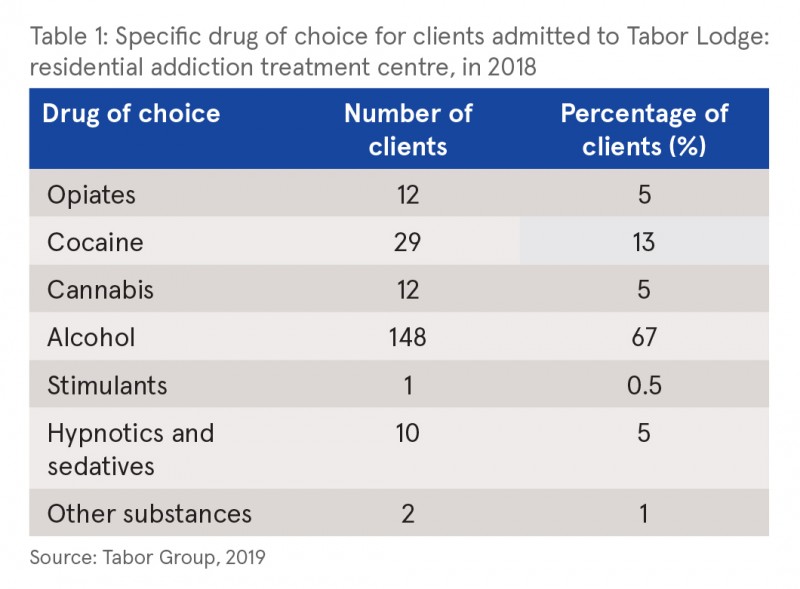 Fellowship House: men's residence extended treatment centre
The extended treatment programme for men is based on the Hazelden Minnesota Model and promotes 'total abstinence'. The aim is to build on and consolidate the work of recovery already begun in primary treatment – even if that treatment was not in the recent past and the client is struggling to maintain sobriety.
In 2018, some 34 clients were admitted to Fellowship House for extended treatment; a total of 18 individuals completed the programme. A breakdown of the specific drug of choice for admissions to Fellowship House in 2018 is shown in Table 2. The report observed that cannabis and cocaine remain high at 82%, with 94% of clients reporting alcohol as their specific drug of choice.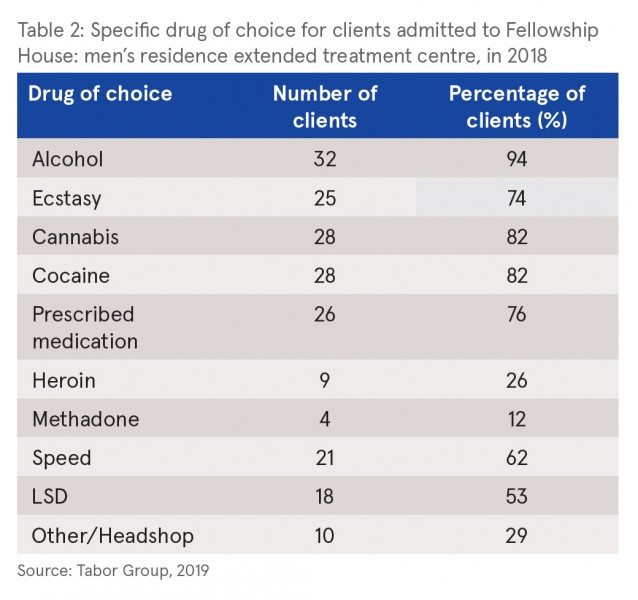 Renewal: women's residence extended treatment centre
Renewal works with women who have completed a primary 28-day treatment programme. It is a 12-week residential extended treatment programme, where clients learn to find routine, balance, and structure. Renewal is the only Minnesota Model extended treatment centre for women based in Ireland and was opened in 1999.
In 2018, some 51 clients were admitted to Renewal, of which 30 completed the programme. Seventy per cent of these clients were aged between 18 and 35 years. A breakdown of the specific drug of choice for admissions to Renewal in 2018 is shown in Table 3. In this year, 90% of clients admitted presented with a history of alcohol abuse.
In addition to group therapy, lectures and one-to-one counselling, the programme at Renewal also arranges family conferences, which help clients to reconnect with their families as well as educating families about addiction and offering them support. The programme also works in partnership with Tusla, the Child and Family Agency, as many women have children in care and need help reconnecting and rebuilding the parent/child relationship.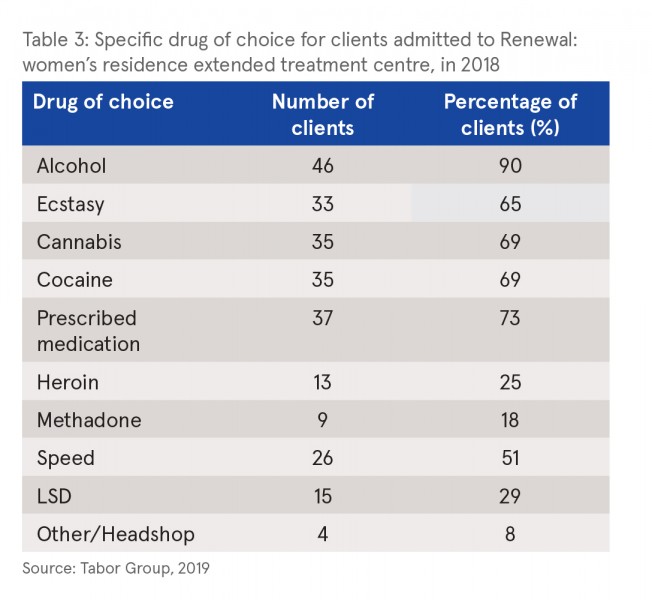 Conclusions
The Tabor Group observed that the number of people presenting with opiate or heroin addiction was down from 8% in 2017 to 5% of all presentations in 2018. However, cocaine use among all clients presenting for treatment has more than trebled since 2016 – up from 4% to 13% – with cannabis also up 1% in the past year. In addition, addiction to alcohol alone is seen rarely, according to the report, with large numbers of people presenting for treatment indicating polydrug use, with ecstasy, cannabis, cocaine, heroin, and prescribed medication being reported. 
1  Tabor Group (2019) Tabor Group annual report 2018. Cork: Tabor Group. https://www.drugsandalcohol.ie/30698/
Irish-related, Open Access, Article
Repository Staff Only: item control page