Millar, Sean (2019) Trends in addiction treatment in Irish prisons. Drugnet Ireland, Issue 71, Autumn 2019, p. 19.
In 2008, the National Drug Treatment Recording System (NDTRS) began to collect information on drug treatment in Irish prisons, mainly from in-reach voluntary services which provided counselling only. Up to 2013, the medical units of the Irish Prison Service did not participate in the NDTRS; however, in 2014, the medical unit in the largest male prison provided data on opiate substitution treatment and detoxification. Many studies have shown that incarcerated populations have a higher rate of problem drug and alcohol use compared with the general population. Prison treatment services are therefore an important source of data for gaining a better understanding of the trends in problem drug and alcohol use, and for informing service design and delivery. A recent Irish study1 analysed trends in addiction treatment demand in prisons in Ireland from 2009 to 2014 using available national surveillance data in order to identify any implications for practice and policy.
In this research, published in the International Journal of Prisoner Health, national surveillance data on treatment episodes for problem drug and alcohol use from 2009 to 2014, collected annually by the NDTRS, were analysed. In total, 6% of all treatment episodes recorded by the NDTRS between 2009 and 2014 were from prison services. It was found that the number of prison service treatment episodes increased from 964 in 2009 to 1,063 in 2014. Opiates were the main reason for treatment, followed by alcohol, cocaine, and cannabis (see Table 1). The majority (94–98%) of treatment episodes involved males (median age 29 years) and low educational attainment, with 79.5–85.1% leaving school before completion of second level. The percentage of treatment episodes with a history of ever injecting drugs increased from 20.9% in 2009 to 31.0% in 2014.
The authors observed that this is the first study to analyse treatment episodes in prison using routine surveillance data in Ireland and provides a baseline from which to measure any changes in provision of treatment in prison over time. Research on trends in addiction can help policy development and service planning in addiction treatment in prison, as it provides an insight into the potential needs of incarcerated populations.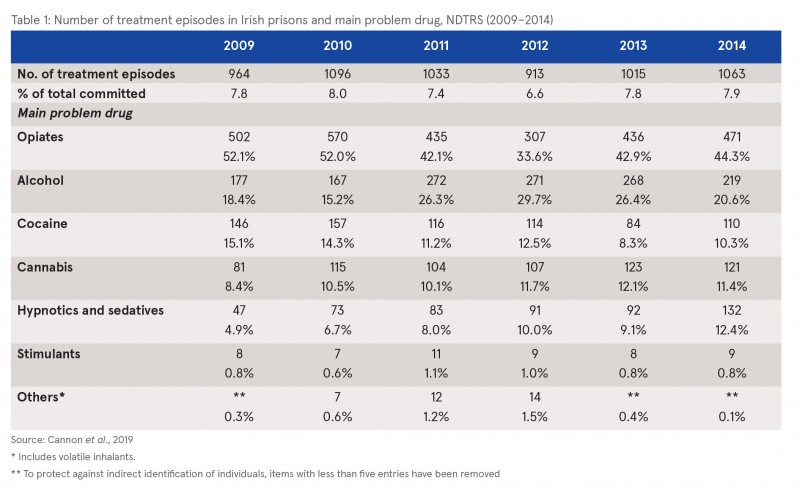 1 Cannon A, Nally F, Collins A, Fay R and Lyons S (2019) Trends in addiction treatment in Irish prisons using national surveillance data, 2009–2014. Int J Prison Health, 15(2): 105–13. https://www.drugsandalcohol.ie/30318/
Irish-related, Open Access, Article
Alcohol, All substances, Substances (not alcohol/tobacco), Cannabis, CNS depressants / Sedatives, CNS stimulants, Cocaine, Inhalents and solvents, Opioid, New psychoactive substance, Prescription/Over the counter
Repository Staff Only: item control page