Millar, Sean (2019) DOVE Clinic, Rotunda Maternity Hospital annual report, 2017. Drugnet Ireland, Issue 69, Spring 2019, pp. 26-27.
The DOVE Clinic in the Rotunda Hospital, Dublin was established to meet the specific needs of pregnant women who have, or are at risk of, blood-borne or sexually transmitted bacterial or viral infections in pregnancy. Exposure may also occur through illicit drug use. Figures from the clinic for 2017 were published in the hospital's annual report in 2018.1
Figure 1 shows the number of women who booked into the DOVE Clinic for antenatal care each year during the period 2007–2017. It also shows the diagnosis of these women.
During 2017, some 123 women booked into the DOVE Clinic for antenatal care. Of these: 
26 (21%) women were positive for HIV infection.
49 (40%) women were positive for hepatitis B (HBV) surface antigen.
36 (29%) women were positive for hepatitis C (HCV) antibody.
16 (13%) women had positive treponemal serology (syphilis).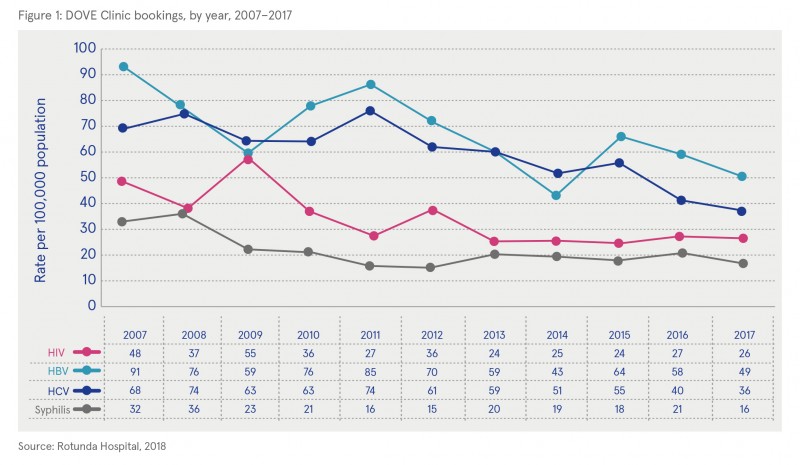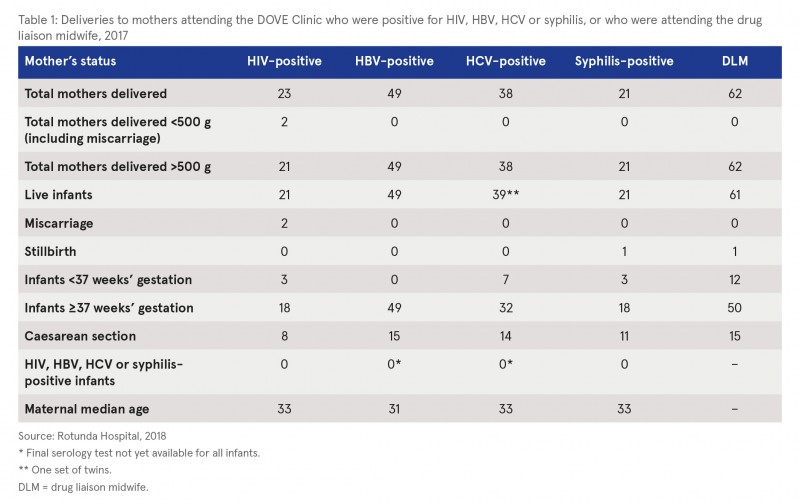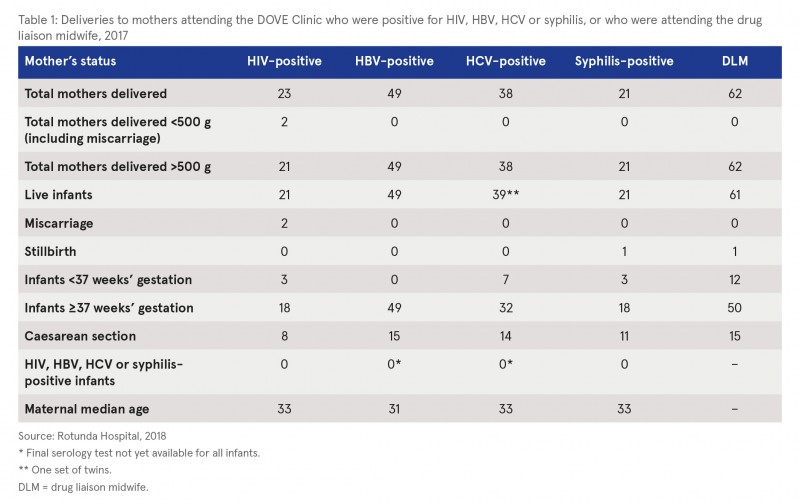 It should be noted that these numbers refer to patients who booked for care during 2017. Table 1 summarises the outcome of patients who actually delivered during 2017. Of these patients, 23 were HIV-positive, 49 were HBV-positive, and 38 were HCV-positive. During 2017, 100 women were referred to the Drug Liaison Midwife (DLM) service, including 56 women who had a history of opiate addiction and were engaged in a methadone maintenance programme. There was a total of 62 deliveries to mothers under the DLM service in 2017.
Irish-related, Open Access, Article
Repository Staff Only: item control page