O'Dwyer, Claire (2019) Launch of new Hidden Harm initiative. Drugnet Ireland, Issue 69, Spring 2019, pp. 1-2.
On 25 January 2019, the Health Service Executive (HSE) and Tusla, the Child and Family Agency jointly launched the Hidden Harm strategic statement, Seeing through hidden harm to brighter futures1 and the Hidden Harm practice guide2 in the Plaza Hotel in Tallaght, Dublin. A separate information leaflet, Opening our eyes to Hidden Harm,3 was also published to support frontline staff working with children impacted by parental drug or alcohol misuse.
These publications outline how the two State organisations will work together to identify and support children who are adversely affected by parental substance misuse. Joint training for HSE and Tusla staff working in this area is due to be developed in 2019.
The adverse experiences of children living with parents who misuse alcohol or other drugs have been termed 'hidden harm' because these children often remain unknown to services. Children living with parents who misuse substances are at greater risk of emotional and physical neglect and of developing mental health and substance misuse problems later in life. Through the National Hidden Harm Project, the HSE and Tusla have committed to work together to improve services and outcomes for children affected by parental problem alcohol and other drug use in Ireland.
The publications were officially launched by Minister for Children and Youth Affairs, Dr Katherine Zappone TD, and Minister of State with responsibility for Health Promotion and the National Drugs Strategy, Catherine Byrne TD. The keynote speech was given by Joy Barlow MBE. Joy Barlow is an international expert in the field of hidden harm and was a member of the national steering group involved in producing the documents launched at the event. Dr Aisling Gillen, service director from Tusla, and Joe Doyle, planning specialist from the HSE National Social Inclusion Office, also spoke at the launch.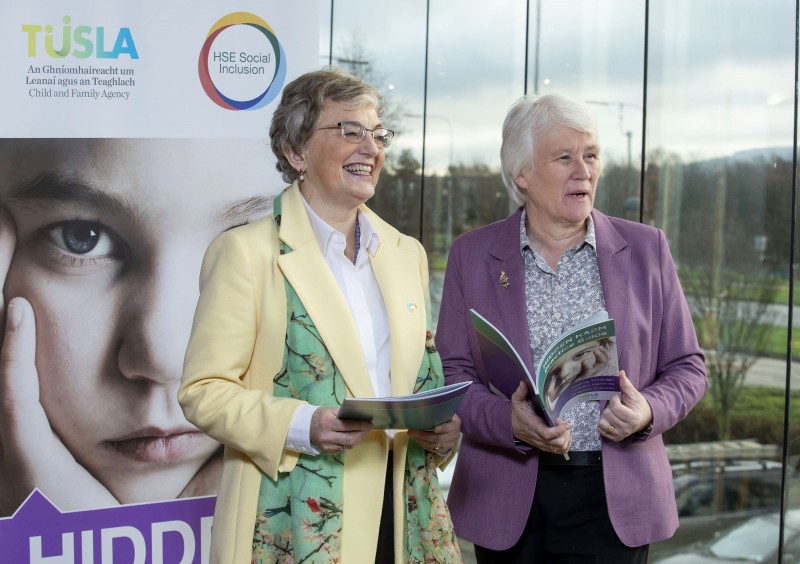 From L to R: Minister for Children and Youth Affairs, Dr Katherine Zappone TD, and Minister of State with responsibility for Health Promotion and the National Drugs Strategy, Catherine Byrne TD, at the launch of the Hidden Harm initiative
2  HSE and Tusla (2019) Hidden Harm practice guide: seeing through hidden harm to brighter futures. Dublin: HSE and Tusla. https://www.drugsandalcohol.ie/30190/1/PracticeGuide.pdf
3  North South Hidden Harm Group (2019) Opening our eyes to Hidden Harm: empowering frontline workers to support children and young people affected by parental problem alcohol and other drug use. Dublin: HSE and Tusla. https://www.drugsandalcohol.ie/30190/3/Leaflet_Jan_16th.pdf
Repository Staff Only: item control page