Lynn, Ena (2017) Eighteenth Annual Service of Commemoration and Hope. Drugnet Ireland, Issue 61, Spring 2017, p. 24.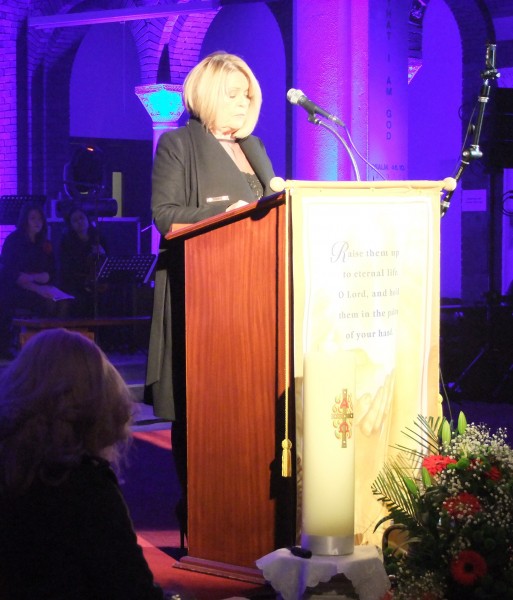 On Wednesday, 1 February, the National Family Support Network (NFSN)1 held its 18th Annual Service of Commemoration and Hope. This spiritual, multidenominational service is held in remembrance of loved ones lost to substance misuse and related causes and to publicly support and offer hope to families living with the devastation that substance misuse causes. Those in attendance included Commandant Kieran Carey, aide-de-camp to An Taoiseach, Garda Commissioner Nóirín O'Sullivan, Archbishop Diarmuid Martin, Bishop Eamonn Walsh, and other religious representatives, as well as family members, friends, and many people involved in substance misuse work. Music was provided by the soprano Nickola Hendy and the Gardiner Street Gospel Choir.
In her address to the gathering, Sadie Grace, coordinator of the NFSN, spoke directly to family members, stressing that they are not alone; she highlighted the latest report from the National Drug-Related Deaths Index, which showed that 697 deaths occurred in 2014, directly or indirectly due to drug use. She spoke about the increase in deaths due to heroin and cocaine use and how the majority of deaths involved young men. She also mentioned the role of naloxone in helping to prevent deaths from opiate overdose and the NFSN's support during the HSE Naloxone Demonstration Project. She stressed the importance of expanding the availability of naloxone to family members and educating families on the signs and symptoms of overdose.
Sadie spoke about the impact of compounding factors affecting bereaved families associated with drug use and drug-related deaths. These included increased financial difficulties related to funerals, increasing level of drug intimidation and threats of violence, single parents or kinship carers taking on the responsibility of caring for young children, and children dealing with the loss of parents. She called for more research in this area and support for affected families. She emphasised the importance of the NFSN being involved in the consultation process for the new National Drug Strategy to ensure family needs are included. In her closing statement, she highlighted the necessity for ongoing financial support and investment in family support.
For many families, this service is the first time that they can openly grieve for loved ones lost to drug use and related causes. The growth of family support groups was evident, with support groups from across the island of Ireland represented at this year's service. Personal testimonies were given by members of family support groups, reflecting the vital support received through these groups. These included Maureen Penrose, a member of the Croí Croga Peer Family Support Group, who highlighted the vital importance of peer support groups, members of whom support each other and share their heartache, hurt, fears, hopes and joys. Anne-Marie Taylor gave a very honest speech about her experience as a drug user and her journey to recovery; she encouraged people to look for support. Adrienne Sweetman acknowledged the tremendous work of the NFSN Bereavement Support Group. The NFSN runs a 10-week bereavement programme twice a year and Adrienne encouraged family members to contact the NFSN and avail of assistance from this group.
In his address, Archbishop Diarmuid Martin spoke of the importance of the annual service to reflect on tragedy and hope. He urged the audience not to lose sight of hope and the freedom and hope that comes with recovery.
1    The National Family Support Network can be contacted at 5 Gardiner Row, Dublin 1 on 01 898 0148 or info@fsn.ie or online www.fsn.ie.
Irish-related, Open Access, Article
Repository Staff Only: item control page