Lyons, Suzi and Kinsella, Antoinette (2016) Drug and Alcohol Awareness Week in the midlands. Drugnet Ireland, Issue 56, Winter 2016, p. 22.
The Midland Regional Drugs and Alcohol Task Force (MRDATF) ran its annual Drug and Alcohol Awareness Week from 9 to 14 November 2015. A total of 29 events were organised across counties Longford, Westmeath, Laois and Offaly.1
The awareness week was launched by Susan Scally, Principal Officer, Drugs Policy Unit, Department of Health, who stated at the launch in Athlone:
I am delighted to be here today to launch the Drug and Alcohol Awareness Week and would like to congratulate the Task Force and all the partner agencies for running this annual campaign.   I especially welcome the focus on educating young people about the consequences of drug and alcohol misuse and the range of events which are designed to encourage young people to discuss the issues involved in an open and frank way.
The primary role of the MRDATF, which is funded by the Department of Health, is to research, develop, implement and monitor a co-ordinated response to the problem of drug and alcohol misuse as experienced in the four midland counties. The aim of the awareness week is to increase awareness of drug- and alcohol-related issues and to highlight the drug and alcohol support services available.
The 29 events were organised by the MRDATF and community, voluntary and statutory agencies across the midland region. Each event had a specific target audience – service providers, the general public, parents, students and under-18s. The County Longford Drug and Alcohol Forum hosted a 'Strength in local knowledge' seminar at which their new service information poster was launched.   Several sessions were held on 'suicide alertness', targeting everyone, and also a 'responding to intimidation' seminar. Dr Susan Redmond, a leadership coach and consultant based in County Galway, held meetings in several locations on 'Connecting with your teenager – mindfulness for parents during adolescent development'. In addition, there were cultural, musical and art events.
Cannabis conference
On the morning of the launch Susan Scally also opened a cannabis conference 'The facts about cannabis'. Organised by the MRDATF and HSE CADS (Community Alcohol and Drug Service), the aim of the conference was to bring together interested individuals and agencies working in the field of addiction to engage in meaningful learning and discussion regarding the impact of cannabis use on the individual and society. Guest speakers at the conference included: 
Dr Suzi Lyons, Senior Researcher, NHIS, Health Research Board
Dr Adam R Winstock, Founder Global Drug Survey, and Consultant Psychiatrist and Addiction Medical Specialist at the South London and Maudsley NHS Trust
Philip James, Clinical Nurse Specialist, HSE YoDA (Youth, Drug & Alcohol) Service 
Dr Winstock said at the conference: 
The cannabis story is changing. From new preparations and methods of use to synthetic cannabinoids and regulated markets cannabis has never been so interesting. There's so much that can be done to better educate users and health care providers to help people use more safely and help those who need treatment get the right help. I hope I can support all in attendance at the Cannabis Conference today to do that. 
1 For more information on the MRDATF visit http://www.mrdatf.ie/index.php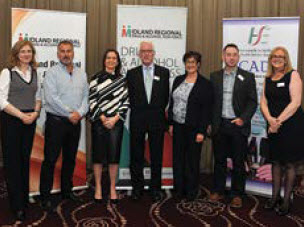 Attending the MRDATF's annual Drug and Alcohol Awareness Week were (L-R) – Dr Suzi Lyons, Senior Researcher HRB, Dr Adam Winstock, Founder Global Drug Survey, Consultant Psychiatrist & Addiction Medicine Specialist, Antoinette Kinsella, Co-ordinator MRDTF, Peter McEvoy, Chairperson MRDATF, Susan Scally, Principal Officer, Drugs Policy Unit, Department of Health, Philip James, Clinical Nurse Specialist, HSE YoDA, Fran Byrne, Regional Manager HSE CADS
Irish-related, Open Access, Article
Repository Staff Only: item control page