Keane, Martin (2015) Evaluation of a mental health early-intervention programme for young people. Drugnet Ireland, Issue 54, Summer 2015, pp. 21-22.
Jigsaw is an early-intervention mental health service developed by Headstrong, the national centre for youth mental health. The service currently operates in 10 communities across Ireland and is staffed by multi-disciplinary teams of allied health professionals. The service targets young people aged 12–25 with mild and emerging mental health problems; young people presenting with more serious mental health problems are referred to other services.
Jigsaw was developed to fulfil three objectives:
ensure access to youth-friendly, integrated and community-based mental health support,
build capacity of frontline workers and volunteers, and
promote community awareness around mental health. 
It is estimated that more than 8,000 young people have received a service from Jigsaw.
Data have recently been published on the profile of young people presenting to Jigsaw, the services they receive and a before-and after-comparison on the severity of their mental health problems.1 Data were collected from young people (n=2,420) who received support from Jigsaw from 1 January to 31 December 2013. Fifty-one per cent (n=1,237) received brief interventions comprising 1–6 sessions of goal-focused therapeutic support; 34.3% (n=829) received indirect support through services engaging with their parents and other professionals about their mental health needs; and 14% (n=354) had brief contact with the Jigsaw service but their mental health needs exceeded the scope of the services provided by Jigsaw. The majority (56.5%, n=1,367) presenting to Jigsaw in 2013 were female and the most frequent users were aged 15–17 years. Almost a third of the 1,608 young people (31.3%, n=504) who engaged directly with the service self-referred; this cohort included those receiving brief interventions and those who were brief contacts.
Young people presenting to the Jigsaw service reported a large number of mental health problems (see Table 1). Anxiety was the most common mental health problem.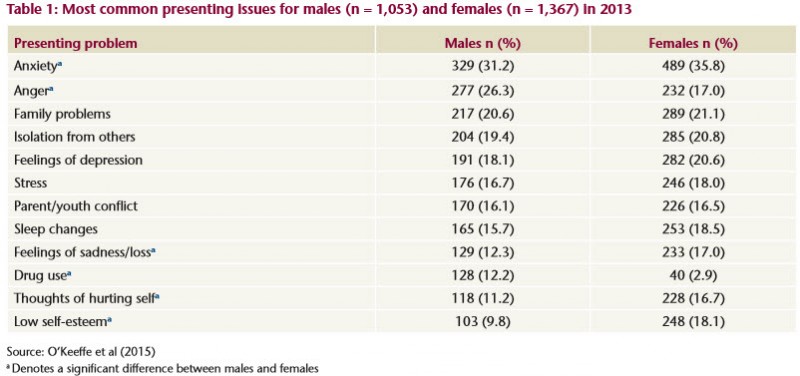 Levels of psychological distress were assessed in young people via a brief intervention using the Clinical Outcome Routine Evaluation (CORE) questionnaires, either the CORE 10 or the YP-CORE. The CORE questionnaires are validated instruments and were used to assess symptoms of anxiety and depression, and associated aspects of social functioning. Questionnaires were completed by 709 young people at their first session, and by 315 young people at their final session. The authors report that 89% presented to Jigsaw with clinical levels of psychological distress pre-intervention, and 52% reported moderate/severe or severe levels of distress. After engaging with Jigsaw, 47.2% had healthy, and 28.8% had low, levels of psychological distress.
The authors acknowledge the limitations of this study in that '…self-reported levels of distress should be interpreted with caution as a multitude of other influences on young people's lives make it difficult to attribute any change directly to the use of a specific service…'. (p. 76)
Commentary
This retrospective analysis of data on young people attending the Jigsaw service provides a useful insight into the mental health issues experienced by this cohort. In the first instance, it is positive to learn that these young people were open to discussing and seeking support for their mental health, and particularly encouraging that almost a third of the cohort who engaged directly with the service referred themselves. Additionally encouraging, and a point picked up on by the authors, was that almost half of all young people presenting were young males, who are traditionally less likely to seek psychological help compared to their female counterparts. The number of different mental health problems reported by these young people is also concerning. However, it must be noted that these reported problems were not diagnosed as disorders and, again, it is positive that these young people are receiving an early intervention which may prevent the condition deteriorating. Finally, although the reported reductions in psychological distress among some of these young people post-intervention could not be attributed solely to the effect of the intervention, it remains positive that for some their distress is being reduced, regardless of the cause or causes. (Martin Keane)
O'Keeffe L, O'Reilly A, O'Brien G, Buckley R and Illback R (2015) Description and outcome evaluation of Jigsaw: an emergent Irish mental health early intervention programme for young people. Irish Journal of Psychological Medicine (32): 71–77. https://www.drugsandalcohol.ie/23291/
Irish-related, Open Access, Article
Repository Staff Only: item control page