Pike, Brigid (2015) New Minister of State with responsibility for Drugs. Drugnet Ireland, Issue 54, Summer 2015, p. 1.
In April 2015 Aodhán Ó Ríordáin TD was appointed Minister of State for the Drugs Strategy in the Department of Health. He is also Minister of State with responsibility for New Communities, Culture and Equality, which brief is spread across the Department of Justice and Equality and the Department of Arts, Heritage and the Gaeltacht.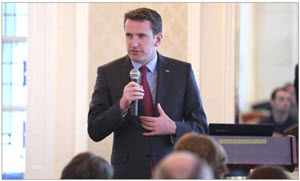 Minister for Health Leo Varadkar welcomed the appointment, commenting 'There is a lot of merit in appointing a cross-Departmental Minister for Drugs, as there is a significant overlap between Health and Justice in this area, ranging from treatment and prevention to enforcement and diversion. The new role will bring together the work and actions of the HSE and Gardaí among others.'
The Minister went on to note, 'Aodhán is being appointed at a good time as the Department has just started work on the new National Drugs Strategy. Extra funding of €2.1m has been allocated in 2015 to provide more residential treatment and rehabilitation places, more needle-exchanges and the naloxone pilot project. I have also ended the cycle of cuts in funding for Local Drugs and Alcohol Taskforces.' Minister Varadkar also noted the new Minister's commitment to the equality agenda and his 'excellent track record of community work'.
See separate report on 'A Better City for All' seminar later in this issue for a report on one of the new Drugs Minister's first public speaking engagements.
Irish-related, Open Access, Article
Substances (not alcohol/tobacco)
Repository Staff Only: item control page