McGuire, Vivion (2015) Coolmine Therapeutic Community annual report 2012. Drugnet Ireland, Issue 52, Winter 2014, pp. 19-20.
The Coolmine Therapeutic Community (CTC) annual report for 2013 was launched by journalist and TV and radio presenter Matt Cooper, on 17 October 2014.1 The report contains reports and statistics on CTC's services, as well as information on its strategic partners, funders and supporters.

The year 2013 saw CTC celebrate its 40th year of providing treatment and rehabilitation services in Ireland. During the year Coolmine worked with over 1,000 people, supporting them and their families to overcome addiction.
The annual report notes the continuing increased demand for CTC's services, and the growth of homelessness and drug use. While there was evidence of an improving economic outlook, the benefit of this improvement had yet to reach those individuals most in need. In the course of 2013 Coolmine Lodge increased its occupancy rate to an average of 28 men, a 27% increase from an average of 22 men in 2012. Ashleigh House catered for an average of 18 women, a 50% increase from an average of 12 women in 2012.
Throughout 2013 CTC maintained its emphasis on evidence-based treatments which serve to enhance the therapeutic community model. CTC staff completed training in mindfulness-based relapse prevention, mindfulness-integrated cognitive behavioural therapy and the 'Parenting under Pressure' programme, in addition to ongoing skill development and training in their core competencies. CTC stresses that it is through this ongoing commitment to knowledge transfer, skills development and maintenance of evidence-based treatments, together with an increase in front-line staff, that it saw an average increase of 9% in client retention in its rehabilitation programme during 2013.
CTC strengthened its commitment to formal research by presenting the initial findings of a longitudinal outcomes study at the European Federation of Therapeutic Communities (EFTC) conference in September 2013. During this conference, CTC successfully bid to host both the European Working Group on Drugs Oriented Research symposium (EWODOR) in May 2014 and the EFTC conference in 2017.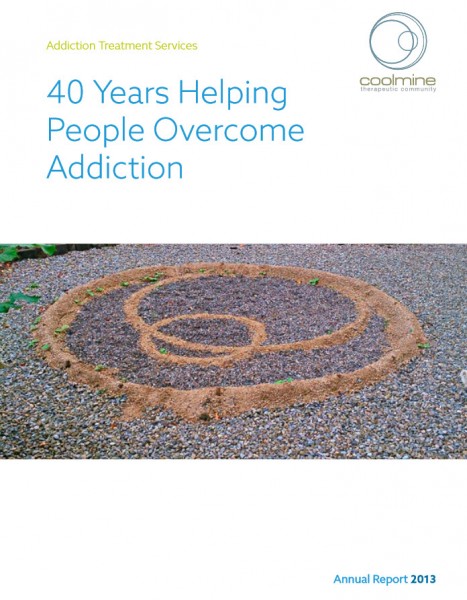 1 Coolmine Therapeutic Community (2014) Annual review 2013. Dublin: CTC. https://www.drugsandalcohol.ie/22805/
Irish-related, Open Access, Article
Repository Staff Only: item control page