Keane, Martin (2014) Addiction recovery: a contagious paradigm. Drugnet Ireland, Issue 51, Autumn 2014, pp. 6-7.
On 17 July 2014, Councillor Mannix Flynn, representing the Lord Mayor of Dublin, Christy Burke, launched a report on behalf of Soilse, the drug rehabilitation service in HSE Dublin North City.1 The report entitled Addiction recovery: a contagious paradigm sets out a case for a recovery-focused approach to addiction treatment.  It was co-authored by Martin Keane, Health Research Board, Gerry McAleenan of Soilse and Joe Barry, Professor of Population Health at Trinity College Dublin. 
The report contains three main sections:
a review of the evidence underpinning the principles of recovery,
a review of Irish drug policy in relation to recovery/rehabilitation, and
the inputs that build policy, and the personal narratives and perspectives of people in recovery. 
There are increasing calls in the literature to draw on the experiences of people in recovery as a means of building effective policy and practice. This paper draws on the outputs of a symposium on recovery held in north inner-city Dublin in the summer of 2012. Over 100 people attended the symposium, the vast majority living or working in communities deeply stigmatised by opiate addiction. 
The report also contains the detailed narratives of four people in recovery, plus a number of vignettes from Soilse participants speaking about their recovery journeys. One Soilse graduate talks about how having allies in recovery helped him reconnect with society: 
In recovery I began to feel a part of something. For the first time in life I moved around with people who were happy. Felt comfortable and safe and wanted to hold onto it. I got structure into my life for the first time. Up to then had lost job, no prospects, drinking in house, no light in the tunnel, no way out. 
The report sets out a case for the reorientation of drug treatment and rehabilitation policy and practice towards a recovery-focused paradigm. The authors argue that such a shift can be achieved by placing the framework of recovery capital at the centre of policy and grounding practice in the principles of recovery. Table 1 captures the essence of recovery capital: a framework that contains the properties of what initiates and sustains addiction recovery. Recovery capital is referred to as an 'assets-based model', i.e. a way of recognising and prioritising the assets that people bring to their recovery and the attributes they need to develop to sustain their journey. This model differs from the 'deficits-based' model which seeks to emphasise the reduction of risks and problems such as drug use and crime. The report contains a detailed exploration of this debate. 

Table 2 lists the principles of recovery that are grounded in robust research and inputs from extensive consultations with service users and providers. There is also consensus in the literature regarding these principles, a consensus echoed in the testimonies of Soilse participants. These principles recognise that there are multiple pathways and styles of long-term addiction recovery, and all should be cause for celebration. Central to the vision encapsulated in these principles is the recognition that the person in recovery is an 'active agent' in their own journey and that change for them via an improved quality of life is the key outcome to be pursued. The report contains an exploration of the evidence from robust research to support the transfer of these principles into practice.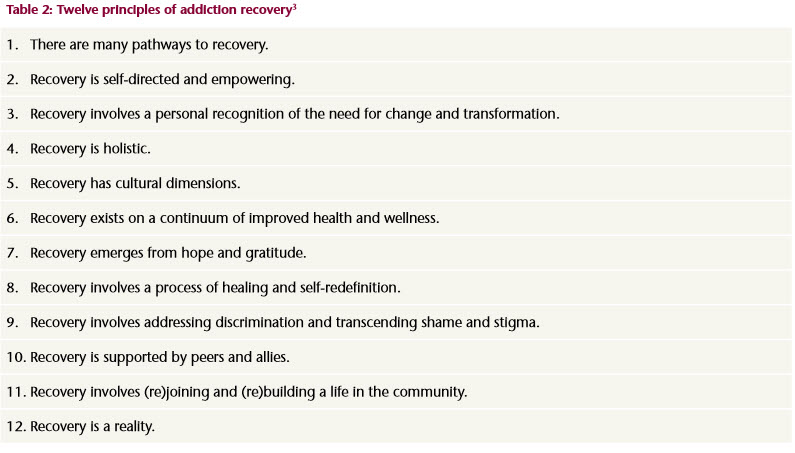 The report concludes with recommendations on how to promote the reorientation of addiction policy and practice towards a recovery-focused paradigm. These include the proposal that recovery replace rehabilitation as the fifth pillar in the National Drugs Strategy. 
The Lord Mayor, Christy Burke, speaking about the report, said:
 As Lord Mayor and first citizen of Dublin, in my time in office, I will promote the need for dialogue around recovery from drug addiction, to highlight and challenge the barriers preventing people getting away from the drug culture and ensure the voices and positive stories of those in recovery echo across our communities, motivating others to reclaim their lives.
1 Keane M, McAleenan G and Barry J (2014) Addiction recovery: a contagious paradigm! A case for the re-orientation of drug treatment services and rehabilitation services in Ireland. Dublin: Soilse. https://www.drugsandalcohol.ie/22291/
2 Table from Cloud W and Granfield R (2008) Conceptualizing recovery capital: expansion of a theoretical construct. Substance Use and Misuse, 43 (12–13): 1971–1986.
3 List from Sheedy C K, and Whitter M (2009) Guiding principles and elements of recovery-oriented systems of care: what do we know from the research? HHS Publication No. (SMA) 09-4439. Rockville, MD: Center for Substance Abuse Treatment, Substance Abuse and Mental Health Services Administration.
Irish-related, Open Access, Article
Repository Staff Only: item control page