Mongan, Deirdre (2014) How alcohol can harm others besides the drinker. Drugnet Ireland, Issue 50, Summer 2014, pp. 16-17.
The burden of alcohol-related harm is often experienced by those around the drinker, including family members, co-workers and innocent bystanders. The types of harm can include injury, neglect, property damage and public disturbances. The Health Service Executive (HSE) has published a report on the extent of this harm in Ireland.1 The report examined alcohol harm to people other than the drinker in three settings – the general population, the workplace, and children in families – using survey data from two national drinking surveys conducted in 2006 and 2010. Both surveys had a national representative quota sample of approximately 1,000 adults who were interviewed face-to-face. For the purposes of the study reported here, data from the two surveys were combined to give a total of 2,011 respondents.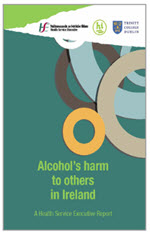 Harm to others in the general population
Over one in four people (28%) reported experiencing at least one negative consequence (family problems, being a passenger with a drunk driver, assault, property damage or money problems) as a result of someone else's drinking. The people most likely to experience these harms were those aged under 50 years, those from a lower social class and those who engaged in regular risky drinking. Women were most likely to report family problems (16%), while males aged 18–29 years were most likely to experience assault (21%). 
Harm to others in the workplace
One in ten (10%) Irish workers experienced at least one work-related harm; the harms were ability to do job negatively affected, having to work extra hours, and accidents or close-calls at work. Overall, men (14%) and 18–29-year-olds (16%) were most likely to experience harms as a result of their co-workers' drinking. The overall reported rate of harm in the Irish workforce was double that reported in a similar Australian study. 
Harm to children
One in ten adults reported that children for whom they had parental responsibility experienced one or more harms as a result of someone else's drinking. The harms were: being left in unsafe situations, experiencing verbal abuse, experiencing physical abuse, or being witness to serious violence in the home. Parents who were regular risky drinkers were more likely to report that children experienced at least one harm (13%). Higher rates of children witnessing serious violence in the home as a result of others' drinking were reported by parents from the lower social class. 
Conclusion
It is clear that alcohol's harm to others is far reaching and can be serious. It causes significant damage across Irish society and its impact is more extensive than that reported in similar research in Canada and Australia. The author states that there is a need for 'a dedicated study specific to alcohol's harm to others' as suggested by the World Health Organization, to establish the scope and size of the problem, its impact on health and social services usage, as well as the burden and cost to Irish society. 
Hope A (2014) Alcohol's harm to others in Ireland. Dublin: Health Service Executive. www.drugsandalcohol.ie/21590
Repository Staff Only: item control page