Long, Jean and Doyle, Joe and O'Driscoll, Denis (2014) Pharmacy needle exchange in Ireland. Drugnet Ireland, Issue 49, Spring 2014, pp. 19-20.
In October 2011 the HSE rolled out the national pharmacy needle exchange programme, which is a partnership initiative between the Elton John Aids Foundation, the Irish Pharmacy Union and the Health Service Executive (HSE). The programme targets counties outside of Dublin and will run to September 2014. Once pharmacies have signed a service level agreement with the HSE, their contact details are passed on to the relevant HSE services so that they can promote access to sterile injecting equipment at the participating pharmacies and accept referrals for investigation and treatment.
There were 42 pharmacies providing needle exchange at the end of 2011 and this had increased to 71 by the end of 2012. There are pharmacies providing needle exchange in each regional drugs task force area (Table1) apart from those covering counties Dublin, Kildare and Wicklow, which are served by a mix of static and outreach needle-exchange programmes. The data used to prepare this article were collected from participating pharmacies by the HSE.

An average of 360 individuals attended pharmacy-based needle exchanges each month in 2012. The number of individual drug users using sterile injecting equipment increased by 188%, from 199 in January 2012 to 573 in December (Figure 1). Male attendees comprised 78% of individual attenders, and had an average age of 31 years; the average age of female attendees was 29 years.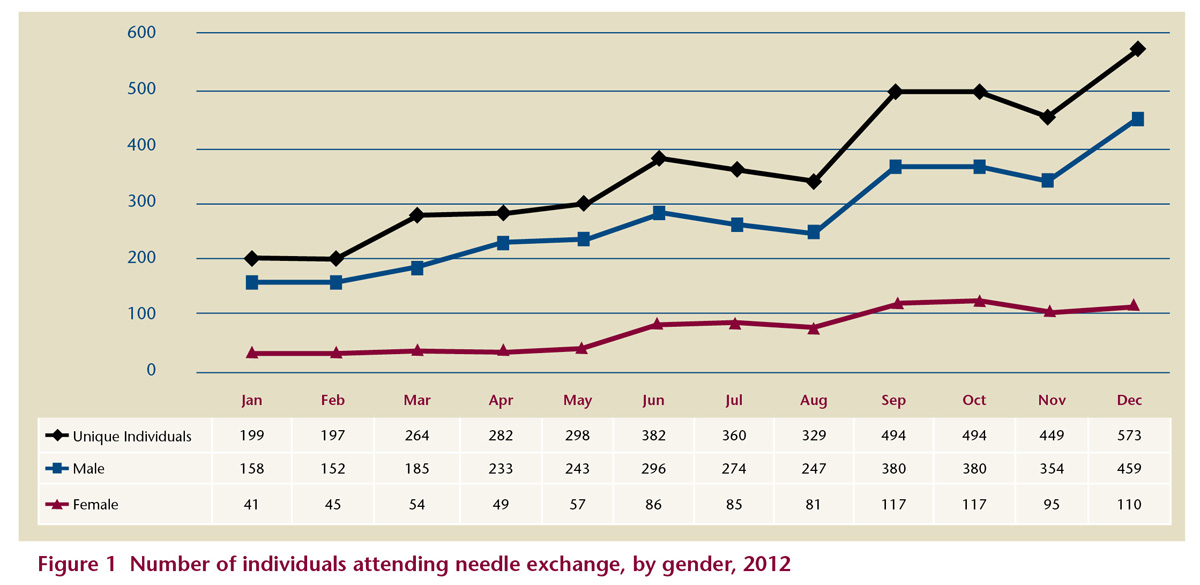 The needle exchanges completed 10,601 transactions in 2012, distributing 11,693 packs; each pack contains 10 sets of injecting equipment. The number of transactions increased by 132%, from 522 in January 2012 to 1,209 in December and the number of packs distributed followed a similar trend (Figure 2). Each individual user received an average of 2.7 packs (27 needles and syringes) in a calendar month in 2012. Thirty-eight per cent of the injecting equipment provided by pharmacies was returned for disposal.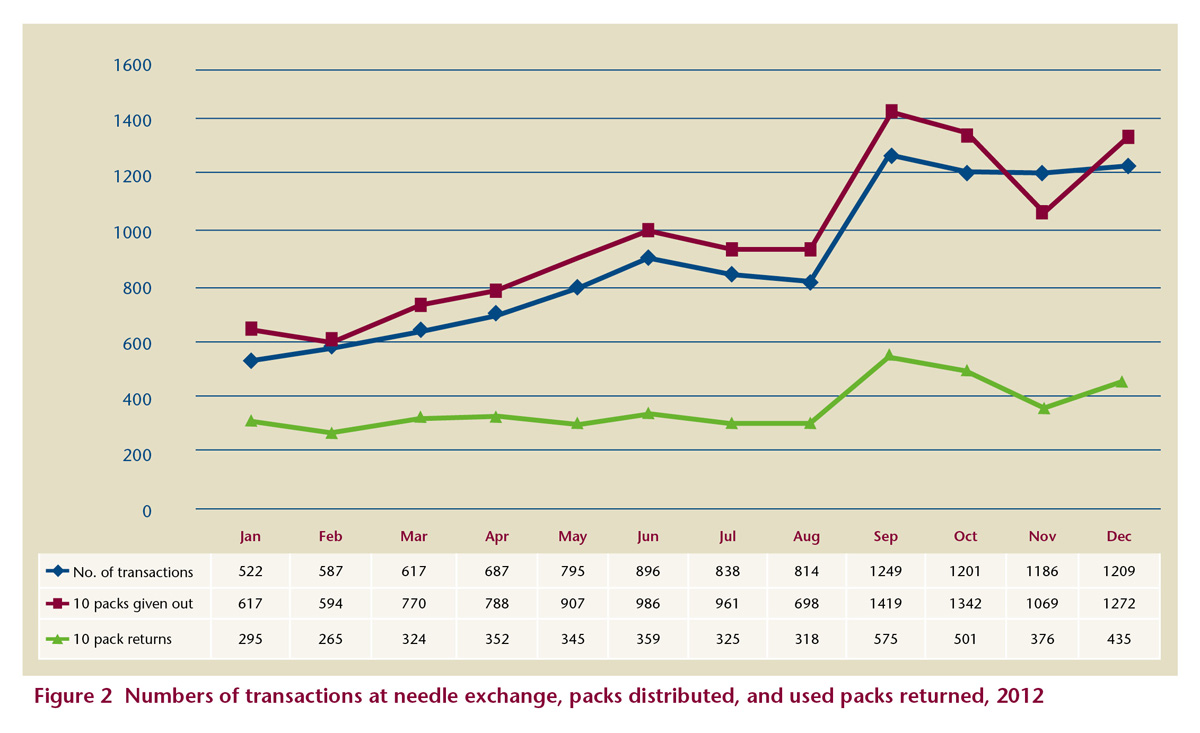 The pharmacy needle exchanges provides a link between harm reduction services and drug treatment services through referring individuals for bloodborne viral testing (253 in 2012), hepatitis B vaccination (165) and to tier three and tier four services (261).
Irish-related, Open Access, Article
Substances (not alcohol/tobacco), Opioid
Treatment method, Harm reduction, Rehabilitation/Recovery
Repository Staff Only: item control page