Galvin, Brian and Lyons, Suzi (2014) National Documentation Centre on Drug Use. Drugnet Ireland, Issue 48, Winter 2013, pp. 27-28.
During 2013 the National Documentation Centre on Drug Use (NDC) expanded existing online resources and introduced some new services. The NDC works with researchers and practitioners throughout the drugs and alcohol sector to make research-based knowledge available and useful to people in their work and study. 
Evidence reviews for drugs and alcohol taskforces
As part of its work in supporting the use of research in decision making the NDC is commissioning a series of rapid evidence reviews related to actions in the National Drugs Strategy. An evidence review attempts to answer a specific research question regarding the selection or implementation of an intervention or initiative. It synthesises existing evidence and provides information on what is likely to work in a particular setting. The first two reviews, to be completed in early 2014, will look at the topic of prevention work outside the school setting and the contribution of community-based treatment services to recovery outcomes. 
Online course in evidence-based practice
Beginning in March 2014, the NDC will run its online course in Evidence-based practice for substance use prevention work. The course was first delivered in 2010, and again in 2011. The aim of the course is to teach the principles of research-based practice to practitioners and to promote a scientific approach to prevention work and policy. The five modules of the course run over one semester of 12 weeks (80 hours) covering the following topics: the policy context; the evidence for drug prevention interventions; searching the scientific literature; critical appraisal; and data sources. Each of these topics is covered in separate two-week modules which include a number of recorded presentations prepared specially for the course by experts in the various topics.
The course adopts a problem-based learning approach.Course participants must identify a problem connected with their own work and use the skills they have learned during the course to find evidence which points to a solution to this problem. At the final face-to-face session each participant contributes to a group presentation outlining the approach they took to solving the problem. The technical skills learned through the course are reinforced through peer learning and are complemented by knowledge sharing and collaborative working.
The course is designed for practitioners and managers who work in the substance use education and prevention areas.  Participants might include workers in the areas of drug education, youth services, community education, community development, and health promotion, SPHE teachers and individuals or agencies who commission substance education services in school, youth and community settings. The course will begin in March 2014. Applicants are required to hold a recognised Level 8 qualification or equivalent. 
NDTRS drug treatment data for 2011 and 2012
Drug treatment data for 2011 and 2012 from the National Drug Treatment Reporting System (NDTRS) are now available in the DRUG DATA pages of the NDC website at
www.drugsandalcohol.ie
 The database now contains nine years of drug and alcohol treament data that can be searched to produce customised reports. You can run analyses on the treatment data based on up to eight different types of drug, including alcohol, in various combinations. The variables available for analysis include year, age group, gender and geographical region of residence (county, HSE region, LHO, regional or local drugs task force area). The report of your analysis can then be exported into Excel. 
When interpreting the data, it should be remembered that each NDTRS record relates to a treatment episode (a case) and not to a person. Because there is currently no unique health identifier system in place in Ireland, the same person can be counted more than once in a reporting year if they had more than one treatment episode in that year.
Before using this resource you will be asked to accept a number of terms and conditions of use. These conditions protect the identity of NDTRS clients and the integrity of the data. We also ask that the NDTRS is acknowledged when data from the tables are used in a publication or presentation, and that the NDC receives copies of any publication in which these data are used.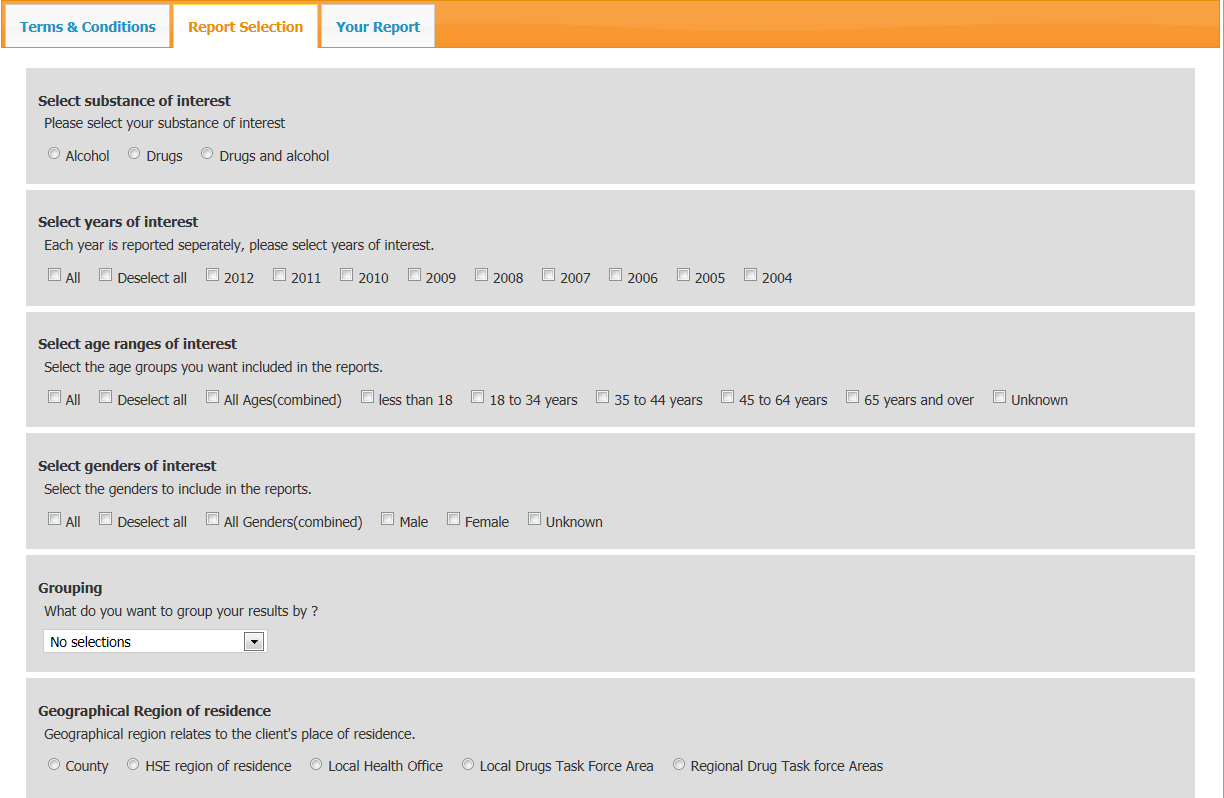 Table of contents alerts
You can now sign up for Table of Contents (TOC) alerts for a number of drug and alcohol journals to which the NDC subscribes. Once logged in as a registered user you can sign up to have these alerts sent to your email address when new issues of the journals are published. This is an easy way to keep up to date with the latest research in your area of interest. When you click on the journal link in your email alert you can see the abstracts for the current issue of the journal displayed, as in the image below.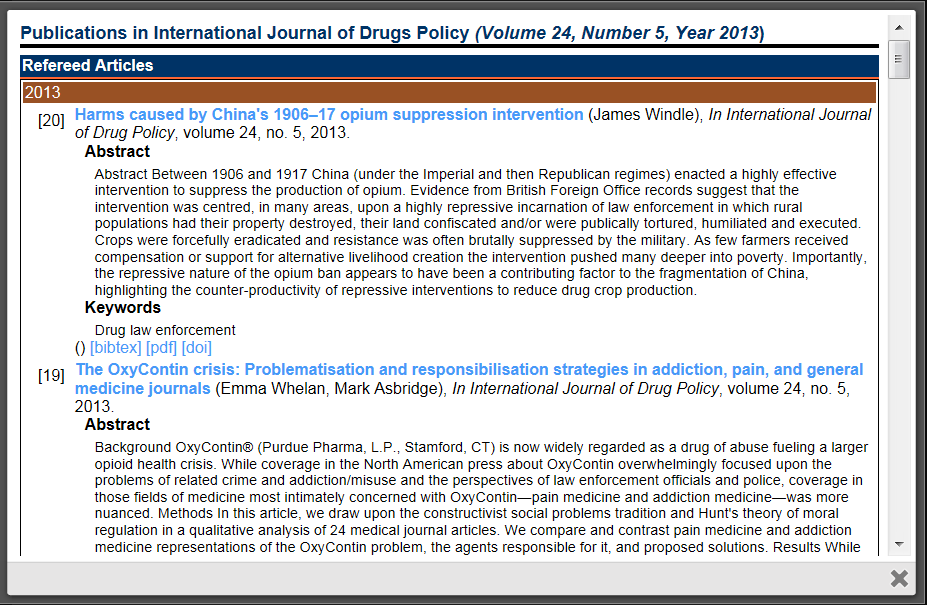 For further information contact the NDC at (01) 2345 175 or at
ndc@hrb.ie
Irish-related, Open Access, Article
Repository Staff Only: item control page