Lyons, Suzi (2013) Trial of group psychological intervention for psychosis with cannabis dependence. Drugnet Ireland , Issue 45, Spring 2013 , pp. 12-13.
There are few proven effective interventions for psychotic patients who also have a substance dependency. Among those diagnosed with schizophrenia, cannabis is the most common substance misused. Research points to the fact that cannabis use can be a causal factor in both the development of psychotic illness and the severity and duration of symptoms. Few studies have identified interventions that reduce cannabis use and improve clinical outcomes in this population. However, a recent UK study found that a psychological intervention could help to reduce substance misuse in this group of patients.1    
In light of the limited evidence on effective interventions, researchers in Ireland carried out a randomised controlled trial comparing a group-based psychological intervention with standard care among patients in the early course of psychotic illness who were also cannabis dependent.2 The primary outcome measure was the extent of cannabis misuse and the secondary outcome measures were: positive and negative symptoms, depressive symptoms, global functioning, insight, attitude to treatment and quality of life.
Participants were recruited from three different sites in Ireland: the DETECT service in South County Dublin/North Wicklow; the National Drug Treatment Centre Board in Dublin city centre; and Cavan-Monaghan Mental Health Service. Participants had either experienced their first psychotic episode or were within three years of onset of non-affective or affective psychosis.
Participants were randomly assigned (by computer) to one of two groups. One group received a group-based psychological intervention (GPI) that integrated cognitive behavioural therapy with motivational interviewing, in addition to standard care. The other group, the treatment as usual (TAU) group, received standard care but not the additional group-based psychological intervention. A clinical nurse specialist used a range of standardised measures and questionnaires to rate the outcome measures at follow up. Participants were followed up at three months and at one year. 
Of the 88 participants recruited, 59 were randomly allocated to the GPI group and 29 were randomly allocated to the TAU group. Data were analysed on an intention-to-treat basis.  Mean lifetime use of cannabis was 9.6 years in the GPI group and 7.5 years in the TAU group. Other baseline demographic characteristics are shown in Table 1.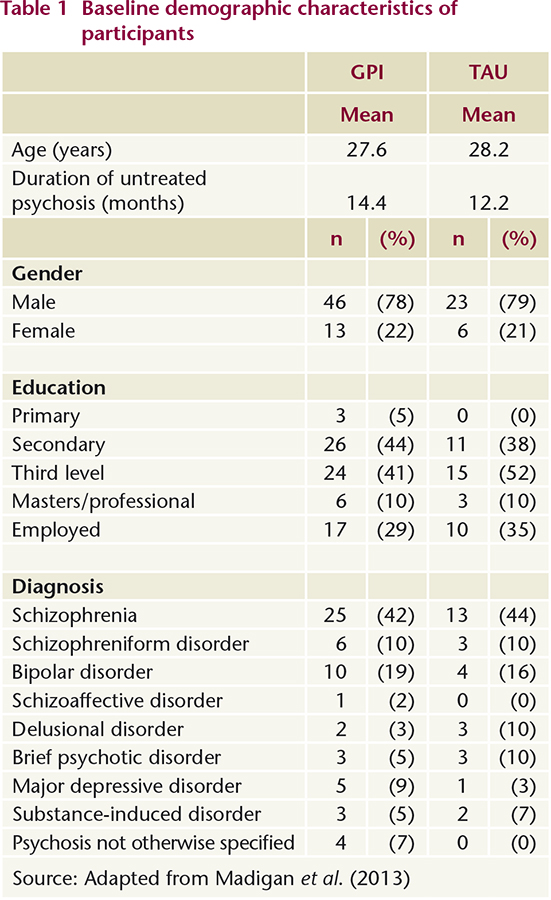 At three months and one year no differences were found between the two groups in the primary outcome measure, frequency of cannabis misuse. There were no differences between the two groups in any of the secondary outcome measures, with the exception of subjective quality of life scores, which were significantly higher in the GPI group at both three months and one year compared to the TAU group. This is noteworthy as research shows that a reduction in negative outlook is an important outcome of treatment for people with schizophrenia.    
The authors state that this is the first randomised controlled trial to look at group-based psychological interventions to reduce cannabis use among those in the early stages of a psychotic illness. The study found that the intervention had no effect on reducing cannabis use. The authors suggest that the intervention may have been given for too short a period (18 weeks) to have sufficient impact on the outcome measures. They also point out that they recruited only 88 participants from 230 patients referred and that they did not compare relapse rates between the two groups because of variations in admission procedures in the participating centres. The authors recommend that more trials involving psychological interventions be carried out with this client group. 
What is a randomised controlled trial (RCT)?
An RCT is an epidemiological study in which participants are randomly allocated to a study group or a control group to receive or not to receive an intervention (such as an experimental treatment, drug or procedure). The results are assessed by measuring and comparing the outcomes (rates of disease, death, or recovery) in the study and control groups. RCTs are considered the most scientifically rigorous method for testing new or experimental interventions, but they are not without their limitations. They may lack generalisability if, for instance, the participants recruited are not fully representative of the population. 
What is intention-to-treat analysis?
This is the principal method used to analyse subjects in an RCT. Allparticipants, as randomised into either study or control group, are analysed by group, whether or not they actually received or completed the intervention. If this method is not used, there is the risk of introducing serious bias into the results of the study. Intention-to-treat analysis is essential if the objective of the study is to influence clinical or public health practice, but it can underestimate the efficacy of an intervention.
Source: Porta M (ed.) (2008) A Dictionary of Epidemiology. 5th Edition. Oxford: Oxford University Press. pp. 130 and 206.
1. Barrowclough C, Haddock G, Wykes T, Beardmore R, Conrod P, Craig T
et al
. (2010) Integrated motivational interviewing and cognitive behavioral therapy for people with psychosis and comorbid substance misuse: randomized controlled trial.
BMJ,
341: c6325.
www.bmj.com/content/341/bmj.c6325
2.
Madigan K,
Brennan D,
Lawlor E,
Turner N,
Kinsella A,
O'Connor JJ,
Russel V,
Waddington J,
O'Callaghan E*
(2013) A multi-center, randomized controlled trial of a group psychological intervention for psychosis with comorbid cannabis dependence over the early course of illness.
Schizophrenia Research
, 143: 138–142.
*Professor Eadbhard O'Callaghan died in in May 2011 and the article is dedicated to his memory.
Repository Staff Only: item control page