Lyons, Suzi (2013) Fourteenth annual Service of Commemoration and Hope. Drugnet Ireland, Issue 45, Spring 2013, p. 5.
On Friday 1 February, the Family Support Network (FSN) held its fourteenth annual Service of Commemoration and Hope, entitled 'Our Children, Our Family', in remembrance of loved ones lost to substance misuse and related causes and to publicly support families living with the devastation that substance misuse causes.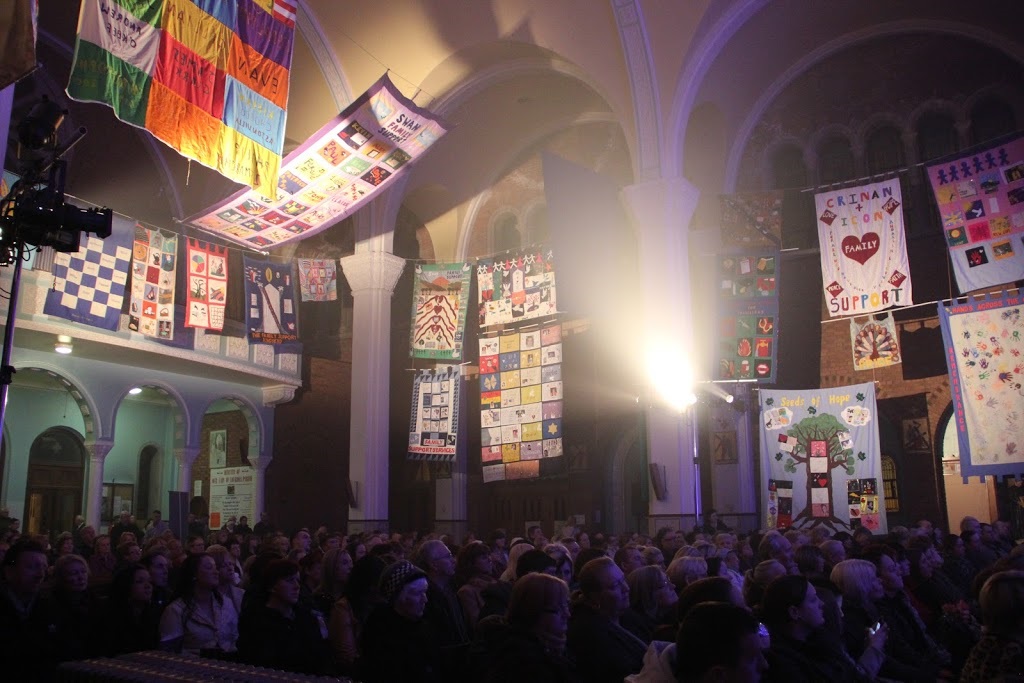 The service in Our Lady of Lourdes Church, Sean McDermott Street, was attended by Mr Alex White TD, Minister of State, Commandant Michael Treacy, aide de camp to the Taoiseach, Assistant Garda Commissioner John Twomey, Counsellor Ray McAdam representing the Lord Mayor of Dublin, Bishop Eamonn Walsh, Fr Tim Wrenn and other religious representatives, as well as family members, friends and representatives from family support groups throughout Ireland, and many people working in this area.
In her address to the gathering, Sadie Grace of the FSN spoke about the impact of substance misuse on children and the family. Children who have been affected by parental substance misuse often have to be cared for by grandparents and other family members. She stressed the importance of providing services for young people. In response to this the FSN has developed a sibling support programme (for those aged 12 to 18 years). Sadie also spoke about the stigma of parents being abused by their children, and said that the FSN hope to hold a seminar on the topic this year. The FSN will continue to roll out their training programme 'Responding to Intimidation Policy' in different parts of the country. Finally, Sadie spoke about the difficulty of maintaining services in light of recent cuts to the network's budget and urged that support of family members living with substance misuse be prioritised.
Attending this service for the first time, Minister White said he recognised what an important event it was for family members, one that allowed them to mourn openly, but also to celebrate the lives of those who had been lost to substance misuse. He felt it also provided an opportunity to look forward and build hope. He acknowledged that it was all too often the children who were affected by drug problems in the family. Minister White stated that his department will continue to provide funding to support the work of the FSN. He also spoke about the problem of alcohol misuse and said that his department would be working on that issue in the coming weeks.
There were a number of personal pieces included, always a central part of the service. Gordon Jeyes, National Director of Children and Family Services, recited poetry by Mervyn Peake. Fr Edmond Grace gave a reflection. Mr Brendan Doyle, a member of the Wexford FSG, gave a moving testimony about the experience of his family. Ms Michelle Kavanagh (on behalf of UISCE and SAOL project) recited her own poem about recovery. Mr Reginald Oko-Flex Inya of the New Communities Partnership said a prayer. Music was provided by the soprano Nickola Hendy and St Mary's Youth Club Drama Group. In keeping with the theme 'Our Children, Our Family', the girls of the Francesca Arkins Dance and Stage Academy performed a dance recital to a musical accompaniment at the beginning of the service, which was very well received.
The service was attended by many members of family support groups from all over the country, including Northern Ireland, reflecting the growth and success of the FSN.
Irish-related, Open Access, Article
Repository Staff Only: item control page