Keane, Martin (2012) Understanding youth homelessness. Drugnet Ireland, Issue 42, Summer 2012, pp. 12-13.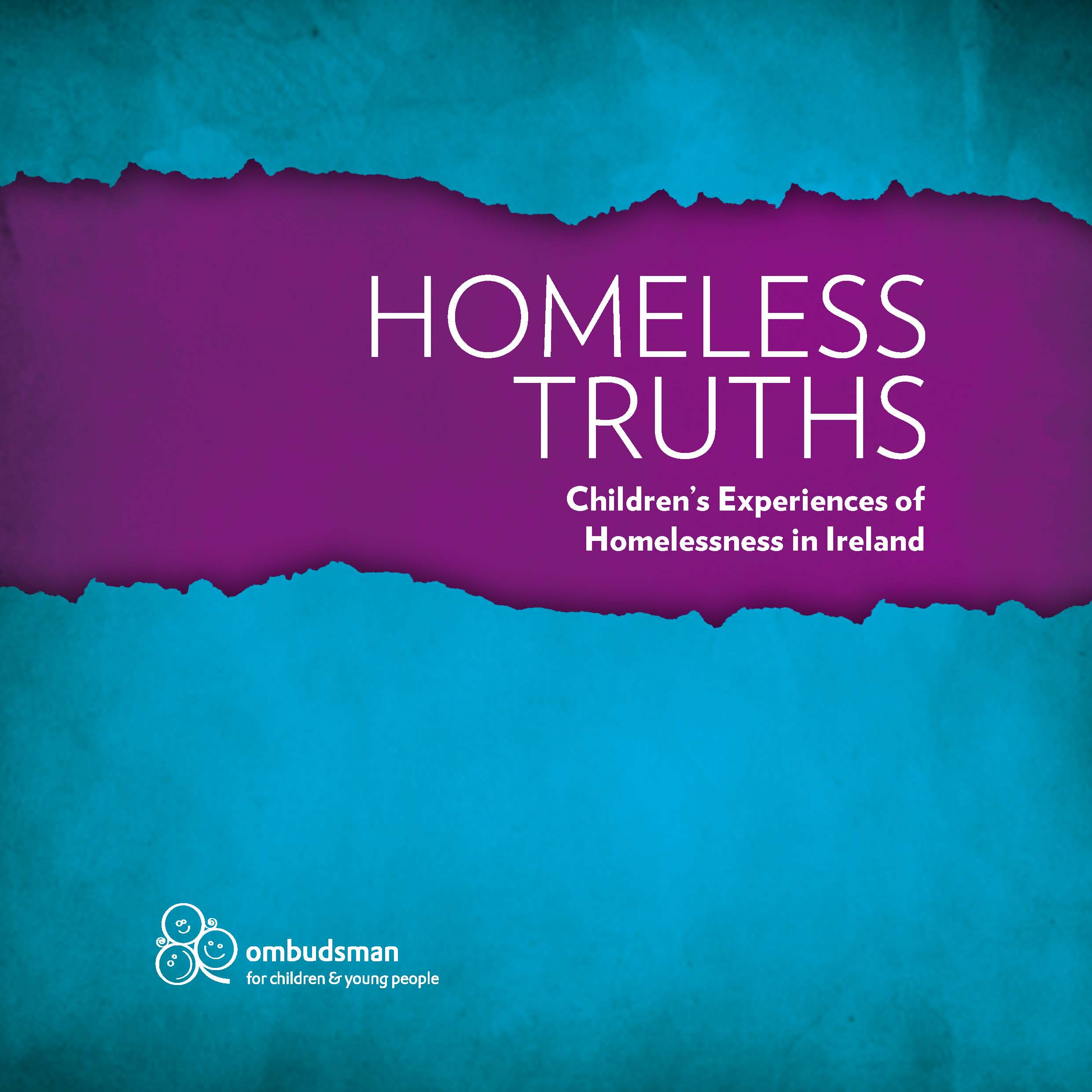 The Ombudsman for Children's Office (OCO) recently published a report detailing the experiences of homeless children in Ireland.1 The report is based on face-to-face interviews with 15 young people aged 16–19 who were currently using, or had recent past experience of using emergency hostel accommodation services in Dublin and Cork.  
Accessing emergency accommodation services
Homeless children needing access to emergency accommodation in the Dublin area are required to present at a Garda station and request the services of the out-of-hours social worker. Children then have to wait in the Garda station until the social worker arrives to link them in with available accommodation. Children who were interviewed by staff from the OCO were critical of this practice. They recalled feeling embarrassed, ashamed and anxious while waiting in the Garda station for the social worker to arrive and many questioned the appropriateness of this route to emergency accommodation. The OCO concurred with these concerns raised by children and report that 'children should not be expected to wait for hours in a Garda station for social work services to link with them' (p.38).
Some alternatives preferred by the children and suggested by the OCO include: 
·
access emergency accommodation during the daytime instead of having to wait until after 8 o'clock in the evening;
·
present at a less intimidating setting than the Garda station;
·
contact social work services directly through a Freephone number;
·
present directly to emergency accommodation and contact social work services from there;
·
present at a Garda station only when necessary, but wait in an alternative setting that is more appropriate and less intimidating.
Time spent and placements in emergency accommodation
Of the 15 children interviewed, five had spent between one and three months using emergency accommodation and seven had used the service for more than six months. Six children had been in one placement and six had been in up to three placements. Children who had moved between multiple placements criticised this practice and the instability it caused to their already fragmented lives, while some of the children who were able to reside in one stable placement over several months actually noted some benefits from their experience. The experience of multiple placements is often exacerbated by the requirement to present to the emergency services as homeless on a daily basis, a practice criticised by the OCO '…the practice of requiring children to present on a day-to-day basis should cease' (p. 39).
The report suggests that care planning for homeless children should minimise the length of time spent in emergency accommodation and the number of placement changes and such plans should seek to integrate the views and preferences of homeless children into decisions taken about their care. While being critical of some of the practices around emergency care, children praised the staff who worked in the emergency accommodation units for providing both practical help and emotional support on an ongoing basis.
Time spent by children during the day
Eight of the 15 children interviewed were in full-time post-primary education when they first used emergency care services and only three continued in education without interruption while using the emergency services. Some of the children praised the support they received from staff in Youthreach, which encouraged them to return to education and training. However, most of the children voiced their concern at the considerable amount of time, that they and other homeless children spent hanging around the streets during the day. They reported using alcohol and drugs and engaging in petty criminal acts while hanging out with 'acquaintances'; they also talked about the intimidation, exploitation and violence that they were regularly exposed to as part of their immersion in street culture.
Similar experiences were reported by Mayock and Vekic,2  who interviewed 40 young homeless people in the Dublin metropolitan area as part of a longitudinal cohort study of youth homelessness. The vast majority had used or were using the out-of-hours service (OHS) in the city centre and were moving between city-centre hostels where they were exposed to alcohol and drug use, criminal activity, intimidation and bullying. When this exposure lasted over an extended period, young people became heavily involved in using drugs; half of the cohort reported having used heroin, with almost all reporting their heroin use as problematic to the point of dependency. The majority of those who used heroin had first experimented with it after they became homeless.
According to the authors, this long-term exposure to the street scene led to a process of 'acculturation' where they young people 'learned the street competencies they needed to survive by becoming embedded in social networks of homeless youths' (p. 23).
To counter the risk of vulnerable children becoming immersed in the damaging environment of street culture, the OCO report recommends a number of measures:
·
additional and varied daytime educational and training activities, and accommodation units that offer opportunities for homeless children to be active during the day;
·
a mentoring network of young adults who have experienced similar circumstances, who can provide support to homeless children;
·
professional counselling and psychological services for homeless children when they first access emergency services;
·
further investment in drug prevention and recovery initiatives for homeless children.
The model and location of emergency accommodation
The OCO is highly critical of the model and location of emergency accommodation services for homeless children. The report states:
Short-term, hostel-style accommodation is not a suitable model for children under eighteen and should never be used to accommodate children under sixteen or children who are particularly vulnerable. The practice of accommodating children in Dublin city centre should cease because it exposes children to unacceptable risks and increases the likelihood of their involvement in harmful and criminal behaviours. …Ideally, emergency care accommodation should be located in or close to children's local communities. (p.39) 
Similar points were made in a report published six years ago. One of the first detailed strategies to prevent homelessness  recommended that supported measures needed to be put in place at local level, particularly in the Dublin suburbs, to prevent young homeless people congregating in the city centre and becoming involved in drug use and criminal behaviours.3 The advantages of a decentralised approach to homelessness in Dublin are that these young people are accommodated closer to their homes, can continue contact with their families, and can remain in school.
1.
Ombudsman for Children's Office (2012) Homeless truths: children's experiences of homelessness in Ireland. Dublin: Ombudsman for Children's Office.
www.drugsandalcohol.ie/17341
2.
Mayock P and Vekic K (2006) Understanding youth homelessness in Dublin city: key findings from the first phase of a longitudinal cohort study. Dublin: Stationery Office.
www.drugsandalcohol.ie/6200
3.
Pillinger J (2006) Preventing homelessness: a comprehensive preventative strategy to prevent homelessness in Dublin, 2005–2010. Dublin: Homeless Agency.
Irish-related, Open Access, Article
Repository Staff Only: item control page