Bellerose, Delphine (2012) Trends in treated problem drug use in Ireland 2005–2010. Drugnet Ireland, Issue 41, Spring 2012, pp. 5-6.
A new publication in the HRB Trends Series was published in December 2011.1 Trends Series 12 describes trends in treated problem drug use in Ireland between 2005 and 2010, based on data reported to the National Drug Treatment Reporting System (NDTRS). The analysis presented in this paper provides service planners and policy makers with valuable information in order to highlight and address problem drug use. 
The main findings of the analysis are summarised below.
Numbers treated
It is important to note that each record in the NDTRS database relates to a treatment episode (a case), and not to a person. This means that the same person could be counted more than once in the same calendar year if he/she had more than one treatment episode in that year.
The number of cases
entering drug treatment each year and reported to the NDTRS increased by 52%, from 5,176 in 2005 to 7,878 in 2010. The increase in the total number of people requiring drug treatment services, including previously treated cases returning to treatment, is a strong indication that problematic drug use remains a pressing issue, and presents complex and multiple challenges to those providing treatment. The clear spread and increase in treated drug use throughout the country reflect not only the extent of problem drug use but also an increase in treatment availability and compliance with the NDTRS.
Problem substances
Opiates (mainly heroin) were the most common problem drugs reported for all years, with the proportion of opiate users remaining stable between 2005 and 2008 but decreasing slightly in the following two years. The number of cases reporting cannabis as their main problem substance increased significantly over the reporting period, from 1,039 in 2005 to 1,893 in 2010. Following a steady increase to a peak in 2007, the number of cases reporting cocaine as their main problem substance decreased in the subsequent two years and remained stable in 2010. Head shop compounds were reported as a main problem substance for the first time in 2009 (17 cases), with the number increasing significantly to 213 cases in 2010, when it exceeded the numbers reporting amphetamines, ecstasy and volatile inhalants. Among new cases, benzodiazepines accounted for the highest proportional increase among the five most commonly reported problem substances (Figure 1). In 2010, cannabis became the most common main problem drug reported by new cases, ahead of opiates for the first time since 2005.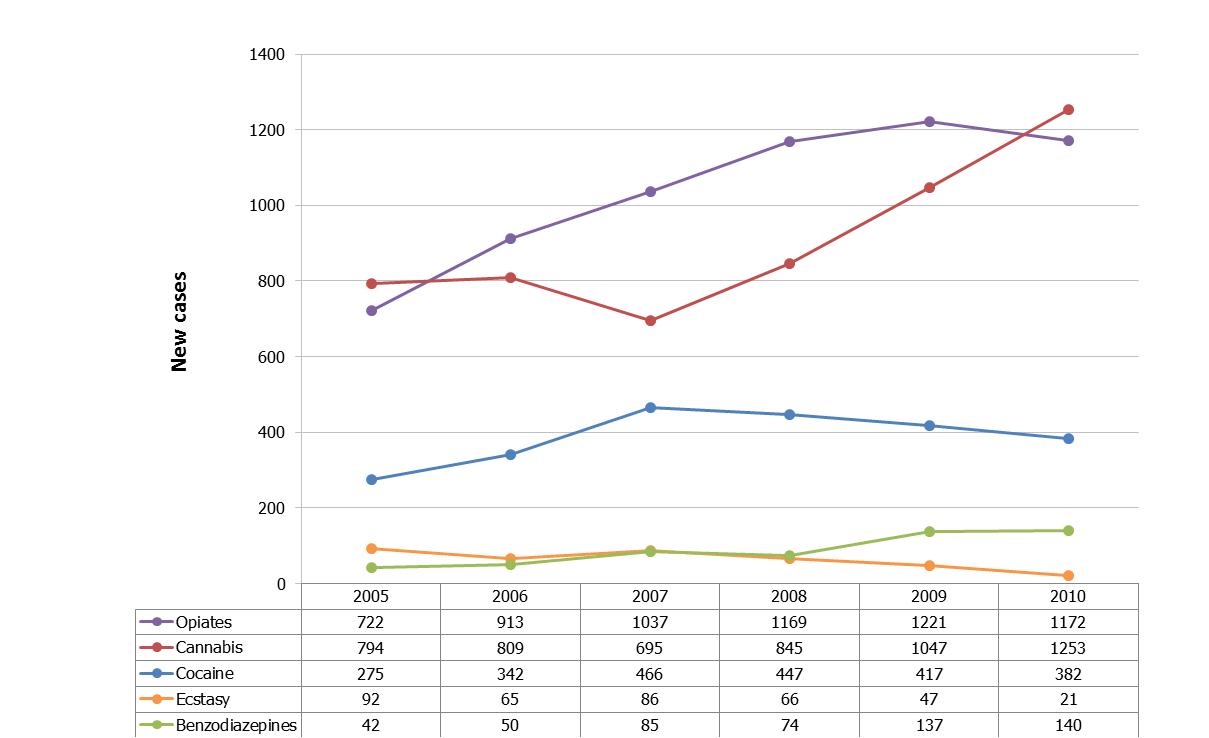 The use of more than one problem substance continues to present a challenge to the treatment services. The vast majority (68%) of cases treated between 2005 and 2010 reported problem use of more than one substance. Cannabis, alcohol, cocaine and benzodiazepines were the most common additional problem drugs reported by all cases entering treatment. The very large number of cases reporting alcohol as an additional problem substance highlights the strong links between alcohol and illicit substance use.
Patterns of use and socio-economic characteristics
The profile of cases entering drug treatment remained stable over the reporting period; in general, problem drug users were male and in their twenties. Data show that half of the new cases entering treatment between 2005 and 2010 had started drug use at or before the age of 15 years. The proportion of new cases aged under 18 years has increased since 2007 and reached 16% in 2010. This finding highlights the need for prevention measures and initiatives specially targeted at young teenagers in an attempt to delay initiation to drug use.
Data showed a decline in injecting behaviour and, among new injectors, an increasing interval between starting drug use and starting injecting. The increase in harm reduction services and practices over the reporting period is likely to have influenced this progress.
Figures also show that there was a significant decline in employment rates among drug users, from 22% in 2005 to 9% in 2010, a direct indication of the effect of the current economic climate. These findings outline the continued importance of social and occupational reintegration interventions as part of the drug treatment process.
The growing demand for treatment for problem use of substances other than heroin, combined with the high proportion of cases using multiple problem substances, remains a constant challenge for service providers, as drug users often require multiple treatment interventions, which in turn require a high degree of co-operation between services. This inter-agency approach to treatment and rehabilitation was highlighted as one of the priorities in the current drugs strategy.2 Supported by the drugs task force structure, many services are participating to an increasing extent in local inter-agency initiatives in order to provide a wide range of interventions and a continuum of care for clients, for example, through the development of case management and key working strategies.
An online appendix to this Trends Series paper, containing additional tables and figures with supplementary data, is available on the website of the National Documentation Centre on Drug Use at
www.drugsandalcohol.ie/16381
2. Department of Community Rural and Gaeltacht Affairs (2009) National Drugs Strategy (interim) 2009–2016. Dublin: Department of Community, Rural and Gaeltacht Affairs.
Irish-related, Open Access, Article
Substances (not alcohol/tobacco)
Repository Staff Only: item control page