McGuire, Vivion (2012) MQI annual review 2010. Drugnet Ireland, Issue 40, Winter 2011, p. 32.
The Merchants Quay Ireland (MQI) annual review for 2010 was launched on 30 September 2011 by the Minister of State at the Department of Health, Róisín Shortall TD.1 
2010 saw the development of a number of important new initiatives at MQI. These initiatives are the Extended Day Service developed in association with Focus Ireland, New Communities Support Service, Midlands Traveller Specific Drugs Project, Aftercare Housing in conjunction with Respond Housing Association, Drug Free Day Programme and Easy Access Education for Homeless People
The review also provides additional information that is not fully reflected in the treatment figures recorded by the National Drug Treatment Reporting System (NDTRS). 
MQI's needle-exchange service recorded approximately 25,000 client visits in 2010, a 20% decrease on 2009 figures. The report
highlights a continuing high level of demand for homeless services, with 57,840 meals provided in 2010. The number of health care interventions provided increased by 15% to 3,685 in 2010
.
In 2010 MQI successfully tendered to provide the national prison-based addiction counselling service to 13 prisons. In excess of 13,000 counselling hours were provided during 2010. This service is provided by 23 counsellors, each with an average caseload of 550 prisoners.
MQI in association with the Midland Regional Drugs Task Force administers the Midlands Family Support and Community Harm Reduction Service, providing outreach and working with families of those actively using drugs in that task force region. The family support service provided services to 237 new clients across the region during 2010. The harm reduction service provided needle-exchange services to an average of 124 clients each month during 2010. 
The services offered by MQI and the numbers of people accessing them in 2010 are shown below.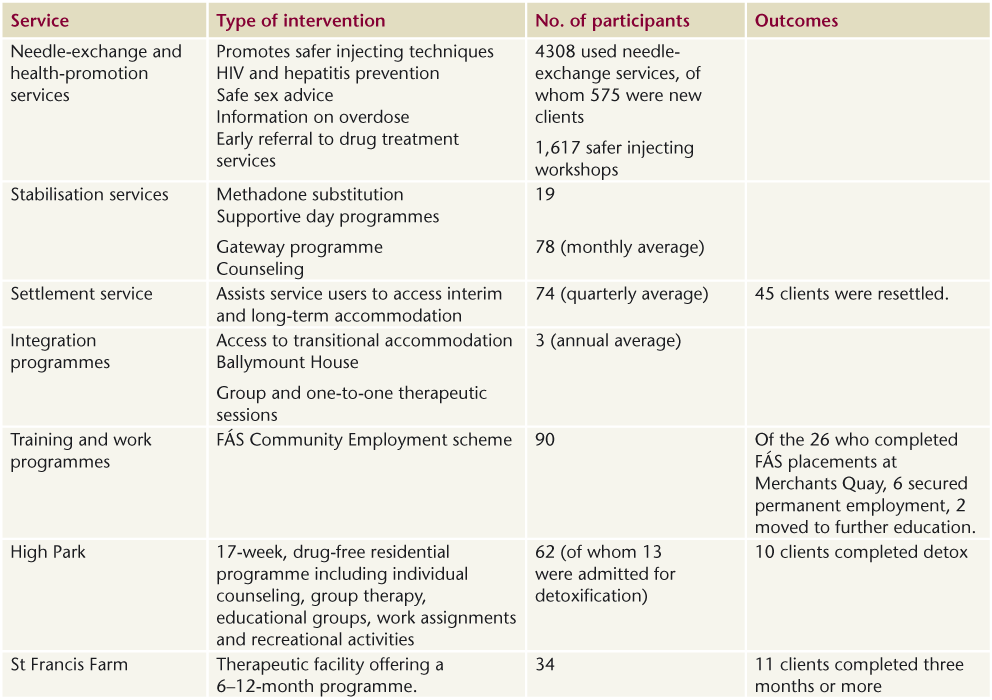 Irish-related, Open Access, Article
Repository Staff Only: item control page