Lyons, Suzi (2011) A family affair? Seminar on parental substance misuse. Drugnet Ireland, Issue 40, Winter 2011, p. 27.
Minister of State Róisín Shortall gave the opening address at the seminar 'Parental substance misuse: addressing its impact on children' on 18 October.1 The event was jointly hosted by the National Advisory Committee on Drugs (NACD), the Social Inclusion Unit of the Health Service Executive and Alcohol Action Ireland.  
Minister Shortall congratulated the authors of the report, commenting on its timely focus on young people who were at risk because of their parents' substance misuse. 'The real challenge is to break this cycle. The fact that substance misuse in one generation can have impacts that cascade into the lives of those following illustrates the level of importance that we must place on targeted measures aimed at breaking the cycle and safeguarding the next generation.' As well as acknowledging the substance misuser's need to focus on recovery and a life without drugs, the Minister also spoke about recognising children in their own right and consulting them on issues that affect their lives. She also spoke about problem alcohol use as an important public health issue, the need to reduce the amount of alcohol consumed in the country, and the development of a National Substance Misuse Strategy.
Dr Justine Horgan, senior researcher at the NACD and author of the report Parental substance misuse: addressing its impact on children,2 presented some of the key messages from her review of the literature (see article 'Prioritising children in drug policy and practice' in this issue for a summary of that report).
This was followed by some lively round table discussions where the seminar participants were asked to identify important themes around 'what works in providing support, and the challenges in providing support, to children living with parental substance misuse'. A summary of the discussions will be provided by the NACD but a flavour of the responses is given here. Some of the themes identified for what works were early intervention, interagency work, listening to children and specific training in addiction. Some of the themes around challenges were: getting the child's voice heard, issues of fathers, funding and poor perception of services by the families.
Norah Gibbons (chair of Alcohol Action Ireland and director of advocacy at Barnardos) spoke about prioritising children in policy and practice.3 She spoke eloquently about the very real impact of parental substance misuse on children. In some cases the child has to become 'the parent', looking after younger siblings, worrying about the adult parent, children who were often 'leading lives of quiet desperation'. Finally, she supported the need for a constitutional amendment to ensure children's rights in this country.4
There were four parallel workshops in the afternoon: Learning for service responses – Ballyfermot Star;5 North West Alcohol Forum – The Families Matter Programme;6 Building knowledge and skills for better outcomes for children – the role of Children First;7 and Hidden Harm Action Plan, a partnership approach for better outcomes for children living with parental drug and alcohol misuse.8 
Paul Barron, assistant secretary at the Department of Health, chaired the final session.  Another of the other key speakers was Mary Forrest, clinical director of CrossCare Teen Counselling, who spoke particularly about teenagers. She outlined some of the changes she had seen in her work, remarking that although teenagers now were more willing to seek counselling, funding for services was being reduced. She said that there was now greater awareness of the negative impact of parental substance misuse on children, which was a positive sign, and she welcomed the development of the new combined substance misuse strategy.
Phil Garland, assistant national director of HSE Children and Family Services also spoke in the afternoon. He welcomed the seminar as an opportunity for policy makers and front line staff to consider the issues around this problem. He stated that there needed to be collaboration on all levels, between agencies, to support children whose parents have a substance misuse problem 'and to increase the effectiveness of frontline child protection and addiction services with collaborative interventions based on measurable change outcomes'.
Frances Fitzgerald TD, Minster for Children and Youth Affairs, gave the closing address at the seminar. She spoke about the importance of interagency work for all those involved with children at national, regional and local level and how the new Department of Children will play a key role in supporting this process.
2.   Horgan J (2011)
Parental substance misuse: addressing its impact on children. A review of the literature.
Dublin: NACD. Available on-line only, at
https://www.drugsandalcohol.ie/16114/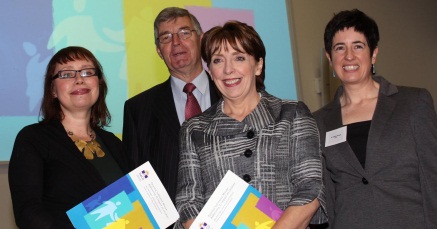 Pictured at the NACD conference (l to r): Fiona Ryan, Director of Alcohol Action Ireland; Dr Des Corrigan, NACD; Minister of State Róisín Shortall; and Dr Justine Horgan, NACD (Photo: Conor Healy)
Repository Staff Only: item control page